Kwetsani Camp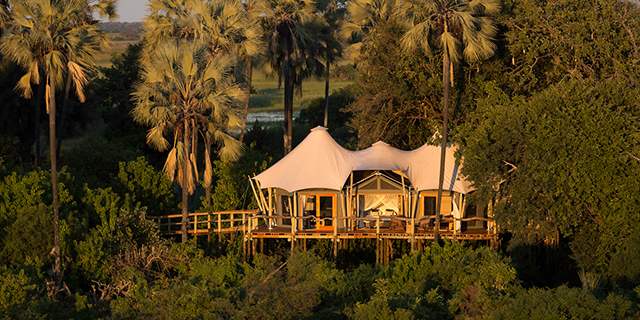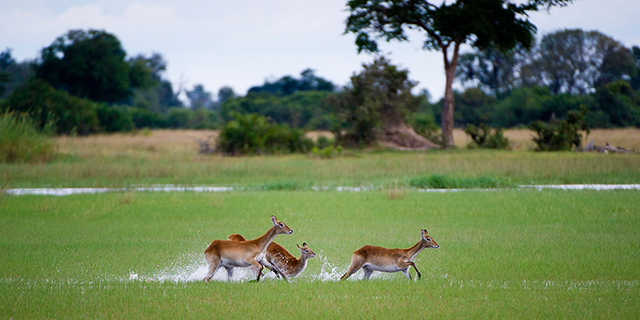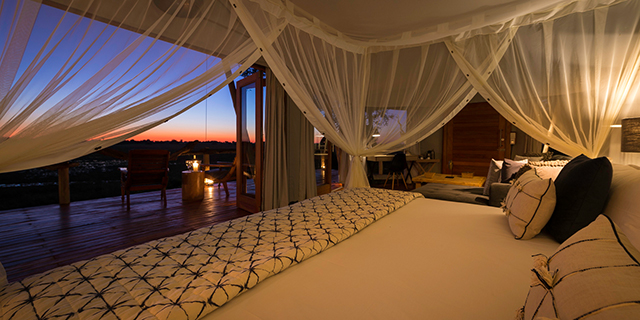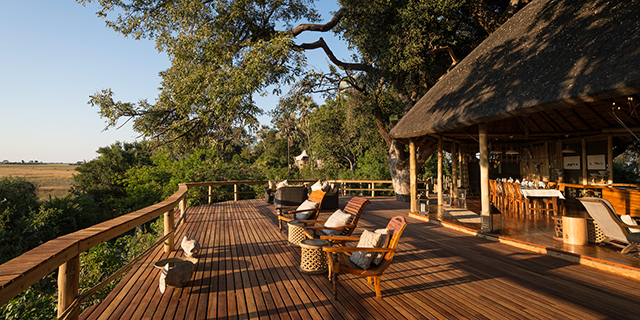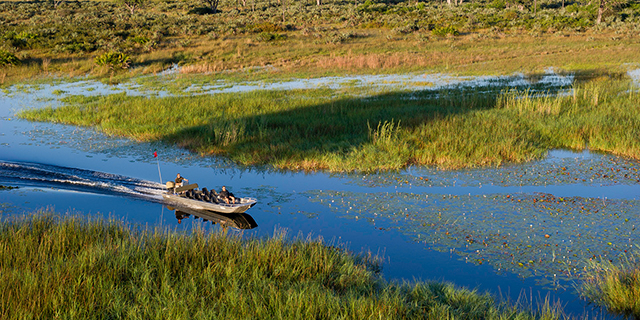 Kwetsani Camp is located in the private Jao reserve, in the heart of the Okavango Delta. From its vantage point on an island heavily wooded with palm, mangosteen, and fig trees, the camp overlooks one of the Delta's most spectacular floodplains.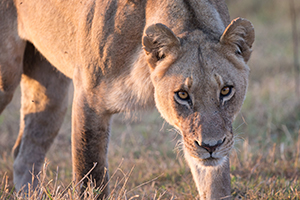 The 150,000 acre concession is comprised of a superb variety of habitats, which include permanent waterways and lagoons, open flood plains, and thick Kalahari soils. Kwetsani Camp is a true combination 'land/water' camp, featuring all the spectacular natural beauty and ecological diversity of the Delta, in combination with good concentrations of 'big game' and abundant birdlife. The Jao concession is particularly well known for its lions and has, since 1999, been the site of several important lion research and monitoring projects.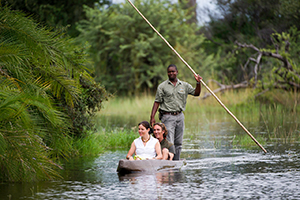 Depending on water levels, Kwetsani offers both land and water-based activities. Mekoro rides are a highlight, exploring some of the most beautiful and intricate channels and islands anywhere in the Delta.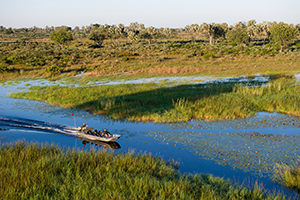 Boating safaris are also highly enjoyable, providing access to deeper channels where hippos and crocodiles are often spotted. Game drives are conducted year-round, their range being determined by the prevailing flood levels. Being outside the Moremi Game Reserve, night-drives are permitted at Kwetsani, which allows guests to view nocturnally active animals. Nature walks with your armed guide are another highlight, and guests can also view wildlife from raised hides.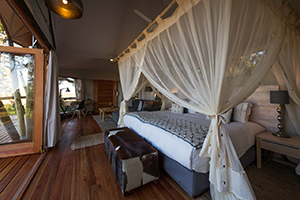 Kwetsani is small and intimate with only five tents, spaced well for privacy. The entire camp is set on teak decking with high wooden walkways connecting the tents with the main lodge. Each of Kwetsani's five chalets has the feeling of a private "tree house." The sides are open and airy with screens and roll-down bamboo shades. There are myriad detailed touches endemic to Africa such as lamps made from animal horns and ostrich eggs. There are his and hers hand made ceramic sinks with brass fixtures, and an outdoor shower. Each tent boasts its own furnished balcony.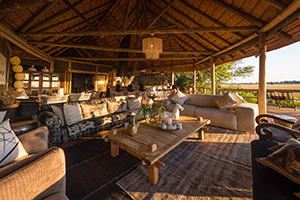 The spacious living, dining and bar area is set under a high thatched roof. It is pleasingly decorated with deep leather couches, oriental rugs and caned planter's chairs. Luxurious lounge chairs adorn the balcony from where one can view game from the comfort of camp. At night, candles and lanterns abound which bathe this charming retreat in flickering golden light. Dinner is often served on the wooden deck under the stars and afterwards, there is almost always a cozy fire lit. Pull close and marvel at the sounds of nocturnal Africa!
Conservation Dimension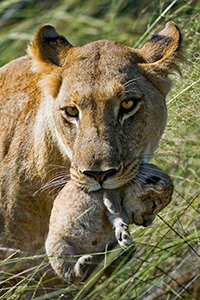 Since 1999, Kwetsani has been a participant in the Jao Lion Monitoring Project, which researches and tracks the lion prides that inhabit the Jao Reserve. Scientists are increasingly worried about the long term survival of the "King of the Beasts" in Africa's dwindling wilderness areas, and being able to study these magnificent beasts in the unspoiled splendor of the Okavango Delta has led to some important breakthroughs in our understanding of lion population dynamics, and the conflict between lions and rural African communities.
Wilderness Safaris (who manage the camp) also commit resources and time to doing game counts and censuses to help conservation authorities build up a data base of Botswana's wildlife, and is a major financial contributor to various private and non-governmental conservation projects. By staying at this type of private concession, guests are directly contributing to preserving the wilderness and wildlife in these areas because their fees are used to sustain conservation. What is more, photographic safaris are 'non-consumptive' so that, as the saying goes, you leave nothing but your foot prints, and you take nothing away but memories.
For more information about Kwetsani Camp call toll-free: 888.227.8311
or

email us

for Information



|

|

Share