Custom Safaris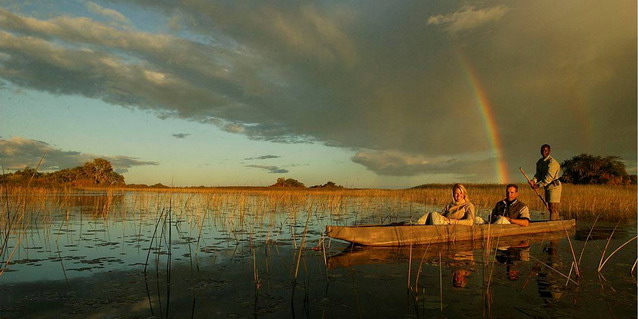 As a broad generalization, there are two types of itineraries: Tailor-Made (custom) Safaris and Scheduled Safaris (small group or set itinerary). Each has its own particular strengths, and they can be combined.
A Tailor-Made Safari offers the ultimate in flexibility. Guests can travel where they want, when they want, and how they want. Through an interactive process of consultation and discussion, we will work with you to design your own unique safari incorporating the elements that are of greatest interest to you, over dates that are most convenient for you. Once in Africa, you are met and individually transferred between destinations on your own customized itinerary. At each safari camp, the camp staff and resident professional guides ensure that you are graciously hosted and expertly guided for the duration of your stay. There is plenty of opportunity to interact with other travelers at each of the camps, but you are not shepherded around as part of a group from one destination to another. We arrange the schedule around you. This type of safari offers all the advantages of independent travel in combination with the backup and security of a fully pre-arranged tour. And it often costs less than package tours offered by the big operators.
The majority of our clients find that a Tailor-Made itinerary best matches their interests and preferences. We've created two webpages to provide guidance to travelers who are at the early stages of planning a Tailor-Made Safari. Our Sample Itinerary page provides examples of tailor-made itineraries (including price ranges) that cover a broad spectrum of interests and budget. Our Safari Cost Comparison Chart analyzes the cost differences between some of Africa's major safari destinations.
Scheduled Safaris follow a pre-determined itinerary, and often (although not always) depart on specific dates. The principle advantage of Scheduled Safaris is that they take advantage of economies of scale (in the case of small group safaris), or specially negotiated discounts (in the case of set itinerary safaris) to provide the best possible value. As such, Scheduled Safaris are often a good choice for the more budget-conscious traveler. You will find detailed itineraries, schedules, costs, etc. by following the links from our Scheduled Safaris page.
Comfort Ratings
In order not to confuse our ratings with those commonly used in the hotel industry, we have chosen the paw of a lion to reflect the quality status of each of our safaris, camps, and lodges. On each of our scheduled departure safaris, the paw symbol appears next to the name of the safari. This will allow you to determine the accommodation standard at a glance.
Six

- These are the highest quality "Premier" camps and lodges in our safari portfolio. They feature the ultimate in luxury, style, amenities, and service, and are consistently voted as being among the top properties in the world by international travel publications.
Five

- These are luxurious and elegant "Classic" safari camps and lodges with all the necessary features for a very comfortable stay. At a minimum, the rooms are large with full en-suite facilities (full plumbing to provide hot and cold running water, flush loos, showers, basins), closet space, ceiling fans, and real beds. The camps are stylish, often (though not always) raised off the ground on teak decking, and have swimming pools. Most camps and lodges in our portfolio fall within this category.
Four

- Camps and lodges in this category are similar to 5 Paw properties with a few subtle differences. Rooms are not quite as big, furnishing are a little more basic with less attention paid to style and luxury. The camps are typically built at ground level and often don't have swimming pools. All rooms still have real beds and each room has its own private bathroom, but facilities comprise a bucket shower and chemical loo (i.e. no plumbing). These camps are often used for Scheduled Safaris.
Three

- These are camps used for our high quality camping safaris. The camps are temporary, being moved every day (or every couple of days) along with the safari. A camp staff accompanies these "fully serviced" safaris (in addition to the professional guide) to deal with all camp chores - erecting and taking down tents, cooking, cleaning up, etc. Camp beds and bedding are provided. Tents range from smaller igloo shaped tents to walk-in Meru style tents. Bathroom facilities comprise a bucket shower and long drop or chemical loo. Examples include the Wilderness Dawning Safari, and Robin Pope Walking Safaris.
Let us help you plan your dream safari. call toll-free: 888.227.8311

or

email us

today

|

|

Share