How Long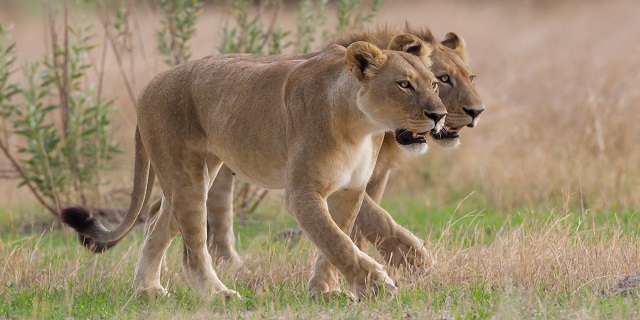 There is really only one hard and fast rule regarding the duration of a safari - it makes no sense to spend less than three nights on safari. Apart from that, the length of your safari is very much a question of personal preference.
We encounter two extremes of safari duration. We have a few clients, typically seasoned safari veterans, who will go on safari for four weeks and still not feel that it was long enough. This is in keeping with the original concept of safari as a "journey" of discovery and reflection to the wild and ancient hinterland of the "Dark Continent". At the other extreme, we have clients who are traveling to Africa for business or other reasons, and want to enjoy a quick safari add-on - three or four nights will often suffice for these travelers.
The average duration of our safaris is somewhere between seven and ten nights. With the pressures of the modern world, two weeks total trip duration seems to be about the norm and, factoring in travel time, this leaves most travelers with 11-12 nights on the ground in Africa. We normally recommend at least one recovery night after your long international flight and before your safari, and many travelers will combine safari with other non-wildlife highlights like Cape Town, Victoria Falls, Zanzibar, etc. to round out the two week total trip duration.
Typically, seven to ten nights will enable you to visit three or possibly four different camps/lodges in different areas. The idea being to combine properties that complement each other, and derive the maximum diversity of experience without spending all of your time and budget in transit from one destination to another.
Apart from total time available for the trip, the other constraint on safari duration is often cost. Two pages that will prove helpful in providing some budgetary guidance are our Safari Cost Comparison and Sample Itineraries.
Length of Stay Per Camp
Again, there is just one firm rule - you can't spend less than two nights at a safari camp or lodge. Two nights at a camp would be considered a short stay, four or five nights would be considered a long stay. Both have their advantages. Before addressing these directly, it is helpful to consider the procedure for moving between camps/lodges.
A typical safari camp schedule involves roughly four hours of activity in the early morning, and another four hours in the late afternoon / evening, with "siesta" time in between. Transfers between camps normally occur over the midday period, between activities. This usually enables guests to enjoy a full morning activity at the camp they are departing, and a full afternoon activity at the next camp. Moving between camps therefore does not deprive you of any activities per se, but it does cut into your relaxation time.
Spending more time per camp is relaxing and enables one to unpack and really settle in. Siesta time is very helpful for catching up on sleep that is shortened by the early morning wake up calls. Spending longer at a camp also allows you to develop more of a report with your guide and other camp staff. More time at fewer camps also means lower travel costs.
The primary advantage of shorter stays at more camps is diversity. Camps are often very different from each other in terms of habitat, activities, and game-viewing highlights, and each additional camp introduces a new experience to the safari. For many travelers, safari is a once in a lifetime adventure, and it seems a shame to travel all the way to Africa and not experience as much as possible of the region's splendor.
Our typical approach is to strive for a balance between diversity and immersion. Covering as many highlights as is feasible in the time allotted, while ensuring that you spend long enough in each area to fully experience the attractions. Some camps can be experienced in a two night stay, others need at least three. We also take into account the travel time to access a camp - a short hop to a camp makes a two night stay feasible, whereas a long trip to a very remote camp suggests a longer stay is appropriate.
As a rule, we encourage clients to be somewhat open regarding length of stay per camp, and we will provide guidance based on choice of camps, total length of trip, travel arrangements, etc. taking into account your preferred travel style.
Let us help you plan your dream safari. call toll-free: 888.227.8311

or

email us

today

|

|

Share