Client Feedback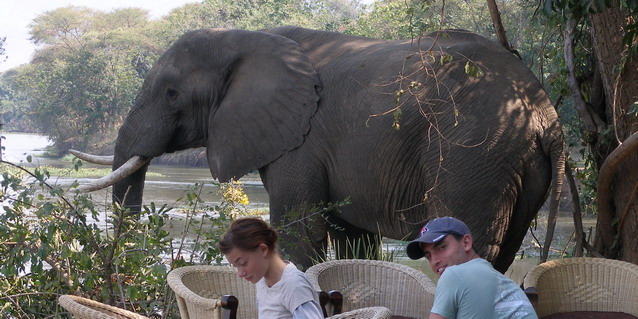 Our primary goal at Classic Africa is to exceed the expectations of our clients. From designing creative tailor-made itineraries that match your interests and priorities, to providing comprehensive information and advice in preparation for your trip, and then ensuring that everything goes according to plan and that you receive "Classic African" hospitality at every point in your travels. We have built our company and our reputation on customer satisfaction, and feel honored that 75% of our annual clientele has either traveled with us before, or was referred by someone who has. Below we present just some of the wonderfully rewarding (spontaneous and unsolicited) feedback that we have received from Classic African travelers.


---
Dear Pierre and Margaret,
Our trip, thanks entirely to you, was beyond perfection. It was enchantment, a dream and utterly idyllic. Not one single thing went wrong! I have never been on a trip where that can be said. To be a good traveler one has to be able to roll with those little glitches that pop up....to go on a trip that you put together, one need be a total novice, and an inflexible one at that. EVERYTHING went EXACTLY as you had laid out.
I have been on Safari twice before...and I will be on Safari yet again, but I have never been in surroundings anything like this...decadent luxury! All three camps were something out of a movie set! Penni who has NOT been on any sort of "adventure" trip before is ready to head out on more and more and more, at the drop of a hat. You see, I put myself entirely in your hands..something I NEVER do!
Our private guides were wonderful. Cape Town was just a jewel and I regret that we didn't have more days there. We really needed two more to do it justice. Everywhere we went the people were incredibly warm and wonderful and of a VERY high caliber. We came back raving to everyone and telling everyone that S. Africa is "THE" place to go....it is expensive to get there, but very inexpensive once there. The food in the restaurants is inventive and delicious and there is far more to do in S. Africa than game watch, if game viewing is NOT to one's taste. Yes, I know, I find that very hard to fathom also.
I am extolling your virtues to one and all. This includes other American's we met who would do other trips in southern Africa...I freely handed out your name and e mail address and web address to one and all. I would love to meet you two one day, but until then I cannot thank you enough for making such a memorable trip for us.
- Linda and Penni (Engelwood Cliffs, New Jersey)
---
Dear Pierre and Margaret,
The trip was fabulous!!! Once-in-a-lifetime indulgence and pampering. Totally relaxing, non-stressful, and breathtakingly beautiful. Truly, the perfect honeymoon from start to finish for both of us. Your knowledge of the properties and locations really helped us set an itinerary that equally pleased me (the adventurous, exotic, yet luxury traveler) and Les (the demanding top service and quality and not initially quite sure what to make of spending a three week honeymoon in Africa).
Feel free to use me as a reference. You can even use my former title if it helps: Ms. Clarissa C., Former Assistant Counsel to the President of the United States of America. Indeed, I have already mentioned your company to friends who are considering an African trip.
We greatly appreciated your attention to detail--specifically the leather-bound itinerary with everything we needed for the trip in one, easy-to-carry and easy-to-reach place. We also appreciated the fact that there were no bad surprises--everything you promised was delivered and then some! (I am happy to report that we found no costs we didn't expect or awkward situations with payment for arrangements, vouchers, etc.)
Thanks again!
Clarissa and Les (Washington, DC).

---
Dear Pierre and Margaret,
I'm so sorry it's taken so long to get this letter out to you, but we've spent the better part of the last week recounting stories and sharing pictures of our unbelievable trip with all of our friends, our families, our co-workers and just about anyone else who would listen. It was truly the trip of a lifetime, far surpassing not only our very high expectations, but all of the travels we've taken to this point in our lives, including our trips to the French and Italian Riviera, Hawaii, Australia and even our honeymoon in Tahiti. Words almost fail to describe the breathtaking beauty of Africa, the kindness and generosity of its people and the unparalleled thrill of the daily game drives every dawn and dusk in the Sabi Sand wilderness.
Everything you arranged for us was perfect. As for the properties you selected, what can I say, they were nothing short of spectacular.
Planning the trip the way you did, made every stop feel like opening a new gift on Christmas morning. With each subsequent gift, somehow, almost impossibly, that much better than the last. And the fact that you were able to arrange everything on such short notice is just miraculous. I will tell everyone about you and your wonderful company and hopefully travel with you again in the not-too-distant future.
Thank you so much for making this dream come true.
Warmest regards,
Erik and Isabella (New York)

---
Dear Pierre and Margaret
Thank you so much for the perfect trip to Southern Africa. As I mentioned to you on the phone, everything from start to finish was wonderful and perfectly executed. The itinerary that you helped us put together made this trip a dream come true. The addition of Jao to diversify the itinerary as you suggested was a great ingredient in the well-rounded approach to such a complex journey.
What a completely amazing experience. If I never took another trip in my life I would be happy to stay home forever – this was spectacular. Thank you for all the special touches you both added to the trip – with the birthday cake for Laura (how did you know? Had I mentioned it?) and for the massages at Jao.
The people of Southern Africa that we met along the way were gracious and friendly and enriched our "safari" experience. The countries of South Africa and Botswana and Zimbabwe were each rewarding destinations.
The drivers at each location were prompt and friendly, always there to meet us. The scheduled flights and the charter flights were always on schedule. Your arrangements for everything were flawless.
Thank you too for the comprehensive advance planning guidance – we had everything we needed or might have needed along the way! (Margaret, Laura and I loved the Kiehl's Moisturizing Masque-great idea!) At least we didn't need the imodium or Gatorade powder but you never know! We had it all, thanks to your detailed lists.
Thank you for the beautiful bound leather itineraries. Most of all, thank you for your expertise, your friendly voice, your reassurance throughout the trip planning, and for answering the phone every time I called before we left!
Sincerely,
Lynne, Paul, Kevin, Laura, and Gary (Fairfax Station, VA).

---
Dear Pierre and Margaret
I just had to take a moment to thank you again for your help with our wonderful trip to South Africa. Our family was able to enjoy a life-changing holiday filled with memories and much of it was because of you.
I must say it was very comforting when we got off the plane and saw our driver standing there waiting for us. Your knowledge of the area and your willingness to help us plan our trip was most appreciated.
Beautiful... I expected a travel agency that could answer questions and get us from point A to point B but what a pleasure it was to encounter a friend. We genuinely enjoyed our trip and wish for you all the best in your endeavors. Attached are some photos I thought you might enjoy. I hope that they will serve as a reminder of our family.
With thanks,
The Yancey Family
---
Dear Margaret and Pierre,
We had an amazing time on our honeymoon! We were surprised at how smoothly everything went, considering the number of transfers we made and the variety of places we visited. Each experience far exceeded our expectations. Everyone went out of their way to make us feel so special - we were treated like royalty! We have never experienced such personalized service as at these camps/lodges. The accommodations were fantastic, the people were incredibly friendly and the service was spectacular. We cannot say enough good things about our trip. We saw some amazing things - the Big 5 and much, much more. It seemed like we had great sightings on every drive, boat ride, activity - each time we thought it could not possibly get better, it did. We never wanted to leave a sighting, and then we did not want to leave our camp. But every time we did, we were delighted and surprised at what was in store for us next. We truly felt like each entire staff was working just to fulfill our every expectation and desire. And nothing beats getting that close to nature and seeing the animals in their world...we could have stayed watching them for hours -- days -- weeks.
Thank you so much for making it all happen for us, and for your advice along the way. You could not have created a better set of experiences for us personally.
Please take pride in knowing that you both did a wonderful job preparing us and providing us with an itinerary that was perfect for our "trip of a lifetime". Your services are top notch. The website, itinerary and advice you have put together are invaluable tools in designing an unforgettable trip to Southern Africa. We have both done a great deal of world travel, and this experience was the best all around. We wish there were more companies like Classic Africa to help plan trips to other destinations. As suspected, we could not get enough of safari, and would love to go back someday soon! We will be sure to spread the word about Classic Africa and the incredible safari experience in Southern Africa.
Our many thanks to you again.
Debbie and Ryan (Chicago, IL)
---
Dear Margaret and Pierre
Again, in a letter rather than by email, I wanted to thank you for your time and efforts that Classic Africa put into our recent trip to South Africa. Betsy and I, as well as Gary and Terry, all felt it was the best trip we have ever taken.
I feel so fortunate to have found Classic Africa on the internet. I am sure that your assistance in helping us create our itinerary was a major factor in the success of our trip. I think your knowledge of the area, your understanding of our expectations, and your attention to details all led to this dream vacation. All of the places we stayed, the attractions we saw, and the activities you suggested were just what we had hoped.
If you ever need a reference for your services, please think of me. It would be my pleasure to tell others of the joys of South Africa and the level of professionalism provided by Classic Africa.
Thanks again.
Sincerely,
Fred and Betsy (Centennial, CO).
---
Dear Pierre and Margaret
Words cannot express our thanks for planning such a fabulous trip for our anniversary. Every place, thing, and everyone exceeded our expectations. Southern Africa is the most beautiful, untouched place - Mike and I were both "bitten by the bug" and are already planning our return.
We were so taken care of - everything was perfect. We love Classic Africa and will never use another company. The canoe trip you recommended was so amazing - we really got to "experience" Africa - pure and wild. We were never crowded and never felt like tourists. The vintage camps welcomed us like old friends.
We would be more than pleased to speak to anyone with questions! Thanks again for being the very best at what you do and introducing us to our favorite place in the world. We look forward to talking to you soon - Namibia here we come!
Happy Holidays and wishes for peace to you both.
Fondly,
Mike and Heather (Naples, Florida).
---
Dear Pierre and Margaret,
Our trip was everything that I had hoped and dreamed it would be. Absolutely nothing went wrong with the logistical issues, which is an amazing accomplishment in and of itself. We were collected at the designated places and times as promised, and even the flights were always on time. So much for your warnings about needing to be a patient traveler while in Africa!
Many people have asked me what my favorite part was about our trip. Invariably, I tell them that I cannot answer their question. Comparing a place like Cape Town to Makalolo Plains in Zimbabwe is like comparing Pinotage to Shiraz: impossible!!! Every single place that we visited had its own unique charms and beauty. The only constant was the superior service and hospitality. People in the tourism industry around the world need to study the industry in southern Africa. Their graciousness, attention to detail, and sincerity have no equal.
One of the sad things about having had this experience, however, is that there is absolutely no way to articulate the majesty of the experience to someone who hasn't been there themselves. How can you describe the sheer magnificence of an African sunset, of watching young cheetah cubs make one of their first kills while their mother supervises, of the sheer awe induced by being in the midst of a stampeding herd of 1500 buffalo, of the tenderness displayed by a massive elephant cow towards her beautiful little baby? I could go on for hours about all the exciting adventures we experienced, the wonderful people we met (both tourists and natives as well), the incredible food and accommodations, and the continuous pageantry of the animals... But you have had the privilege of experiencing these same things yourselves, so you can simply smile, nod your heads, and say that you understand.
I would be pleased to serve as a reference for you, should you ever need one. We couldn't have done it without you! In fact, two of your suggestions were perhaps my "favorites": Vumbura and Makalolo Plains. I must admit that I had glossed over them while reading the brochures and surfing the Internet, but your recommendation to go to both was perfect. We would have missed out on so much had we not gone to these two enchanting places.
Again, we thank you for helping us put together the most incredible trip of our lives. We're hopeful that we'll be able to return with Joe, sooner rather than later, God willing.
All the best,
Diane and Erin (Poway, California).

---
Dear Pierre and Margaret
We just had to let you know that we had the most wonderful and amazing trip to southern Africa! It was everything that we had hoped for and more and we could not have done it without you! Our trip was seamless and perfect from start to finish thanks to you.
Each destination was unique and wonderful and made our trip that much better. We had such a wonderful diversity in camps that allowed us to see and experience moments that we will treasure for a lifetime. I simply cannot say enough wonderful things about our trip and the choices you helped us make as far as where to stay.
I know we will go back to Africa someday, and when we do, we will definitely call upon Classic Africa again! Your insight and assistance was invaluable!
Thank you so much,
Leah and Paul (Portland, OR).
PS: feel free to give out my name and work contact number and e-mail if you would like to use me as a reference
---
Dear Pierre and Margaret
Just back (and still jet-lagged) from 17 spectacular days in South Africa, and we can't thank you enough for all you did to make it the trip-of-a -lifetime we hoped it would be for Amy and me and our five children. The trip even surpassed my wildest expectations, and it may prove to be beyond just extraordinarily memorable to become truly life-changing.
Everything worked out perfectly. The flights were all great, and surprisingly easy. Your local agents and guides were always there for us, and were gracious, informative and fun - all superb ambassadors for a country they clearly loved and were so proud of.
Thank you again! And look forward to meeting you both one of these days, and to using your services again.
All the best,
Elliot, Amy, and family (Vienna, Virginia).

---
Dear Pierre and Margaret
It has been over a month now since Stephanie and I returned from our South African honeymoon, however, the memories of our trip are as vivid as if we returned yesterday. If there is one word to describe our trip, it would have to be a word which we heard over and over again from the kind folks we met along the way describing their own experiences in South Africa...BRILLIANT. As you know, Stephanie and I had never traveled to South Africa prior to our honeymoon this past October so we really had no idea what to expect. Of course, we read our itinerary again and again as well as studied travel guides of South Africa, however, the words which described the places in which we were to stay and the things we were to experience did not come close to the reality of our visit.
As our airplane descended into Cape Town, Table Mountain came into view along with the other mountain ranges surrounding the city. Amazed at landscape, I turned to Stephanie and said, "I can't wait to come back". Even before our plane landed, I knew this was going to be a country we would need to come back and visit. We can't wait for our next trip.
From the scenic views of the mountains, oceans, sweeping hills, and prairies, to the magnificent safari game, whales and sharks, to the fabulous meals we enjoyed day-in and day-out, to the warm and friendly people we met along the way, this was truly the most incredible trip Stephanie and I ever experienced.
Thank you for everything you did for us. Every aspect of our trip turned out better than we could have ever imagined. Your knowledge of South Africa, attention to detail and understanding of what Stephanie and I wanted to experience made our honeymoon a very memorable, enjoyable, perfect and BRILLIANT start to our new life together.
Best Regards
Jon and Stephanie (Atlanta, GA).
---
Pierre and Margaret
Both Sarah and I find it difficult to describe the days we spent in Zimbabwe - we no longer refer to our trip as a 'safari'- a word that conjures many different images but does not do justice to the wonderful adventure you arranged for us. Truly inspirational.
We could both bore you (for a long time!) with details but, as I am sure you appreciate, they just don't do justice to the experience of being there, seeing the animals, the sounds and smells.
The trip has deeply affected both of us - we are both pleasantly surpised at how quickly we came to feel a drawing to Africa and Zimbabwe - we are so pleased that we didn't amend our trip, as so many others it seems have, due to the political situation - the people were joyful, so passionate about their country, and need all the support we can give - it was impossible not to be uplifted by their spirits and warmth.
The sense of education we came away with was also a total surprise - much of this is down to Wilderness Safaris and the guides - I found myself being amazed by the birds and foliage- something that I hadn't even considered. Sarah, who will admit to being less than fond of the hippos at the start, came to really develop an affection for them - all through increased understanding provided by the guides, whose knowledge and passion was infectious, as was their respect for the habitat and the animals.
On a very personal note, and something we have not experienced on any other trip we have taken together, Sarah and I learned much about ourselves and each other and returned closer and stronger in our relationship - that really was an extra we didn't expect and took us both by surpise. No mention of that in the perparation information!
We have nothing but glowing reports for you - we will both return to Africa and we would most certainly look to Classic Africa for advice and guidance. We would have no hesitation about recommending you to anyone who wants to hear and would be more than happy for you to provide our details as references for future clients.

Your attention to detail and guidance throughout the whole process of organising the trip made what was intended to be the trip of lifetime into what we hope will be the first of many.
Thank you both so much.
Paul and Sarah (Surrey, England).

---
Dear Pierre and Margaret
Thank you so much for your welcome home letter. There are no words to describe how incredible our honeymoon was and we have you to thank for the coordination of everything. The trip was pure pleasure - everything from the transportation, accomodations, food, and personal touches to the guides, game viewing and weather - there was nothing that this trip lacked!
We knew going into the planning of our honeymoon safari in southern Africa that it would be a dream come true but until realized we had no idea how perfect, beautiful, and special it would be. I can't even begin to describe how amazing our experience was. Jeff and I are going through major withdrawal and are trying to figure out how quickly we can return to Africa. Thank you for all of those special touches - champagne at the Table Bay hotel, acknowledgment of our honeymoon at each camp, and maybe you even had a hand in getting us (who we considered) the best rangers in each concession.
By the end of our trip (after logging 18 safari drives!) we saw everything there is to see - lions (large prides including males), leopards, elephants (herds plus babies), zebra, rhinos, hippos, buffalo (herds), giraffe, wildebeest, many different types of antelope, crocodiles, cheetah, gorgeous exotic birds, hyena, bush baby, monkeys and baboons, penguins(in Cape of Good Hope), jackals, and many other animals I never even heard of before and others that I know I'm forgetting to mention!!
It has been a pleasure working with you from day one and when it comes time to plan another safari, we will definitely be contacting you!
Stephanie and Jeff (Alexandria, Virginia).

---
"Dear Pierre and Margaret
You've planned and organized an exceptional South African vacation for me. From our e-mails and telephone conversations I trusted your judgment entirely ... I was confident that I'd choose an association with Classic Africa from our first or second phone conversation, as you were unhurried in listening to and answering my questions. You genuinely were concerned that I received exactly the trip I discussed with you.
I'm awestruck and I get weak as I remember the exquisite sweetness and simultaneous brutality of unabashed nature unfolding in my midst. I now understand why, at each organized busload tour I took in former years, at least one or two of the couples on the tour asked me if I'd "done Africa yet". I get it. Yes, I see. I haven't taken a trip that has affected me so profoundly or that has gently merged with my spirit so conclusively.
My South African safari has altered my perceptions and elevated my respect for animals and nature immeasurably. I thank you both from my heart's depths and I so look forward to that next phone call that begins, "Pierre, let's do South Africa: the sequel!
"With my thanks and some of my heart too"
Arlene (New York, USA).

---
"Dear Pierre and Margaret
We returned from our safari in Botswana last Saturday. I wanted to tell you how much I appreciate your help in making this one of the most fantastic experiences our family has shared. My boys are now 22, 19 and 16 and we have taken many family vacations. However, I am not sure a day went by that at least one of them didn't say THIS was the best family vacation ever.
I was so impressed with the organization – everything went exactly as scheduled with the most prompt and courteous service – from being picked up in Johannesburg to being dropped off in Victoria Falls.
Our guides were simply the best – their patience, kindness, energy and enthusiasm could not possibly be surpassed. They truly became our friends making the whole experience that much more special.
Again, thank you very much for all of your help in planning our safari.
The Soper Family (St. Louis, MO).
---
"Dear Pierre and Margaret
You cannot imagine how many times we talked about you when we were on our trip! My parents kept saying "You have to send a letter to those folks who helped you plan this!" They were absolutely overwhelmed by the trip and I do not possibly have the words to fully express how extraordinary the experience was for all of us! It was truly a trip of a lifetime—and that is an understatement. I cannot imagine an experience that would ever come close to our vacation in South Africa. It was just incredible.
So, I honestly do not know how to ever thank you for helping us to plan a trip of a lifetime. Now I understand why you plan safaris for a living—and I cannot imagine a more wonderful way to make a living. Your assistance was exceptional, the trip was even more wonderful than we ever could have imagined, and I can never thank you enough for all that you did to help us. We left a part of our hearts behind in South Africa, and for that, we will definitely return. From the bottom of our hearts, we thank you."
Judy and Family (Boston, USA).

---
"Dear Pierre and Margaret
Overall, this was probably the best vacation of my life. We are both thoroughly pleased with and deeply grateful to you both for all of your knowledgable advice and flawless arrangments. Not only will we enthusiastically recommend you to anyone who wishes to visit southern Africa, we hope to be able to return again ourselves with your help in the future.
I would be happy to provide the highest possible recommendation to any of your potential customers. Since this was the first time I myself have had such extensive dealings with someone I never actually met, I must admit that I retained just a tinge of apprehension until the trip was in full swing. I can certainly identify with anyone who might have similar reservations before using an internet service to make such a big travel (and financial) committment. But I certainly know now that I couldn't possibly have found anyone more knowledgeable, more thorough, or more honest.
Warmest regards.
Jeff and Andreas (Burbank, California).

---
"Hello! Margaret & Pierre-
Just wanted to report to you quickly that we had a FABULOUS time on our honeymoon, you did a fantastic job setting everything up, the camps, transfers, sites, people, animals, birds, scenery etc were so breathtakingly beautiful and everything (I mean everything) went incredibly smoothly without even one glitch. We are so grateful to you for making our itinerary perfect and our trip forever etched in our minds.
I also just was told that my sister and her boyfriend (Lisa & Michael) just booked a trip with you. I have a strong feeling my parents (Michael & Patricia) will be booking shortly as well given our rave reviews of everything! You are truly a class act operation. We will send you some pictures to evidence how wonderful our trip was! Thank you, thank you, thank you!!! We look forward to dealing with you on our next trip to Africa!
Best wishes.
Kimberly and Steve (New York).
---
"Dear Pierre and Margaret,
We apologize that it's taken so long to get back to you about our absolutely fantastic & unforgettable trip to Africa, but it's taken this long to catch our breath and get back to our day-to-day life.
The trip you put together with our dear friend Mark was the most incredible adventure of our lifetime – one that we will NEVER forget. Each and every place we stayed at was remarkable. The staff, the delicious food, the guides, and the accommodations (including the laundry service) were all first rate. It's especially appealing that they each have a limited amount of rooms, which maintains the intimate feeling of the camps. The scenery, the sunsets, & the sundowners were a glorious treat. And, of course, the animals were extraordinary. We still marvel at how close and personal we were able to get with all the wild animals in their natural African environments, and how each destination had distinctly different terrain. We were fortunate to see the big five and many more of the animals of the South African savanna – It was a "WOW" on a daily basis.
Once we were immersed in the camps and all the surrounding terrain, we all realized that this trip couldn't truly be explained to anyone that hasn't actually experienced it. Our pictures remain the catalyst for our memories of the sights, sounds, smells, tastes and feelings of the experience. The entire experience was one that touched every one of the senses. It was extremely educational. It will remain an unforgettable adventure.
All the personal touches that were provided by Classic Africa were excellent -- From the web site designed specifically for our trip to the leather-bound personalized information book about the each of the places we were going to. It was so helpful to have all the extremely well prepared information that included all the possible adventures of each stop we made. You guys are awesome!
Thank you for packaging the most incredible trip of a lifetime. We appreciate EVERYTHING you did to make our trip as enjoyable as it could possibly have been. As you had hoped, it truly exceeded our expectations and dreams.
Best Regards
Jill, Gary, Mark, and Nancy (California).

---
"Dear Pierre and Margaret,
Our trip to Africa was outstanding in every way. You were extremely helpful both in the beginning, in helping us narrow down our travels to a reasonable itenarary, and in providing hassle free planning. We appreciated very much the information you sent us prior to our trip with regard to safety, clothing, immunizations, etc, as well as the brief descriptions of areas of interest. The details were superbly orchestrated, which allowed us to enjoy all of our time there rather than worry about transport, etc. We have recommended you to multiple friends and colleagues. Bill and I are planning to return with our older children in a couple of years and hopefully will have the opportunity to work with you again.
You were right about the safari--I could have stayed for many more days!! South Africa is magnificent and the Greater Kruger Park is overwhelming in its natural beauty and variety of animals. Our accomodations were wonderful and the people delightful. The game viewing was simply spectacular. My only complaint is that I didn't have enough time to see all I wanted to se in Capetown and on Safari!!
We thank you very much for your planning efforts--your personal touch, first hand knowlege and customized tips you give your clients are impressive and a welcome change in this day and age--I am certan our trip would not have been as enjoyable without your input and orchestration.
Most gratefully"
Bill and Polly (Virginia Beach, USA).
---
"Dear Pierre and Margaret,
My trip of a lifetime was exactly that - your months of work, and many plans and details went off without a hitch - it was flawless! I had a smile on my face for two weeks. Met at each place - a real comfort.
Africa is beautiful - people really don't realize - the trees, the golden grass, and the cloudless blue sky. I would return in a minute. Knowing that I probably won't be able, I can only be thankful that I listened to my heart and took myself. Thankful also that I found y'all on the internet (that I had learned to use it!). Tours are not the way to see Africa - there is much more to see and I am happy knowing that I experienced, not toured, a piece of Africa.
Thank you both so very much for all your help in making my African safari truly a trip of a 75 year lifetime."
Jere (Columbus, Mississippi)
---
"Dear Pierre and Margaret,
You are by far the African travel consultants of choice as far as we are concerned--you did a great job, starting with answering our questions via a "conference call" well after normal business hours back in November all the way through sending us your *fabulous* booklet before we left. Your leather bound booklet was the envy of other travelers we met. We particularly appreciated your advice on tipping and on shopping. We had mentioned your names to people thinking about similar trips even before we took ours because had such confidence in you and thought you did a great job handling the planning and booking process. We're even more enthusiastic now that we know how well things turned out for us.
John and Laura (New Jersey, USA)
---
"Dear Margaret and Pierre,
Yes! Our trip was indeed everything we had hoped, and more - thanks to you.
There is no way that we would suggest alterations on a schedule such as ours; your attention to detail and personal contacts were unparalleled in our experience (world wide travel), and we would be happy to seek your assistance in the future."
Gayle and Bill (Maryland, USA)

---
"You have without doubt been the most responsive to our needs. And, just for the record, your price quote is most competitive."

Doris and Jack (California, USA)
Let us help you plan your dream safari. call toll-free: 888.227.8311

or

email us

today

|

|

Share