Where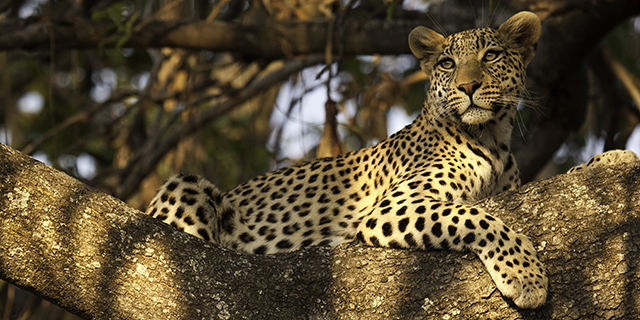 Perhaps no other decision relating to safari consumes as much time and thought as Where to go, particularly for a Tailor-Made Safari. In the process of helping literally thousands of travelers design and arrange their safaris, we have found that the choice of specific Parks/Reserves and camps/lodges is greatly facilitated by starting with a 'big picture' approach and working through a few basic steps to narrow down the options. To place the analysis in context, please cross reference our Safari Decision Tree as you make your way through the comparison tables in this section.
In our opinion, there are currently 17 major safari areas in southern Africa, each with its own specific strengths and advantages. Some are individual reserves, others are vast eco-systems comprised of several reserves. Before even contemplating these safari areas and the camps/lodges within them, we think that it is helpful to consider the broader context within which the safari areas exist.
The first consideration is the extent to which you want to venture into the wilderness versus the convenience of being closer to civilization. And, related to this, the level of luxury that you would like with respect to accommodations.
South Africa is, by African standards, a very developed country with sophisticated infrastructure, and there is virtually no travel destination that is not accessible by road, and doesn't feature mainline electricity and phone lines. Regular flight schedules connect most points within the country, and travel between destinations is typically quick and convenient. Safari properties in South Africa take advantage of their more or less "First World" setting to create very luxurious and pampering lodges - almost without exception, South African lodges feature (at a minimum) air-conditioning, phone/internet access, world class kitchens, and impressive spa facilities. South African safari lodges inevitably feature very strongly in annual "Best Properties in the World" awards, as voted by readers of Conde Naste Traveler and Travel & Leisure.
The three countries north of South Africa (Botswana, Zambia, and Zimbabwe) are much less developed, and all feature vast and pristine wilderness areas - the safari camps have their own generators for power, but there is no mainline electricity, no cell phone reception, no phone lines, and (in many cases) no road access. The accommodation in these areas takes the form of luxury tented camps. The primary difference between a luxury tented camp and a luxury lodge is that rooms at the camps have canvas walls whereas lodges are made of bricks and mortar. Luxury tented camps match the lodges on basic comfort elements (spacious rooms, real beds, en-suite, private bathrooms with full plumbing), but lodges typically feature more pampering. The luxury tented camps are located in more remote settings, and they facilitate a sense of being closer to the wilderness.
Differences between the "Luxury Tented" destinations are more subtle, although the continuum between Wilderness/Adventure and Convenience/Luxury is still applicable. Zambia features some of the most remote and unspoiled ecosystems in southern Africa, as well as the broadest range of activities by which to fully experience the adventure of safari. Botswana is the most easily accessible "Luxury Tented" destination, offering convenient travel logistics and the most elegant and luxurious accommodations; it is, from the perspective of convenience and luxury, a relatively small step deeper into the wilderness than a South African lodge safari. Zimbabwe offers a very similar experience to Zambia.
Namibia does not fit neatly into any category, which is why it is in parentheses in the Safari Decision Tree. Firstly, it is not primarily a wildlife safari destination. There is plenty of big game in Namibia, but it is not as prolific or concentrated as in the other countries of southern Africa, and the major highlight of Namibia is its dramatic desert scenery (and some very interesting cultural opportunities). Secondly, Namibia is home to some of the most remote tented safari camps in southern Africa, but also features some luxury lodges in more developed parts of the country. On the whole, Namibia exhibits more characteristics of a "Luxury Tented" destination, which is why we have included it in that category.
It certainly is possible (and recommended) to combine more than one safari area within a country, and even between countries. There are, however, certain constraints, including the time and cost of travel, and limited airline schedules when moving between countries. Our Destination Map provides a sense of the relative geographic location of southern Africa's various countries and safari areas (as well as their relation to some of the region's non-safari highlights). Our Sample Itinerary Page will stimulate thoughts and ideas for your own combination of destinations, based on successful itineraries undertaken by previous clients.
The comparison tables below are deliberately limited in their scope to relative strengths. In other words, not all the highlights, species, activities, and other features of a destination are listed, only those that are relative strengths vis-a-vis the other options in the table. The idea is to help you focus on the options with relative strengths that match your preferences and priorities.
Let us help you plan your dream safari. call toll-free: 888.227.8311

or

email us

today

|

|

Share