Singita Lebombo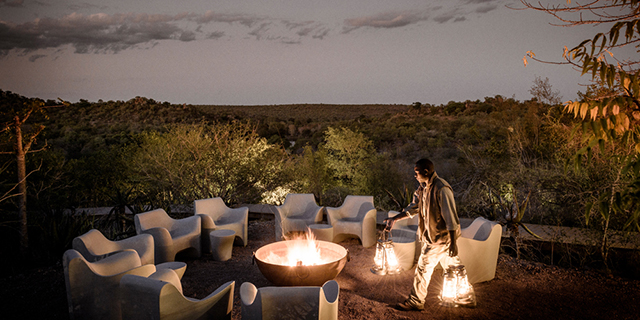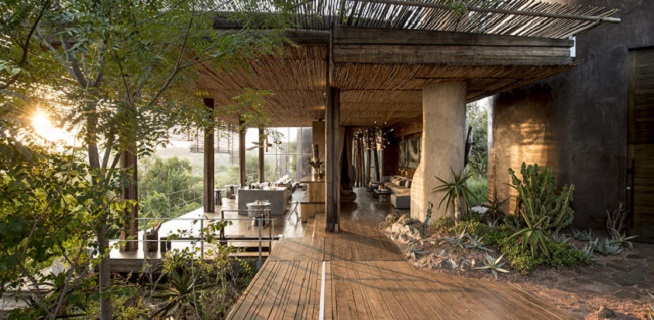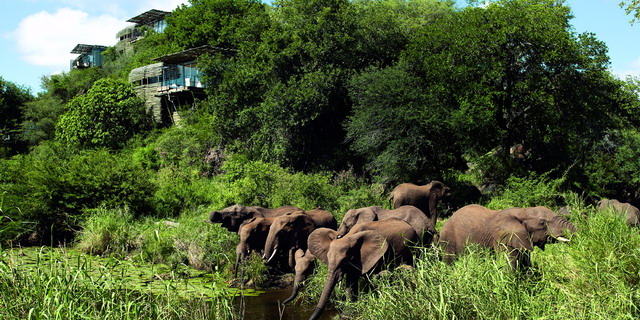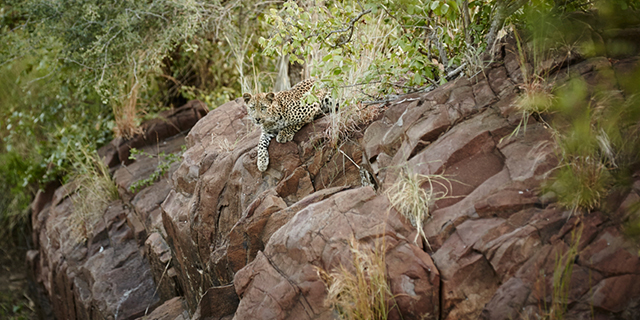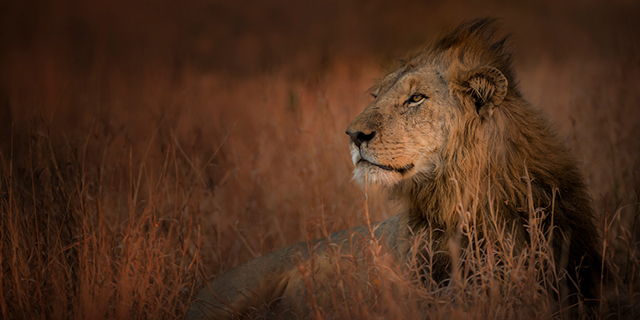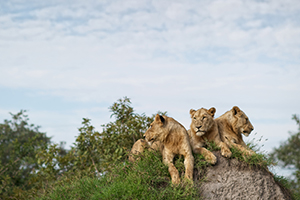 The Singita Lebombo Reserve, a 35,000 acres private concession inside the Kruger National Park, is one of the most highly valued swathes of wildlife habitat in South Africa. This game-rich and scenically beautiful wilderness area is located in the remote eastern sector of the Kruger Park. The landscape is dominate by the Lebombo Mountains, and is characterized by a diversity of habitat types, from riverine thickets to savannah bushveld and open grass plains. Two perennial rivers provide a year round source of water for the abundant wildlife.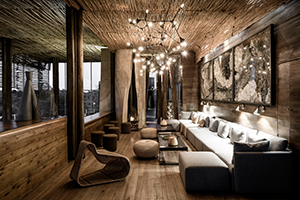 Singita Lebombo Lodge is set high above the confluence of the Sweni and Nwanetsi Rivers, with views to the rocky Lebombo cliffs. The lodge is an airy vision of glass, steel, wood and cool-hued linen. The structures themselves are clearly inspired by Le Corbusier 's international style of architecture. The heavy African furnishings and artifacts are painted a smooth glossy white, an ironic twist inspired by a modernist aesthetic. Hand-blown glass links fit together to form long, daringly heavy chandeliers which resemble water-falls and reflect the warm light like a prism. Stark white linen, overstuffed cushions, and wicker tables create cozy sitting areas in the midst of this vast sophisticated space.
Guests are accommodated in large glass cubes with sliding walls, perched on the rocky cliff like eagle's nests above the valley. Each of the fifteen luxurious and private suites features indoor and outdoor showers, double vanities, and shaded mattresses on the wooden deck for siestas during the day. Furnishings are replete with the symbolism of butterflies. Open any of the cool neutral colored cabinets or drawers and one is struck with brilliant reds, oranges, greens and blues, like a butterfly's wings opening for flight.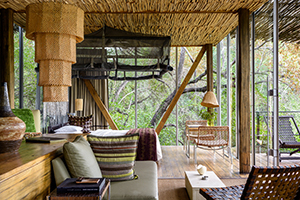 Singita Sweni Lodge provides an interesting and appealing foil to Singita Lebombo in that is exudes warmth. It is also constructed of glass and steel, but is supported by dark wood beams and is decorated with a palette of exotic spices. Sweni is smaller than Lebombo, and its six suites are set closer to the river banks. Integration with the African bush through floor to ceiling windows and a vast wood slatted balcony flanked by driftwood rails creates a sense of accord with the sublime surroundings.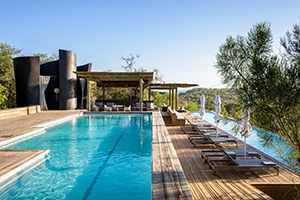 Both Lebombo and Sweni feature long slim swimming pools laid out in front of the lodges, which provide an interesting foreground contrast to the dry bushveld beyond. Elegant meals are often enjoyed on these wooden viewing decks. Singita's outstanding cuisine is inspired by African ingredients and flavors, yet guided by Western culinary tradition. Complementing the sophisticated menu is an exceptional wine cellar. Buried deep in the cool rock, the cellar boasts a comprehensive cross section of over 12,000 bottles of South African and International wines.
Between Singita Lebombo and Sweni lies the African Village, the perfect place to while away siesta time in the afternoons. The Village contains a superlative market, a state of the art gym, and an extensive health spa. The market is arranged in a courtyard and sells a huge variety of wares from precious stones and world class artwork to telephone wire baskets. The glass-walled gym provides a full spectrum of aerobic equipment, and great views of the surrounding African bush. Spa treatments encompass ancient Thai massage, seaweed wraps, African hot stone therapies, head massages, reflexology, manicures, facials and aromatherapy.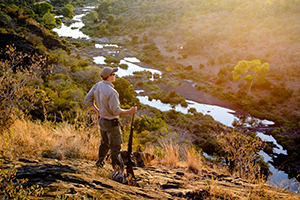 Activities at both lodges focus on the area's abundant wildlife. Game-drives and night-drives in open safari vehicles are complimented by nature walks accompanied by an armed professional game ranger. Supported by an abundance of plains game (including giraffe, zebra, and various species of antelope), the Lebombo area is home to one of the highest concentrations of lion in the Kruger Park. Hippos and crocodiles thrive in the Sweni and Nwanetsi Rivers, whose riverine habitat provides perfect cover for leopards. Elephant, rhino, and buffalo are also present in high concentrations and move freely throughout the Kruger eco-system.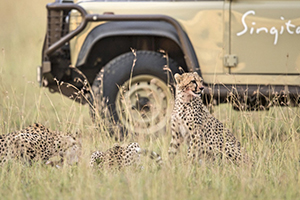 Singita Lebombo and Sweni Lodges offer a private safari experience in a part of Kruger Park heretofore reserved only for the animals. Either as a stand-alone lodge, or the perfect compliment to another reserve in the western Sabi Sand portion of Kruger, Singita Lebombo is an inspired safari destination. Marvel at the attention paid to every exquisite detail and enjoy an emotional and visceral adventure.
Conservation Dimension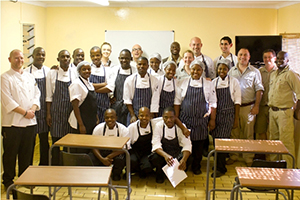 Singita is home to the thriving Singita Cooking School, designed to teach cooking trade skills to local students and guide students toward professional mastery. The program includes up to 10 trainees at a time; offering training, improvement of English speaking skills, and employment guidance. Singita guests have the opportunity to take part in student sponsorship to promote this sustainable career training program.
Singita Videos
"Inspiration behind Singita Lebombo Lodge"
"Singita Sweni Lodge - the experience"
For more information about Singita Lebombo call toll-free: 888.227.8311
or

email us

for Information



|

|

Share