Londolozi Private Game Reserve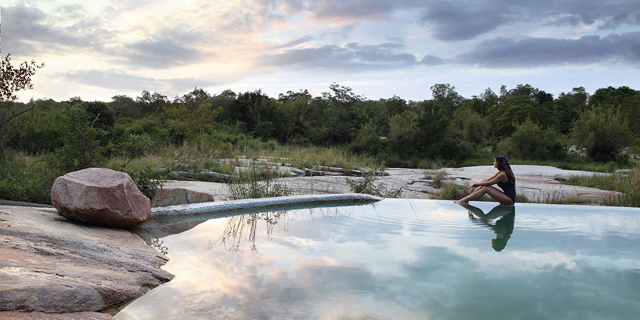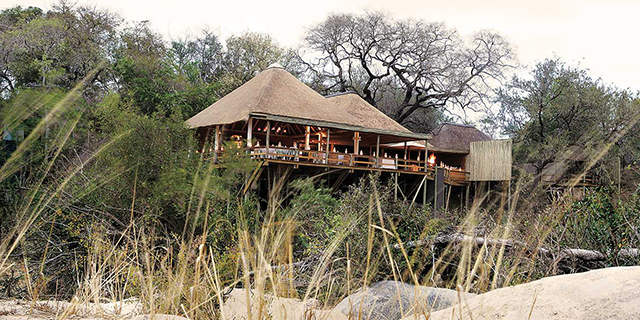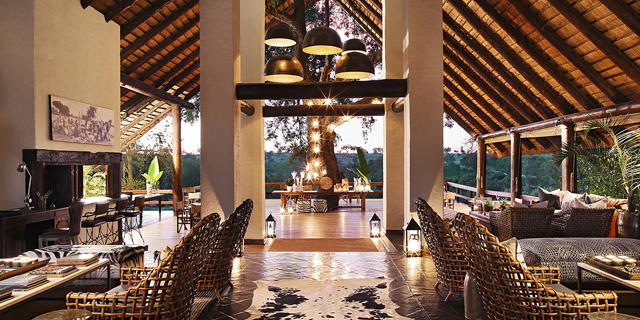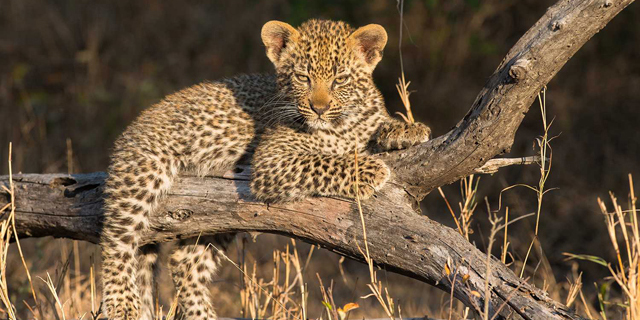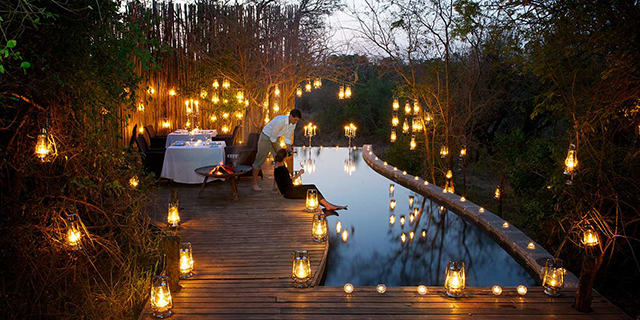 Londolozi is set within the world famous Sabi Sand Private Game Reserve, on the western border of the great Kruger National Park. The Kruger Park (a 5.5 million acre sanctuary for wildlife, bigger than Massachusetts) is widely regarded as Africa's premier game reserve, and animals move back and forth between Kruger and the Sabi Sand Reserve, unhindered by fences. The Sabi Sand Reserve is one of the most game-rich areas within Kruger, and is home to Africa's greatest diversity of animals.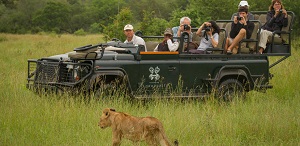 Game-drive safaris at Londolozi are conducted in specially adapted open Landrovers, with professional guides and trackers to locate and provide interesting background information and facts about Africa's spectacular wildlife. Londolozi also offers night drives with spot lamps to view nocturnal species. Interpretive bush walks with your guide and tracker provide even deeper and more 'hands-on' insight into the many intricate eco-systems of the African bush. All guides and trackers are carefully chosen for their knowledge and experience of the bush, and receive extensive training to ensure that your encounters with the African wilderness are exciting, informative, and safe. Londolozi is particularly well-known for its leopard sightings, with a reputation as one of the best places in Africa to view these beautiful yet reclusive cats. Londolozi was the first safari lodge to be awarded Relais & Chateaux membership, a status which it maintains to this day. With five intimate camps spread across the Reserve, (Granite, Tree, Pioneer, Founders and Varty), the atmosphere is private and exclusive.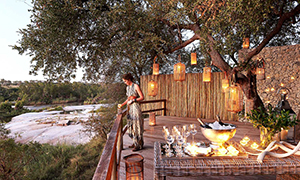 The Granite Suites offer special retreat for only six guests. Bold, inspiring materials mirror the extrusion of granite rocks that flank the camp. A palette of silver, charcoal and elephant grey in a range of sumptuous materials creates an elegant and contemporary ambience in each expansive suite. The emphasis at Granite is on space, light and privacy while blurring the barrier between inside and out, achieved with large doors and windows all opening directly onto the Sand River. Each suite boasts a private, heated swimming pool.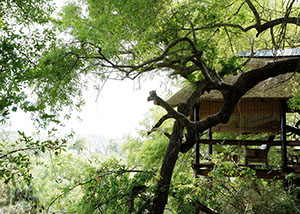 Tree Camp perches seventy feet above the bush, cradled by an ancient ebony tree. The six-suite camp is architecturally interesting, decorated in a pleasing and creative African style. Materials are used purposefully and aesthetically to create great texture and contrast. In the open-air lounge heavy teak railway sleepers are used to construct solid dark geometric bookcases, tables, and other furnishings. Leather couches and carved wood lounge chairs with cushions in earthy fabrics and Zanzibarean lamps complete the effect.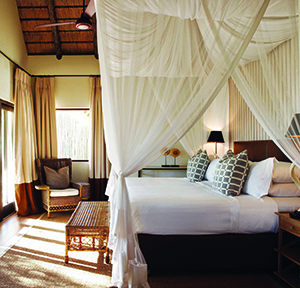 Pioneer Camp is steeped in the early history of Londolozi. An ancient forest throws dappled light on the three exclusive suites and provides a dramatic backdrop for the camp's celebration of the past. The camp is decorated in the spirit of old English pioneers, with an African twist. British influences are evident in the elegant cream interiors, silver teapots and Portmeirion crockery, while the African landscape is celebrated with organic shapes and materials. Guest suites are themed with historic memorabilia, bringing the story of the Varty ancestry to life.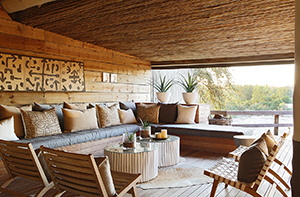 Founders Camp is also steeped in tradition, history and a sense of continuity. It is comprised of ten chalets and a spacious common area, raised on a wooden deck under thatch. The chalets repose in the shade of ancient ebony and matumi trees along the banks of the Sand River. This is safari in the classic style, replete with classic black and cream ticking fabric and original mahogany beds. Deep leather couches, military chests, compass safari lamps and a riverside lounge sala, create a mood of easy luxury and laid back welcome for discerning travelers.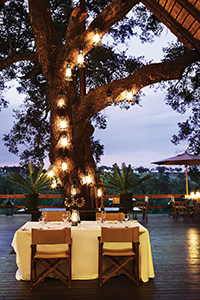 Varty Camp is the symbolic heart and soul of Londolozi - with ten chalets it is the largest of the camps, yet still retains a sense of exclusivity and privacy. The living spaces are raised off the ground and shaded under a cathedral of trees. The decor echoes tones of the owners' private homes. All rooms have private swimming pools framed by timber decks that overlook the riverine bush. The camp has a pleasingly down-to-earth quality and the emphasis on family heritage means that children are welcome. Varty Camp is also home to the original Sparta Hunting Camp, a boutique, the Cardiovascular Room, Massage Treatment Room and Library. Guests from all Camps are invited to make use of these facilities.
The pan-African cuisine at every one of Londolozi's camps is abundant, fresh, well prepared and satisfying. Every ingredient is chosen with care, favoring organic produce, free range game and herbs from the kitchen garden to create dishes that are irresistibly delicious and promote health. Londolozi's recipes are a source of great pride as many have been handed down through generations or were created in the Londolozi kitchens. At Londolozi the emphasis is on relaxation and rejuvenation of the body, mind and spirit, an effect it achieves admirably - no matter which camp is chosen.
Conservation Dimension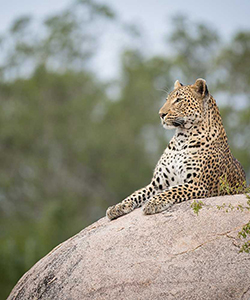 Conservation is a very strong focus at Londolozi (the name itself means "protector of living things" in the local Shangaan language). Londolozi was one of Southern Africa's first significant private game reserves, and has developed a worldwide reputation for combining nature conservation, tourism, and local community empowerment. It was the base from which Conservation Corporation Africa was to be born, and the model of ecotourism developed at Londolozi has been exported across Southern and Eastern Africa. Londolozi has received numerous international awards for its conservation efforts, including the Travel Trade Gazette's "Best Game Lodge Award", and is a former winner of the British Airways "Tourism for Tomorrow" Award. Perhaps the most glowing tribute to the model of ecotourism developed at Londolozi comes from Nelson Mandela who declared that, "Londolozi represents a model of the dream I cherish for the future of nature preservation in our country."
For more information about Londolozi Private Game Reserve call toll-free: 888.227.8311
or

email us

for Information



|

|

Share