Singita Grumeti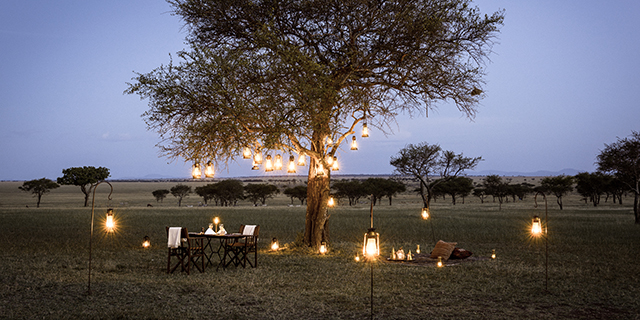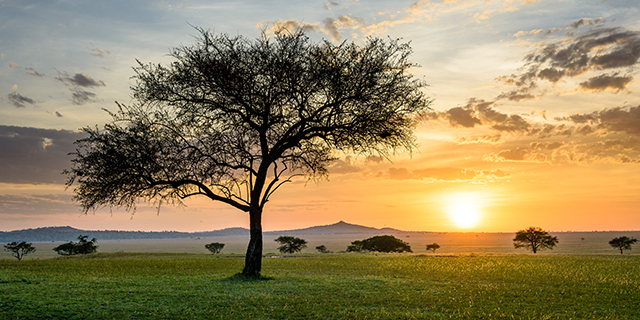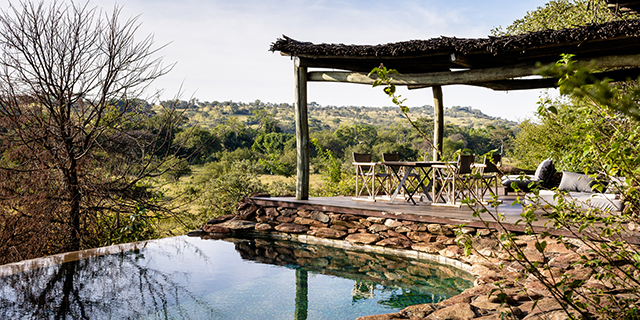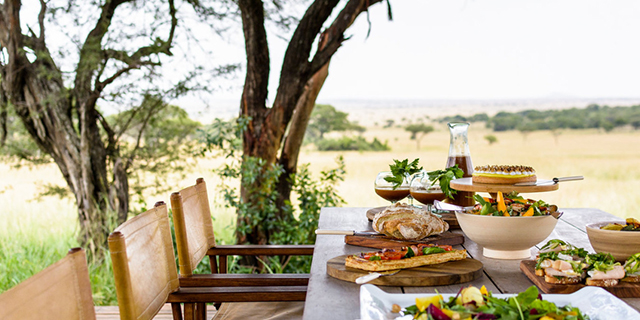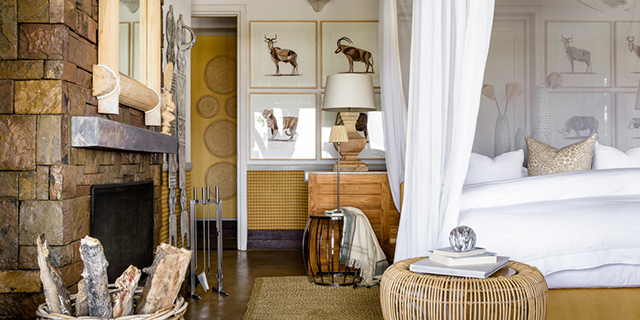 Singita's Grumeti Reserve is a private wildlife sanctuary that encompasses 350,000 acres of pristine wilderness adjoining Tanzania's Serengeti National Park. The Reserve was established by the Tanzanian Government in 1994 as a critical corridor for the Great Migration, as well as to preserve the area's indigenous biodiversity, and is an integral part of the vast Serengeti-Mara ecosystem.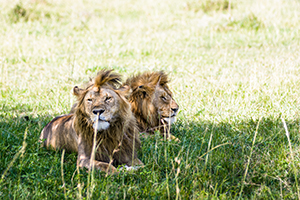 The Reserve lies directly to the west of the Serengeti National Park and incoporates several miles of frontage along the famous Grumeti River, as well as a wide diversity of habitat types from wide open grasslands in the west to woodland savanna in the east, and riverine forest along the banks of the Grumeti River. Resident wildlife is abundant, including the "Big Five", and the reserve hosts the massive herds of the Great Migration from May to July and again in November and December.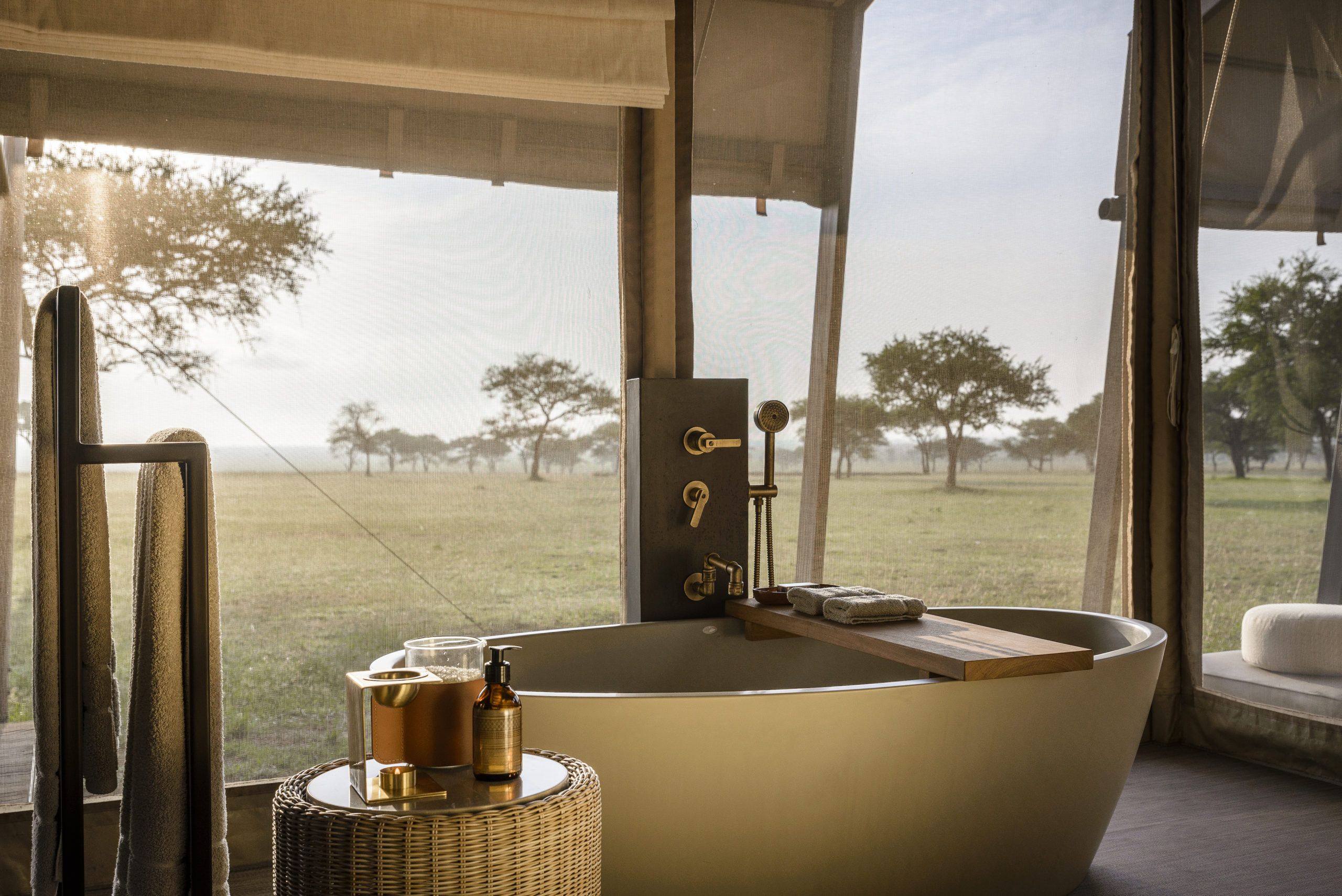 Sabora is a sophisticated nine-suite tented camp that blends the romance of safari under canvas with Africa's creative energy and contemporary cultural identity. Understated luxury abounds, while the camp's muted tones and earthy textures create a seamless integration with the surrounding Serengeti grasslands. Sabora is a place of peace and restoration, and each suite features a private deck and sala with shaded daybed, as well as a large soaking tub, all overlooking the endless plains of the Serengeti. Common areas include a fitness center, swimming pool, and various private spaces for farm-to-table meals and relaxation.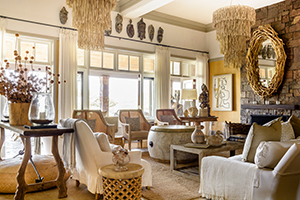 Serengeti House is designed as an exclusive private retreat, located at the base of Sasakwa Hill with intimate views of the open plain stretching in front of camp. Up to eight guests are accommodated in two suites in the main house and two garden suites situated on either side, all with outdoor showers and terraces. The House is decorated in an eclectic style that fuses European country elements with the artistic essence of Africa, and is designed for al fresco living. A rim-flow lap pool, private tennis court, and archery are among the activities offered at this contemporary African home, along with a dedicated host, staff, private chef, vehicle and guide to cater to every whim.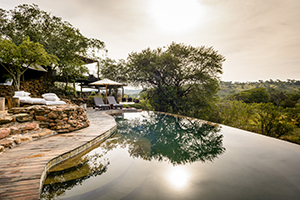 Situated on the banks of the Grumeti River, Singita's Faru Faru Lodge lends a contemporary signature style to safari. Inspired by the its riverine setting, a botanical theme, and the creative use of stone and canvas, Faru Faru achieves "barefoot elegance" in a laid-back, luxurious setting. Guests are accommodated in nine air-conditioned suites, with a bath and outdoor shower. Each suite boasts a reading area, large sliding glass windows, personalized bar, and a deck with spotting scope. The multi-level main lodge is comprised of a dining room, bar, library, and outdoor fireplace, all overlooking the floodplains of the Grumeti River. Elevated decks with views to a waterhole are positioned alongside the organically-formed, heated swimming pool – accented by a unique "safari beach."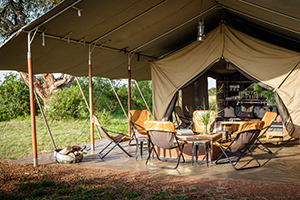 Singita Explore's Mobile Tented Camp offers intrepid travelers a private exploration of the vast 350,000 acre Grumeti Reserve. This exclusive mobile camping adventure combines an intimate classic safari experience with flexibility, making it a perfect option for close family and friends wishing to create unforgettable memories. Explorers are accommodated in up to 6 tents, with en suite bathrooms featuring flushing loos and bucket showers. Two "mess" tents serve as a dining room and sitting area. This fully serviced safari includes a camp host, chef, house staff and a private guide who will custom design your safari activities daily based around the best game viewing opportunities and the groups' preferences.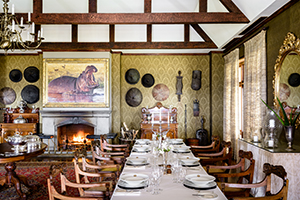 Sasakwa is the reserve's flagship lodge, built in the style of an Edwardian manor house, set high on a hill with dramatic views over the Serengeti plains. Stone walls, deep verandas, high ceilings, stately furniture, silverware and ornamental pieces create a grand old world ambience. Each of its nine luxurious air-conditioned cottages has a bedroom, an ensuite bathroom with clawfoot tub and shower, living room with fireplace, dressing area, and a veranda with a spotting scope and private plunge pool overlooking "where the land stretches to forever." The bedrooms are beautifully appointed, displaying African artifacts crafted from natural materials such as wood, leather and grass, alongside four-poster beds, leather wing-back chairs, crisp linens, imported chandeliers and fine English antiques. The elegant main house includes a dining room, sitting room, bar, garden room, library, billiards room, and wine cellar, with a swimming pool and tennis court on the grounds.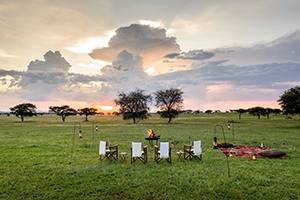 The Singita Grumeti Reserve offers the best of all worlds - access to the abundant wildlife and spectacular scenery of the Serengeti, but without the crowds and restrictive rules that pertain within the public part of the National Park. With it's prime location in one of Africa's most important ecosystems, it's no exaggeration to suggest that Singita Grumeti is one of the most important private reserves in East Africa.
Conservation Dimension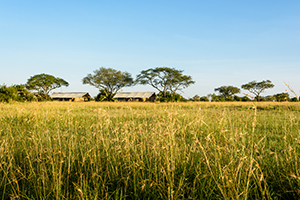 Through the efforts of the Singita Grumeti Fund, Singita works to protect the extraordinary ecosystem of the Serengeti. Singita Grumeti consists of only three lodges, one private house, and one camp to ensure a minimal footprint on the environment. The Grumeti Fund has also worked alongside the Tanzanian Wildlife Division to eradicate poaching in the area through an extensive team of game scouts and successful anti-poaching management practices. In response to a drastic drop in the black rhino population due to poaching, Singita has teamed with the Tanzanian government to begin reintroducing black rhinos to the Serengeti.
For more information about Singita Grumeti call toll-free: 888.227.8311
or

email us

for Information



|

|

Share