Sabyinyo Silverback Lodge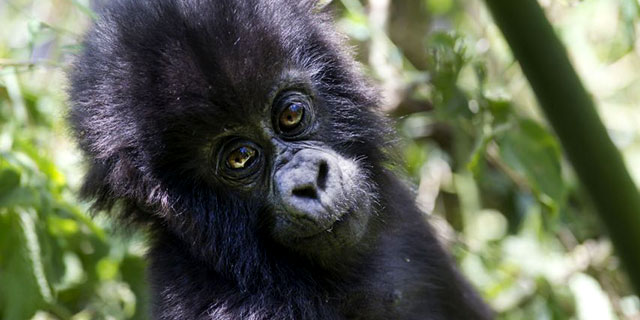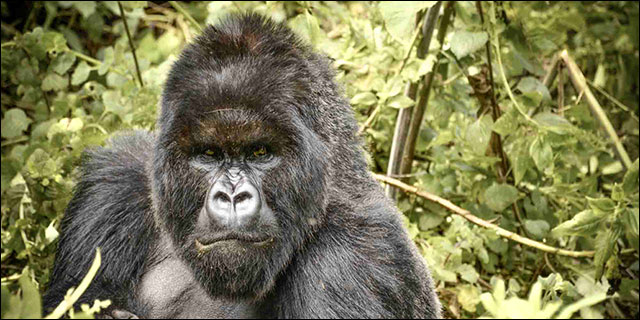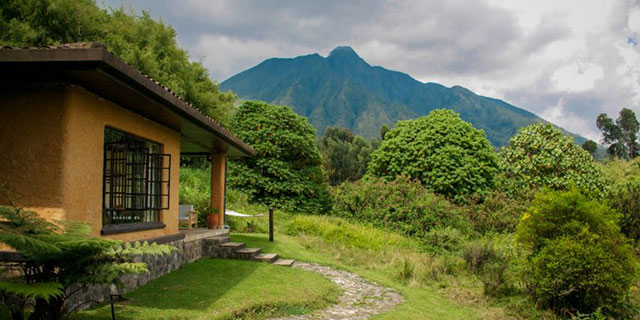 Sabyinyo Silverback Lodge derives its name from the impressive Mount Sabyinyo that looms over the property, providing a dramatic backdrop to this charming "Afro-Alpine" lodge. Situated just minutes from Volcanoes National Park head quarters, the starting point for all gorilla treks, Sabyinyo is an exclusive and convenient base from which to trek for Critically Endangered mountain gorillas.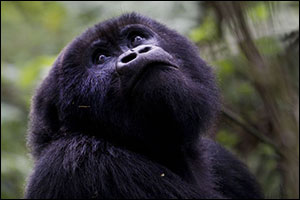 Volcanoes National Park is home to ten habituated gorilla families living at varying altitudes and distances from the trail head, and Park guides do an outstanding job of matching trekkers' hiking abilities with the level of difficulty in accessing a gorilla family - there is nowhere in Africa where visitors have a better chance of encountering mountain gorillas!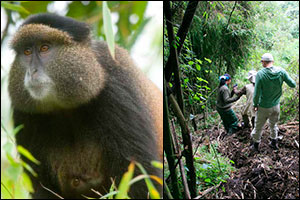 After an exhilirating morning trekking gorillas, return to the sanctuary of the lodge to relax and rejuvenate, or head off with your guide for further exploration and adventure - visit the bustling market and the Dian Fossey Gorilla Fund in the small town of Ruhengeri, or enjoy an escorted walk through the local village for some insight into rural Rwanda life. Guests spending more than three nights at the lodge can supplement their gorilla experience by trekking for golden monkeys (endemic to the Virunga Mountains) or hiking to Dian Fossey's grave.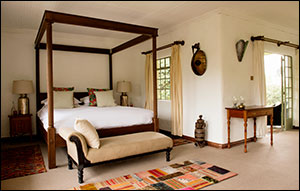 Accommodation at Sabyinyo is comprised of six cottages, two suites, and one family cottage. All are solidly constructed of local stone with Rwandese terracotta tile roofs, and feature large sitting areas, cozy fireplaces, stylish en suite bathrooms finished with Venetian plaster, a dressing room and a sheltered veranda.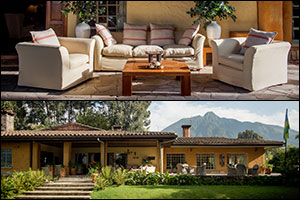 The inviting main lodge building has a sitting room, dining room, library / games room, and a room dedicated to the subject of responsible tourism and community awareness. Three large fireplaces provide warmth and all rooms are finished with polished wooden floors and comfortable furnishings. Two patio areas afford dramatic views to the Virunga Volcanoes and the surrounding lowland farmland.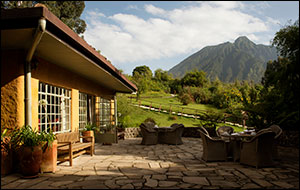 Sabyinyo Silverback Lodge is a luxurious and charming retreat set in the foothills of the Virunga Mountains, just minutes from the staging point for gorilla treks into Volcanoes National Park. The beautiful views, intimate setting, and friendly staff combine to create a warm, welcoming haven from which to venture into
the mountains and savor one of the World's most poignant
wildlife encounters.
Conservation Dimension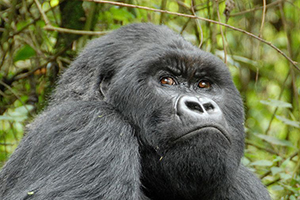 Rwanda is probably best known internationally for Dian Fossey's heroic efforts to conserve mountain gorillas in the 1970s and 80s, and the tragic 1994 genocide during which an estimated 1 million Tutsis were killed in 100 days by their Hutu neighbors and compatriots. Since that horrific event, Rwanda has become one of the most successful countries on the African continent. For wildlife enthusiasts and conservationists, perhaps the most impressive indication of Rwanda's renaissance has been the increase in the country's critically endangered mountain gorillas, largely due to the promotion of gorilla tourism. The significant profits generated have transformed the local economy and, after more than a century of deforestation and agricultural encroachment, gorilla habitat is being reclaimed as local land owners trade farmland for a share in tourism revenues.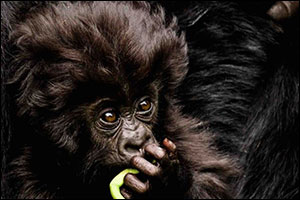 Sabyinyo Silverback Lodge was developed in partnership with the International Gorilla Conservation Program and is successfully contributing to the conservation of the highly endangered Mountain Gorilla through eco-tourism, In addition, Sabyinyo is Rwanda's first ever community owned lodge, owned by a Community Trust, SACOLA, which uses rentals and community fees generated from tourism to drive socio-economic and conservation initiatives for the communities living adjacent to the Volcanoes National Park.
For more information about Sabyinyo Silverback Lodge call toll-free: 888.227.8311
or

email us

for Information



|

|

Share