Hunters Country House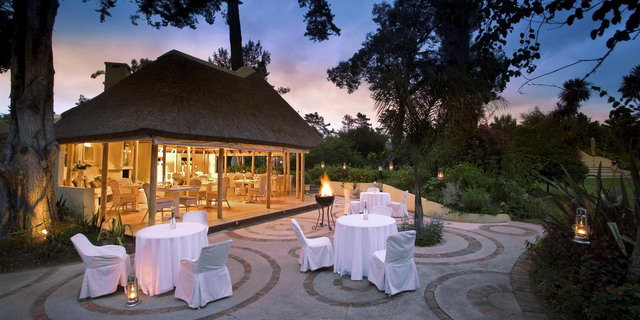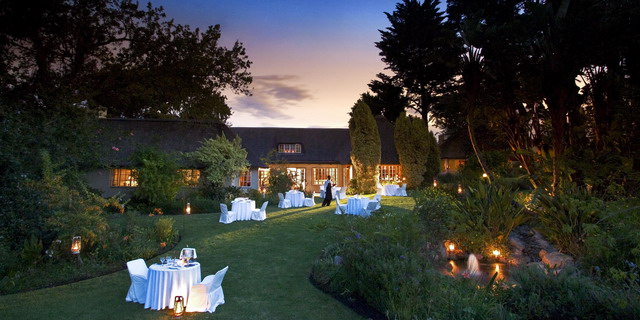 Hunter's Country House is nestled in the Tsitsikamma forest of Plettenberg Bay, amidst almond orchards and shady English gardens. Everything at this charming country hotel - from being greeted by the tartan clad staff at the door, to the chilled Blanc Fumé and freshly cut fruit welcoming you to your room, to the incredibly delicious cuisine so artfully presented - spells quality and exquisite attention to detail. Hunters successfully blends luxury, good taste, personalized unobtrusive service and understated elegance to create a very special hotel experience.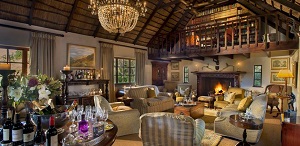 The estate is set in a lovely expansive garden dotted with lemon, mango and avocado trees, rose bushes, bougainvilleas and myriad fragrant perennials. It consists of a grand manor house surrounded by 18 secluded, luxurious suites and cottages. Each is individually decorated, furnished with well-chosen European antiques, fireplaces and private patios. Rooms are large and decor is elegant and luxurious with an unmistakable country charm.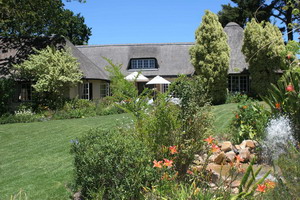 Dining is a memorable pleasure at Hunter's, whether in the soft candlelit dining room, or al fresco under the sparkling stars. The acclaimed chef and team will present you with such delicacies as perfectly prepared venison, local lamb, delicately braised vegetables, cleansing sorbets and exquisite deserts. The expert staff will be more than happy to advise you on your choice from over 3,000 of South Africa's finest wines to complement each course. Afterward, retire to the cozy living room for a cognac or port in front of the fire, or to the garden in fine weather.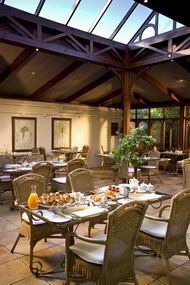 Breakfast is taken in a large sunny conservatory with a granite floor reminiscent of Kew Gardens, decorated with curvilinear wrought iron plant stands and furnishings. Home-made breads, muffins, pastries, fluffy omelettes, pancakes, smoked bacon, a variety of tasty quiches and abundant freshly cut fruit make waking up a pleasure. Lunch can be enjoyed at the Summerhouse, where the specialty is country-style tapas focusing on the best of local produce from cheese to seafood, all in tasting portions with tantalizing dipping sauces. Picnics can be arranged upon request.
Hunter's is located just 6 miles from the spectacularly beautiful Plettenberg Bay. Few stretches of coastline in the world boast the extensive array of marine life that inhabits Plettenberg Bay and its surrounding waters.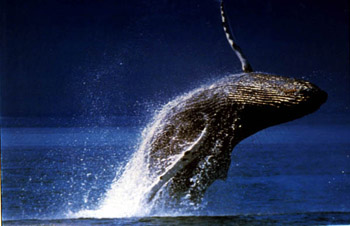 Every year, from May to October, Southern Right Whales return from Antarctica to the safety of this sheltered enclave to breed and give birth to their young. During these months, Humpback Whales also make a stop in Plettenberg Bay en route to their breeding grounds off the coast of Mozambique. Bryde's Whales are permanent residents, while Orcas ('Killer Whales') are occasional visitors throughout the year. A huge colony of Cape Fur Seals inhabits the Bay, as do three different species of dolphins and four large species of sharks (including the fearsome Great White Shark).
For the birding enthusiast, there are several species of pelagic seabirds in the Bay itself, while the extensive indigenous forests surrounding Plettenberg Bay are home to a variety of endemic species. The beautiful Tsitsikamma forest has numerous walking trails, and there are a number of nature reserves (including the Storm's River Mouth Nature Reserve, with its spectacular scenery and stone-age cave sites) within easy reach of Hunter's Country House. Private specialist guides can be easily arranged for bird-watching, or for exploring the forest and nearby nature reserves, or touring some of the region's spectacular gardens. Other activities at Hunter's include simply relaxing and casually bird-watching in the garden, from your private patio or at the pool. After your chosen activity, return to Hunter's for afternoon tea, served in true English style.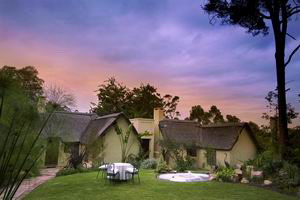 We think that Hunter's Country House is a very special property offering a wonderful all-encompassing experience. It fully deserves its numerous accolades, which include Best Family-run Hotel Worldwide, Best Hotel on the Garden Route, and winner of 'South Africa's Hotel of the Year' award. We heartily recommend a stop at Hunter's as part of your garden route itinerary, or as a destination in itself.
Conservation Dimension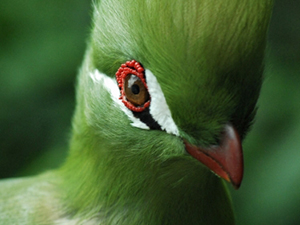 Hunter's Country House is connected to its local community through funding the Bonholethu "Our Pride" day care and Masizame "Let Us Try" Children's Shelter which supports 23 at-risk area children.

The Country House also supports a diverse population of birdlife, including the rare Knysna Touraco which is steadily recovering from near extinction. Gardens at Hunter's are a hospitable environment for these and other elusive and brilliantly colored bird species.
For more information about Hunters Country House call toll-free: 888.227.8311
or

email us

for Information



|

|

Share