Bisate Lodge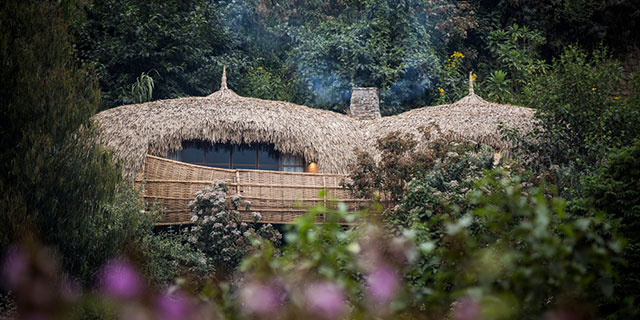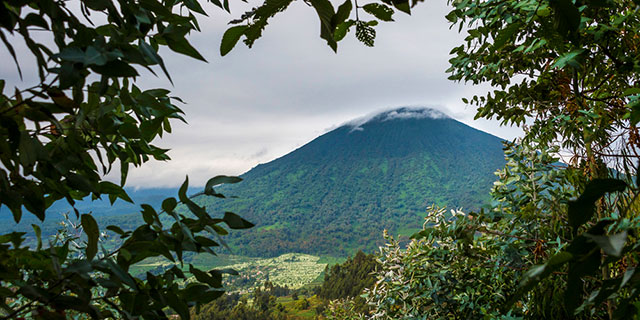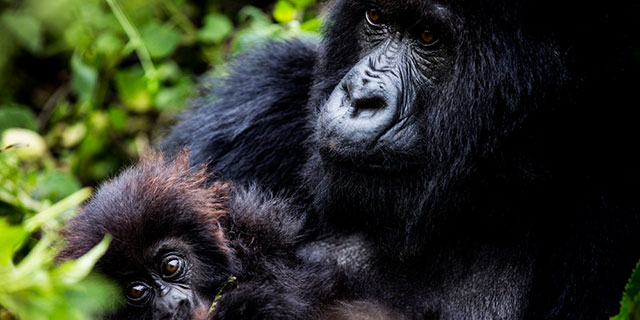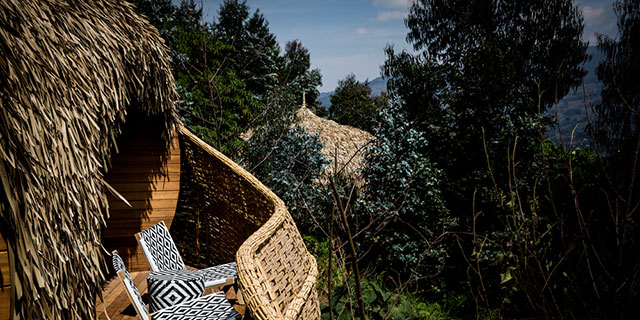 Bisate Lodge nestles in the natural amphitheater created by an eroded volcano, overlooking the majestic peaks of Mounts Bisoke, Karisimbi, and Mikeno. Located in the heart of the Virunga Massif, directly adjacent to the Volcanoes National Park, it is the perfect base from which to trek the Critically Endangered mountain gorilla.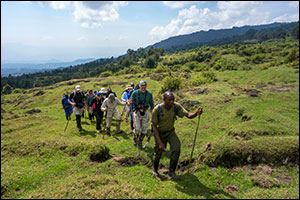 Despite is private and secluded location, Bisate is just minutes away from Park Head Quarters, from where treks depart daily in search of the charismatic "giants of the forest". With ten habituated gorilla families living at varying altitudes and distances from the trail head, Park guides do an outstanding job of matching trekkers' hiking abilities with the level of difficulty in accessing a gorilla family - there is nowhere in Africa where visitors have a better chance of encountering mountain gorillas!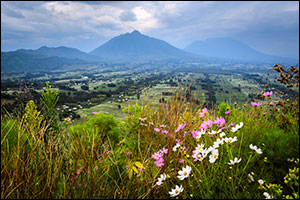 Bisate Lodge is run in partnership with the local community, and is engaged in an ambitious reforestation program to rehabilitate more than 100 acres of denuded forest - guests at the lodge have unique opportunities after a morning gorilla trek to visit the neighboring Rwandese village to meet residents and learn more about the local culture and lifestyle, or join the lodge's agronomist at the reforestation nursery for an afternoon of tree-planting. If relaxation and recovery sound more appealing, follow the lodge barista on a sensory safari exploring Rwanda's famous coffees and teas, or sample the fruits of the extensive wine cellar as you watch the sunset over the Virunga Massif!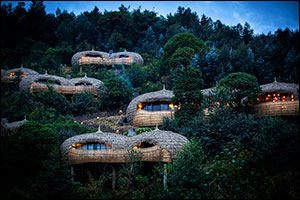 The lodge's sophisticated architectural and interior design is rooted in Rwandan building tradition and culture, with spherical structures, finely woven wall coverings and textiles, hand-hewn stonework, and innovative sculptural details. Inspiration was drawn from the Rwandan Royal Palace and the craftspeople responsible for maintaining the palace's unique woven surfaces and screens were commissioned to create the same richly-textured effect at Bisate. The innovatively designed main area consists of three large "nests," housing a reception area, sitting area and dining area – with indoor and outdoor seating.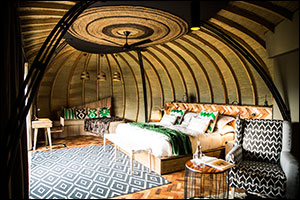 A maximum of twelve guests are accommodated in six striking thatched domes that maximize comfort, while retaining responsible environmental principles and reflecting the culture of surrounding rural Rwanda. The spherical thatched structures are richly textured on the interior where surfaces and screens are created from a variety of woven materials reminiscent of local "ibyansi" baskets. Recycled- glass chandeliers are emerald green in color to reflect the surrounding rainforest and volcanic stone is used to face a soaring central fireplace, reflecting the surrounding caldera. Each forest villa is comprised of a generous bedroom, reception space and bathroom, warmed by a central fireplace, and features a mesmerizing vista from a private deck.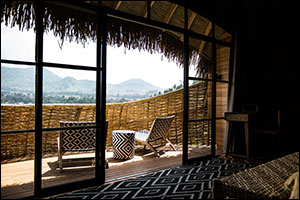 Bisate Lodge represents the perfect fusion of "soft adventure" and immersive travel. Prepare to be active and engaged, be ready for perspective-altering encounters and experiences, but know that each day ends with sophisticated luxury and pampering at one of Africa's most inspirational eco-lodges.
Conservation Dimension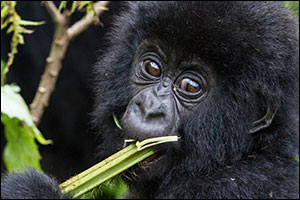 Rwanda is probably best known internationally for Dian Fossey's heroic efforts to conserve mountain gorillas in the 1970s and 80s, and the tragic 1994 genocide during which an estimated 1 million Tutsis were killed in 100 days by their Hutu neighbors and compatriots. Since that horrific event, Rwanda has become one of the most successful countries on the African continent. For wildlife enthusiasts and conservationists, perhaps the most impressive indication of Rwanda's renaissance has been the increase in the country's critically endangered mountain gorillas, largely due to the promotion of gorilla tourism. The significant profits generated have transformed the local economy and, after more than a century of deforestation and agricultural encroachment, gorilla habitat is being reclaimed as local land owners trade farmland for a share in tourism revenues.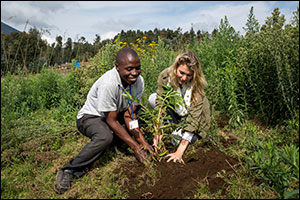 In addition to gorilla conservation, Bisate Lodge has partnered with the local community to positively impact the area's biodiversity through an extensive reforestation program. Through its partnership the lodge makes a dramatic and far-reaching impact – not only on the critically endangered mountain gorilla, but also on the entire ecosystem of the Virunga Massif and the rural people living adjacent to it.
For more information about Bisate Lodge call toll-free: 888.227.8311
or

email us

for Information



|

|

Share