Chiawa Camp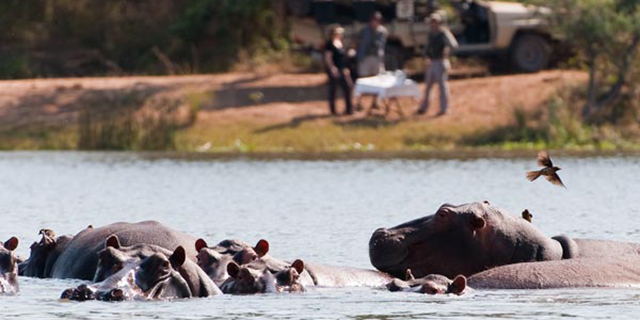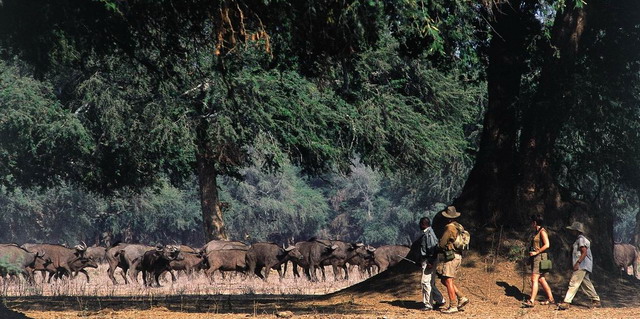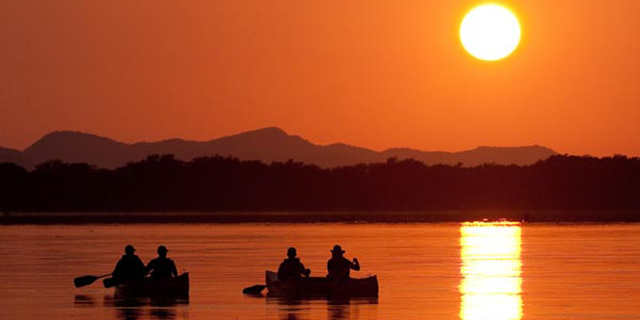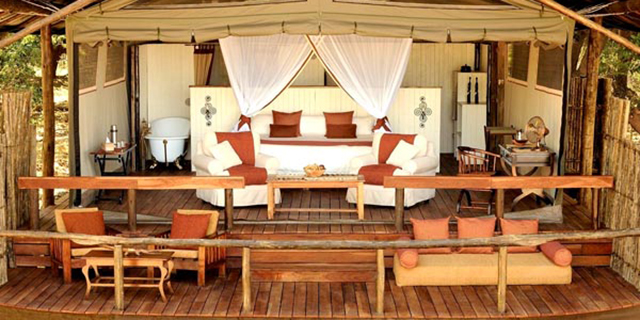 The Cumings family pioneered eco-tourism in the Lower Zambezi National Park. They established Chiawa Camp in 1989, and have been continually and actively involved in its operation ever since.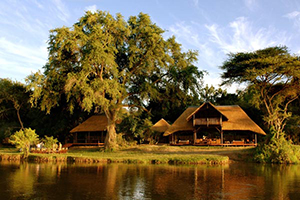 Chiawa is located right on the banks of the Zambezi River, in the heart of the Lower Zambezi National Park. With the mountains of the Zambian Escarpment as backdrop, it is difficult to imagine a more idyllic setting for a safari camp. Across the River, on the Zimbabwean side, lies the Mana Pools National Park - together, these two parks provide a fertile and untamed sanctuary for Africa's wildlife.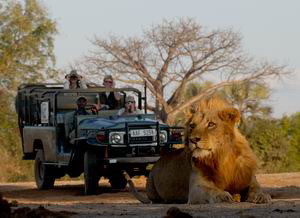 With ample water and rich vegetation, the fecund Zambezi Valley supports large volumes of game. Herds of elephant and buffalo are commonplace and, during the dry winter months, these large pachyderms congregate in vast numbers along the banks of the Zambezi. Plains game and antelope such as impala, waterbuck, and kudu abound, while the Zambezi teems with crocodiles, hippo, and an array of bird life. The large populations of herbivores attract predators in dense concentrations, and lion and leopard viewing in this area is excellent.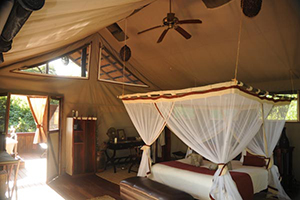 Resting in a grove of mahogany and acacia trees, Chiawa can accommodate a maximum of sixteen guests in nine well-appointed safari tents. These are set on elevated timber decks, providing panoramic views over the stunning landscape. All tents have large beds, en suite facilities, lighting, and fans. Chiawa's tented rooms are among the most luxurious and elegant in Zambia. The camp's common areas include a thatched living room with upstairs observation deck, bar, plunge pool and dining room.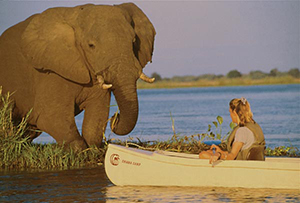 Blessed with such a rich environment, activities at Chiawa are numerous and varied. Guests can enjoy great game-viewing from open safari vehicles on both day and night game-drives. Interactive bush walks, accompanied by an armed guide, take guests even closer to the African wilderness. Canoe outings are another quiet and intimate way of experiencing Africa, while sunset game-viewing cruises on the camp's pontoon provide the perfect way to end an exhilarating day. For anglers, the tiger fishing along this stretch of the Zambezi is outstanding.
Chiawa is a super safari camp, with a prime location in a scenic and game-rich National Park. What makes Chiawa truly special is the active and enthusiastic involvement of the Cumings family - the result is a warm, friendly, and exceptionally well run camp, offering a wide range of exciting activities.
Conservation Dimension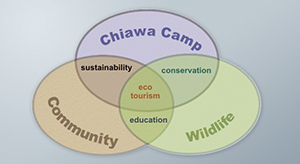 Since its establishment in 1989, Chiawa Camp has been actively protecting and restoring wildlife areas in the Lower Zambezi valley. Chiawa takes a holistic approach to responsible and sustainable tourism, understanding that wildlife, community, and tourism are intricately linked and must exist in harmony if any one is to succeed. Its policies and management in these areas awarded the camp 3rd place in Best Ecological Lodge in Africa in 2010. The camp and its activities are designed to reduce resource consumption, waste, and emissions. In addition, Chiawa provides education on wildlife protection and healthcare to local communities and donates uniforms and educational materials to students in primary schools. The Camp also raises approximately $50,000 annually for wildlife conservation initiatives in the Lower Zambezi and supports orphanages, hospices, and other charities throughout Zambia.
Chiawa Video
For more information about Chiawa Camp call toll-free: 888.227.8311
or

email us

for Information



|

|

Share