Sausage Tree and Potato Bush Camps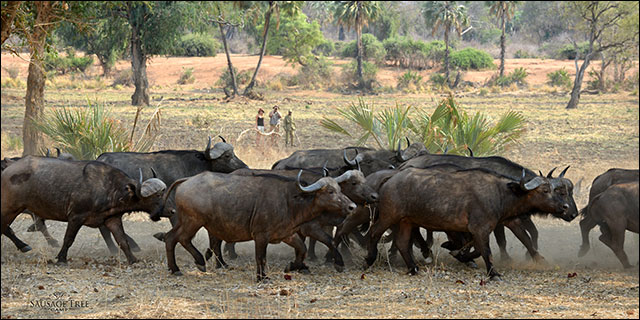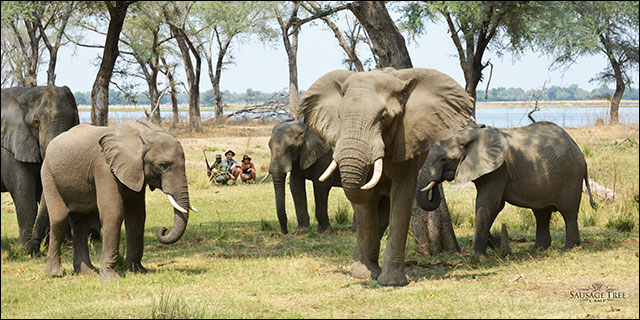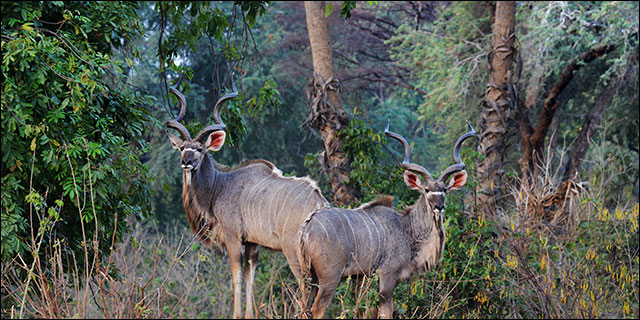 Named after distinctive local vegetation, Sausage Tree and Potato Bush are sister camps located on the banks of the mighty Zambezi River, in Zambia's Lower Zambezi National Park. These stylish and relaxed camps enjoy a great location, and offer a wide range of activities in an excellent game-viewing area.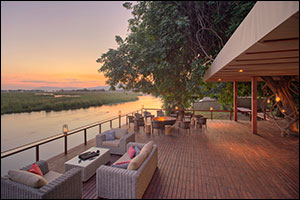 The two camps are hidden amongst the giant Mahogany and Sausage Trees right on the banks of the Zambezi, at the point where the beautiful Chifungulu Channel branches off from the main body of the River. With the abundance of water and vegetation in close proximity, herds of elephant and buffalo regularly move through both camps, often followed closely by predators. The soaring Zambezi Escarpment as backdrop rounds off the idyllic setting.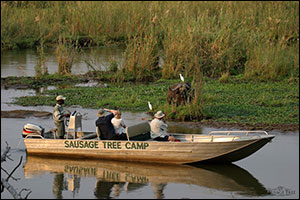 Typical of the few camps on this remote stretch of the Lower Zambezi River, Sausage Tree and Potato Bush offer a broad range of activities. Guests enjoy the option of game-drives in open 4x4 vehicles both by day and night in the company of a professional guide. Guides also take guests on walking safaris, providing a very different perspective of the African bush on foot.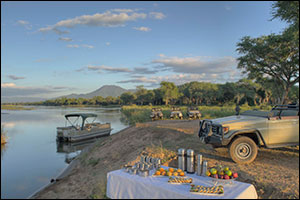 Canoe trips down the tranquil and beautiful Chifungulu Channel are one of the activity highlights, providing an opportunity forsilently gliding past animals as they come to the channel to drink. Sundowner cruises in a 'banana boat' on the Zambezi, and fishing for the hard-fighting Tiger Fish round off the many experiences awaiting guests at Sausage Tree and Potato Bush.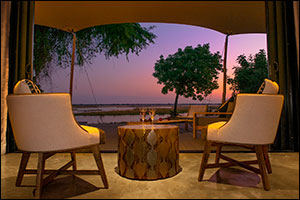 Accommodation at Sausage Tree is comprised of eight extraordinary tented rooms, each set into its own private enclave with expansive views over the mighty Zambezi. The rooms are spacious and cool, with reed walls and billowy canvas roofs. Decor is elegantly simple, with solid dark hardwood and white textiles predominating. The romantic bathrooms are enclosed by reed walls and open to the African sky.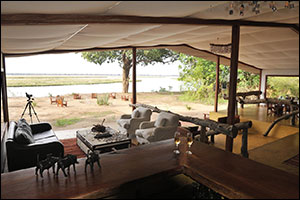 Potato Bush Camp offers the ultimate in exclusivity and intimacy, with just four luxurious tented rooms (including a two-bedroom family unit). The beautiful Rosewood and canvas rooms feature commodious bedroom areas and en-suite bathrooms with twin showers, twin basins, and a full size four-claw bathtub. Large folding doors lead onto an expansive balcony which hosts a 2-person hammock and a private plunge pool.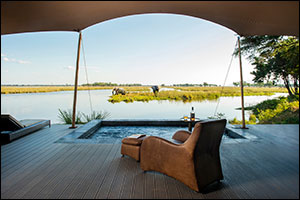 Common areas at both camps take full advantage of the spectacular location, with open, airy structures to maximize views. The style and decor at Sausage Tree is "African chic" with a classic safari ambience and subtle Bedouin accents. Potato Bush, on the other hand, celebrates contemporary African design, with geometric lines and a bold juxtaposition of Rosewood and white canvas. Service and cuisine are of the highest standard, and most meals are taken outdoors, under the giant canopy of trees.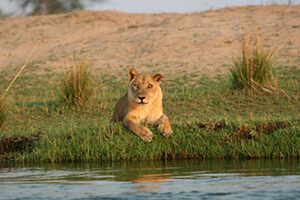 In all, Sausage Tree and Potato Bush are two of the most memorable safari camps in Zambia, combining elegance and adventure in a remote and beautiful African wilderness setting. The atmosphere at both camps is relaxed and informal, the accommodation is luxurious, and the wide range of activities and abundance of wildlife ensures a rewarding safari experience.
Sausage Tree Camp Video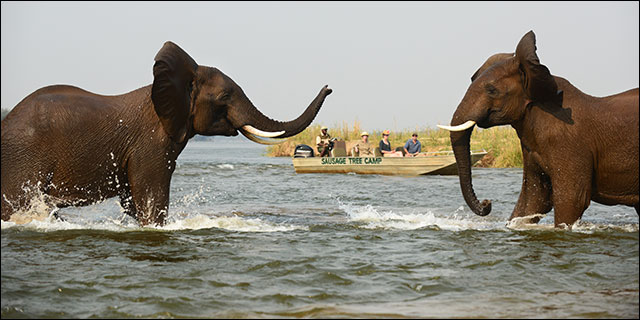 For more information about Sausage Tree and Potato Bush Camps call toll-free: 888.227.8311
or

email us

for Information



|

|

Share