The Blue Train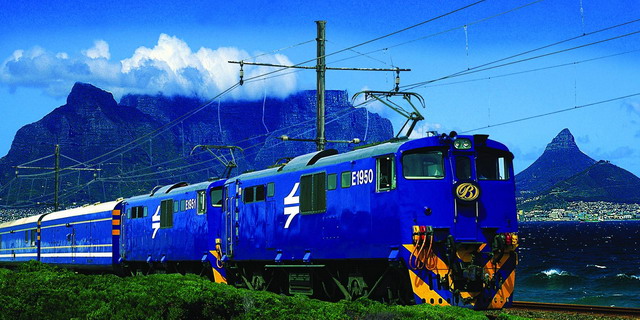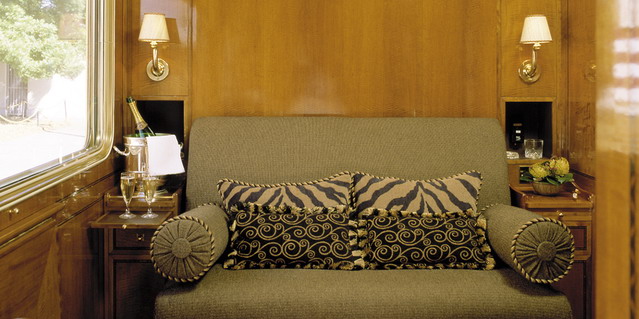 The Blue Train is widely regarded as one of the world's most luxurious and modern luxury trains, offering guests the opportunity to enjoy the spectacular scenery of Africa from the comfort and luxury of a 5 star "hotel".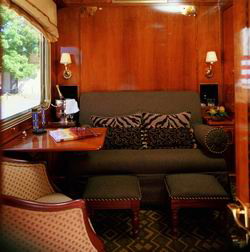 From the luxury of a private lounge at the railway station, enter your carriage of rich hues and warm wood paneling off-set by detailed marquetry. No detail is spared to ensure guests' comfort. By day your private suite is an elegant and relaxing haven. Generous lounge chairs afford the opportunity to enjoy unparalleled views of Africa's enigmatic sights, while considerable attention is paid to practical needs - there is a writing desk next to the window, individual air-conditioning controls, telephone and television.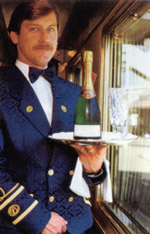 An on-board laundry service and the discreet presence and courtesy of your own professional butler ensure that you will want for nothing. Taking a bath or shower in your private en-suite bathroom is an indulgent pleasure, with floors resplendent in gold and Italian marble, plush white towels, cotton kimonos and an array of luxury oils and soaps.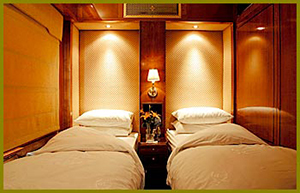 As night falls your suite is magically transformed into a romantic boudoir of soft, glowing light and fine white cotton linen. Beds, folded down and draped in soft eiderdown duvets, ensure that you will fall asleep in complete comfort - to the gentle motion of the luxurious train slipping through the darkness.
Dining on the Blue Train is a singular experience. In keeping with the classically romantic ambiance of the Dining Car, lunch aboard the Blue Train is an elegantly casual affair while dinner is more formal. Dew-fresh flowers, crisp linen, fine bone china, cut-crystal glasses, and classic silver cutlery make for a setting as memorable as the dishes to follow. Only the freshest ingredients are used to prepare the delicious meals for which the Blue Train is renowned. A selection of fine South African wines are available to complement each course.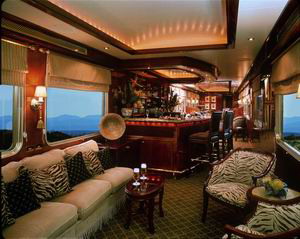 The Lounge Car and Club Car are stylishly decorated and appointed. Beautifully detailed burled wood paneling and original South African artwork may distract, but never detract from the picture perfect views from their large windows. Enjoy a traditional high-tea, gather for cocktails before dinner, or linger afterward and savor coffee, liqueurs, and congenial late night conversation before you retire to the comfort of your suite.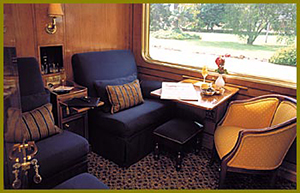 The Blue Train will take you on a journey into a timeless world of grace, elegance, and romance, where spectacular scenery stirs the imagination and luxurious comfort soothes body and soul. A journey aboard the Blue Train is one of the world's great train rides - a highlight of any trip to Africa and an experience never to be forgotten.
For more information about The Blue Train call toll-free: 888.227.8311
or

email us

for Information



|

|

Share