Benguerra Lodge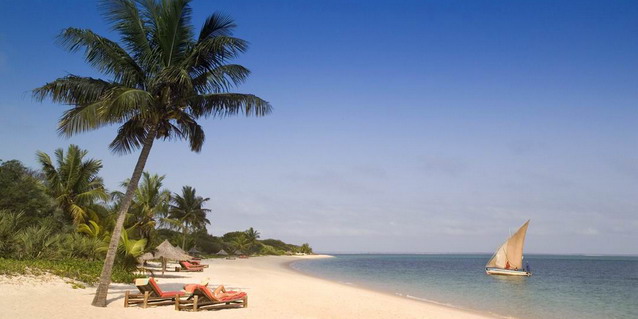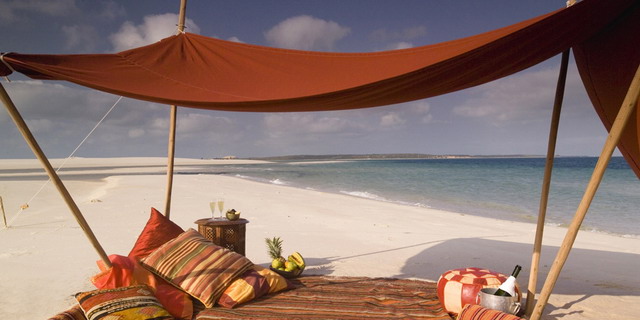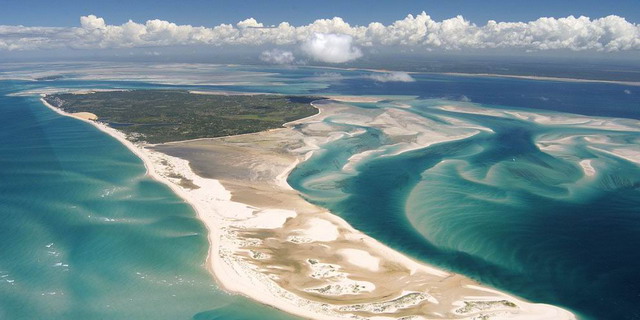 Benguerra Lodge is located on Benguerra Island, in Mozambique's famous Bazaruto Archipelago. Washed by the warm waters of the Indian Ocean, this tropical Archipelago has been a National Park since the early 1970s, and is home to a dizzying array of fauna and flora. The pelagic waters surrounding the Archipelago play host to a multitude of sought-after game fish, while the pristine coral reefs are home to a wealth of living organisms. The marine eco-system is enhanced by tidal flats and marine grass meadows, providing ideal habitat for the endangered dugong.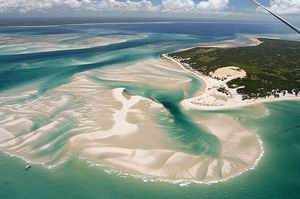 One's first impression on flying into Benguerra is shaped by the turquoise ocean and pearl-white beaches - this is the quintessential tropical island paradise! And with just two small lodges on the 22 square mile island, exclusivity is guaranteed. The Island's eco-system comprises forests and savanna, with three fresh water lakes (complete with crocodiles). To round out the "African island experience", Benguerra is also home to a number of small, traditional fishing villages, offering cultural insight into a way of life that has changed little over hundreds of years.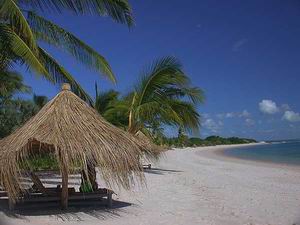 Benguerra was the first lodge established in the Bazaruto Archipelago (back in 1988), giving them access to the prime location within the National Park. Set amidst bird-rich indigenous forest, the lodge lies just a few steps from a wide arc of white sandy beach. Sunset walks reach a natural conclusion at the dhow bar in front of the lodge - where exotic cocktails served in native coconut shells provide the perfect libation at the end of a memorable day indulging in "barefoot luxury."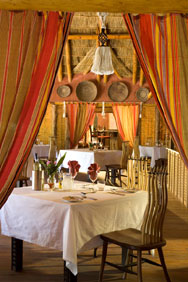 The main lodge is an expansive structure which creatively suggests Mozambique's historic links to the spice trade. Hard wood floors and steps thoughtfully inlaid with hand-carved wooden bas relief designs, plantation shutters, hand-woven kilems, intricate ebony benches and large comfortable chairs comprise a pleasing haven for relaxation. The bar is a masterpiece, elegantly crafted of smooth strong timbers. A large is punctuated by indigenous trees and a central fireplace. An overflowing swimming pool is a short walk away, appropriately muted in color and positioned to take full advantage of the sublime view across the azure Indian Ocean.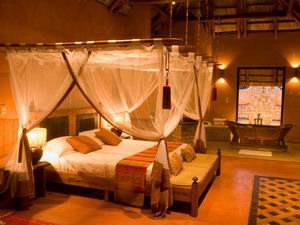 Guests are accommodated in ten casitas, two cabanas and one villa, which flank the main lodge. Each thatched structure is discretely situated to avail its occupants of the stunning ocean vista while affording perfect privacy within the room. The romance of the spice-trade is again exploited with the use of handmade textiles in rich jewel tones, billowy netting surrounding sturdy handmade beds, oriental rugs and ablution facilities sculpted as if from clay and inlaid with pebbles and shells. All rooms include the added luxury of a private plunge pool set into wooden decking.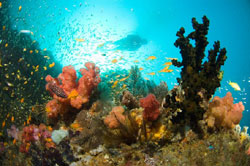 Benguerra Lodge offers a wide range of activities to compliment, and take advantage of, the beautiful beaches and turquoise ocean. The daily schedule is very flexible, and built around your preferences. Scuba and snorkeling are a highlight, and Benguerra boasts a fully equipped dive school with dive master. The most striking aspect of diving the reefs of the Bazaruto Archipelago is their unspoiled beauty and the variety and abundance of marine life.
Fishing is another strength and guests can try their hand at saltwater fly fishing under the tutelage of a professional guide, or take on the big game fish of the deep sea, including marlin and sailfish. All fishing is done on a catch and release basis. Picnics on the beach, bird-watching (over 120 species on the island), indulging in spa treatments, and romantic sunset dhow cruises round out the Benguerra experience.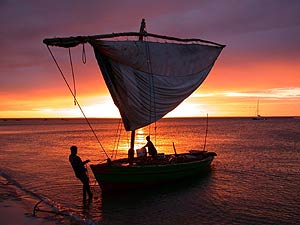 Mozambique is being rediscovered as a tropical beach paradise, and the Bazaruto Archipelago is the jewel in that crown. In addition to offering stunning beaches, picture-book ocean, and perfect weather, it feels refreshingly unspoiled. The locals still live in their traditional reed and thatch huts, and fish from the same dhows that were introduced to them centuries ago by Phoenician traders.
Benguerra is an active partner with the local community in conserving the Island's fragile habitat and simultaneously uplifting the standard of education and health of the inhabitants, while preserving their harmonious way of life. The result is a positive atmosphere and a sense of excitement: one arrives at Benguerra expecting a romantic and stylish tropical beach getaway, one departs fully satisfied, and with a sense of having experienced something authentic and pure.
Conservation Dimension
Khani Kwedho ("Our Home") is a conservation initiative established by Benguerra that strives to benefit and protect the Island's environment through community involvement and strategic eco-tourism practices that promote a healthy, sustainable relationship between community, tourists, and protected areas on the island. Other contributors to the island's conservation are the World Wildlife Fund (WWF) and the Endangered Wildlife Trust (EWT).
For more information about Benguerra Lodge call toll-free: 888.227.8311
or

email us

for Information



|

|

Share