Madikwe Hills Lodge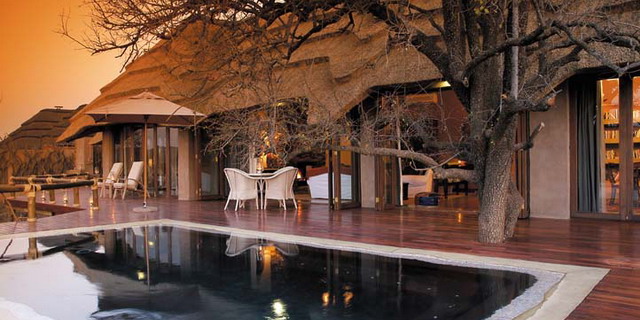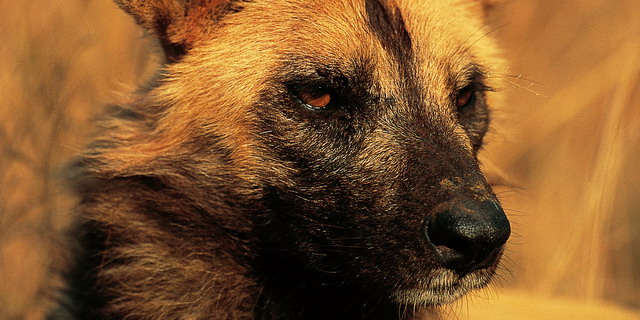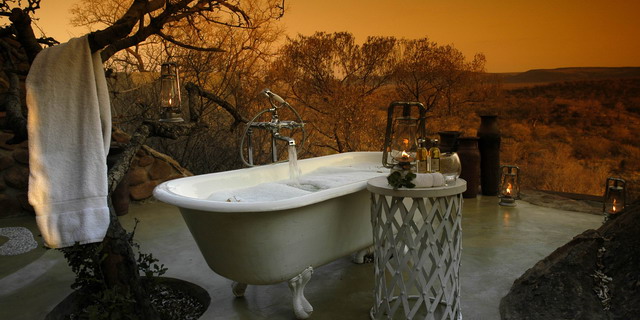 Madikwe Hills Private Game Lodge is located in the 200,000 acre malaria-free Madikwe Game Reserve, on the border between South Africa and Botswana. The reserve lies in a transition zone between savannah bushveld and Kalahari sandveld, resulting in an impressive diversity of habitats and species.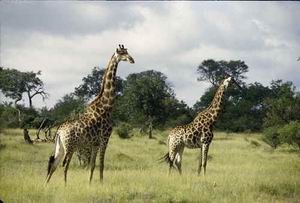 Madikwe is home to the 'Big Five' (lion, leopard, buffalo, rhino, and elephant), as well as cheetah, the highly endangered African wild dog, and most other high profile savannah species. The reserve is one of a very few places in Africa where these denizens of the bushveld occur alongside species more typically associated with the Kalahari desert, such as ostrich, gemsbuck, springbuck, and brown hyena. In addition, more than 350 species of bird have been recorded on the Madikwe Reserve, again combining representatives of both the bushveld and Kalahari ecosystems.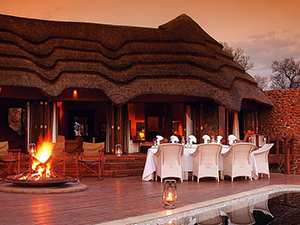 Madikwe Hills Lodge is an artistic creation incorporating huge boulders and Tamboti trees into its architecture. Every luxury is catered for, while at the same time accentuating the fragile ambiance of the bushveld through the use of natural textures and colors such as clay, thatch and stone. A bath drawn on your private deck is the perfect interlude between the wildness of an evening safari and the civility of a four course gourmet dinner.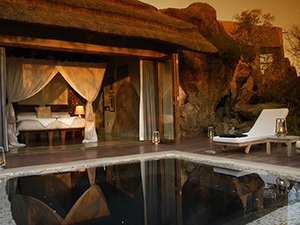 Madikwe's ten elegant glass-fronted suites are luxuriously spacious, with fireplaces, cozy sitting rooms, private verandas, outdoor showers and plunge pools. The decor melds disparate elements of contemporary and antique design into a perfectly harmonious composition - crisp white linens dress the sculptural hand-carved beds, a deep free-standing bathtub contrasts with posts made of tree trunks and cool floors inlaid with smooth washed stones juxtapose against soft hand-woven textiles.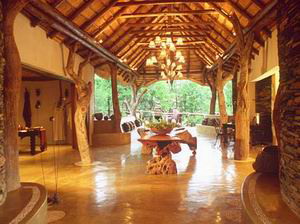 The extensive common area is comprised of several levels with copious nooks for reading, relaxing and dining - From the extensive library to the well-stocked bar, to the expansive deck overlooking an active waterhole. Little Madikwe offers an even more exclusive and intimate experience, with only three rooms, a private butler and chef. In addition to a gym, the spa offers a plethora of massage options and other treats, and is a welcome indulgence.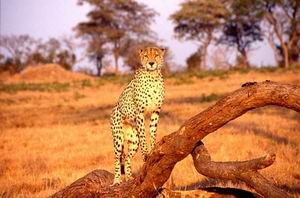 Activities at Madikwe Hills Lodge focus on the area's abundant wildlife. Game-drives and night-drives in open safari vehicles, accompanied by a professional game ranger and tracker, provide outstanding opportunities to view and photograph Africa's magnificent wildlife at close quarters. Nature walks with an armed ranger provide a more intimate and interactive encounter with the African bush, with an emphasis on the smaller aspects of the ecosystem and a holistic understanding on the Reserve's complexity. Madikwe's dramatic Inselberg hills and extensive grasslands provide an appropriately scenic backdrop to the pageant of Africa's spectacular wildlife.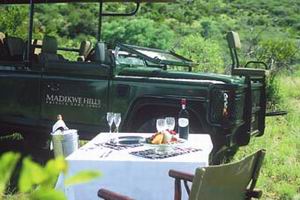 Madikwe Hills Private Game Lodge offers a stylish and elegant safari experience that is bound to impress the most discerning traveler. The lodge melts into its surroundings, creatively incorporating natural features to enhance the sense of organic luxury. Highly personalized yet unobtrusive service, and attention to the smallest detail create an environment where nothing is too much effort for the friendly staff. The species diversity and scenic beauty of the Madikwe Reserve make this one of South Africa's top luxury lodge destinations, and Madikwe Hills is without doubt one of South Africa's top luxury lodges.
For more information about Madikwe Hills Lodge call toll-free: 888.227.8311
or

email us

for Information



|

|

Share