Sasaab Lodge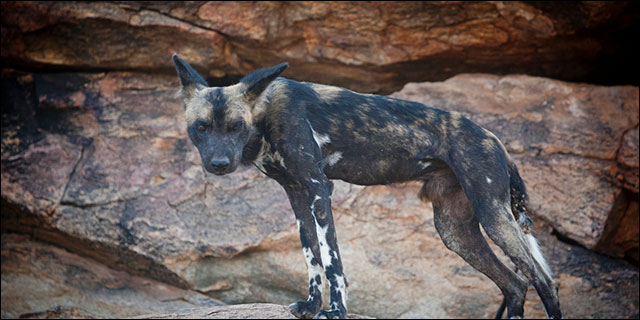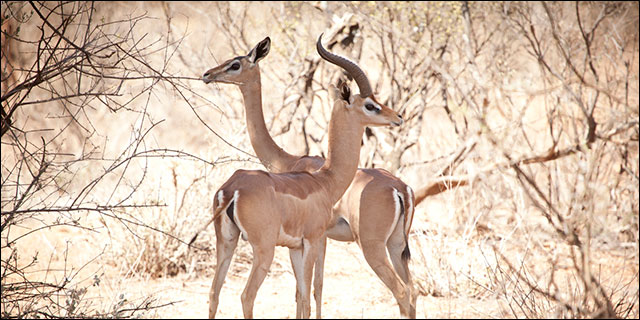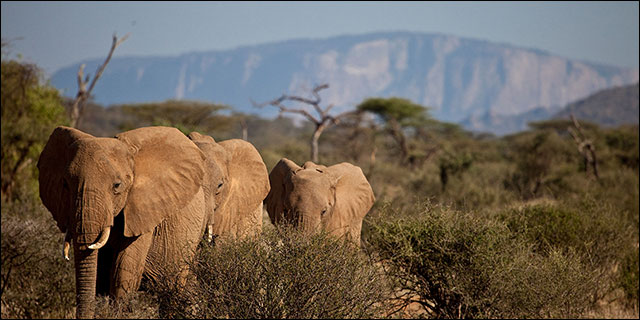 Sasaab Lodge sits high on a hill in Kenya's Northern Frontier District, overlooking the Ewaso Nyiro River, with views across the Laikipia Plateau to Mount Kenya beyond. The lodge is operated in partnership with the local Samburu community, and is located on a private conservancy adjoining the Samburu National Park.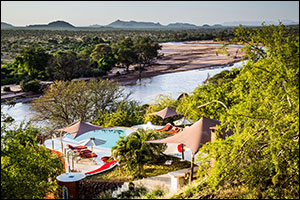 Samburu is a dry Park, and the Ewaso Nyiro provides a ribbon of sustenance in an otherwise harsh environment, attracting a surprising amount of wildlife. Elephants abound during the dry season, and predators are well represented by lion, leopard, and cheetah; but perhaps the main wildlife drawcard is the prevalence of unique northern species such as gerenuk, Beisa oryx, reticulated giraffe, and Grevy's Zebra.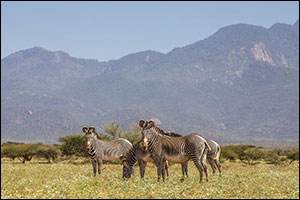 Wildlife activities at Sasaab center on game drives and nature walks, but the lodge prides itself on an holistic safari experience that incorporates a strong cultural dimension. Guests have the opportunity to visit a local Samburu homestead to learn more about this highly traditional nomadic culture, as well as possibilities to visit a local school, clinic, and market. Camel rides provide a different perspective on this wild "Frontier District", and further insight into the lives of the nomadic people who inhabit it.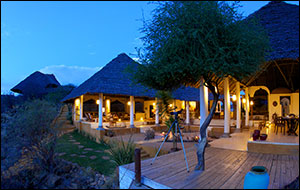 The architecture of Sasaab represents a breezy fusion of Moroccan and Swahili style. Each of its 8 creatively-designed tented rooms boasts a four poster bed and a spacious open-air bathroom with double vanity and shower, a molded private plunge pool and magnificent views from the veranda across the Laikipia Plateau toward the jagged peak of Mount Kenya.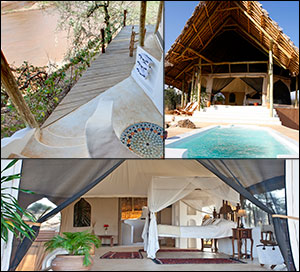 The open airy main lodge continues the North African theme with high thatched ceilings and Moorish arches. This beautifully furnished space leads out to a dinner deck complete with wood-fired pizza oven and a bar. The main swimming pool is perched on a hillside overlooking the river and nearby is an award-winning spa. Attention to detail is evident throughout the lodge, from the personalized service and inspired cuisine, to the elegant interiors and design.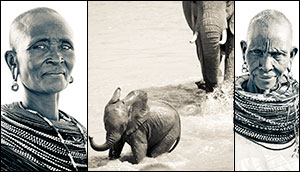 Sasaab feels like an outpost of civilization on the edge of a vast, arid hinterland that stretches all the way to the Sahara. It is an elegant place of pampering, adventure and discovery, providing a glimpse into a corner of the world forgotten by time, where wildlife, humans, and livestock coexist as they have for centuries. It represents, in many ways, the very essence of safari as a "journey".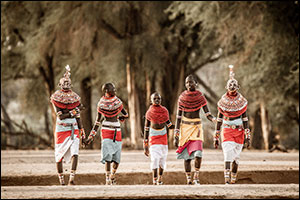 The Safari Collection is deeply committed to uniting tourism, community and conservation and works toward a long term vision of preserving the wilderness for future generations. At Sasaab Lodge guests' conservation fees contribute directly towards the running costs of wildlife management of the Westgate Community Conservancy, on which Sasaab is situated. The lodge maintains strong ties with the Grevy's Zebra Trust and guests are encouraged to visit the organization and participate in conservation activities. Westgate is also home to over 600 Samburu families and the introduction of tourism to the area has demonstrated the value of wildlife, helping to reduce human-wildlife conflict. Sasaab employs 75% of their team from the local Samburu community and is involved in various community projects, including annual health clinics, female empowerment workshops and initiatives promoting HIV and FGM awareness among youth. Its Conservation Scholars Programme currently supports 24 students from local villages to attend secondary school. Sasaab also runs a school lunch program at nine local schools providing healthy and nutritious meals to over 1,110 children per day. Sasaab is a member of The Long Run foundation developed by the Geitz Foundation and is in the process of becoming an official Global Ecosphere Retreat.
For more information about Sasaab Lodge call toll-free: 888.227.8311
or

email us

for Information



|

|

Share