Phinda Private Game Reserve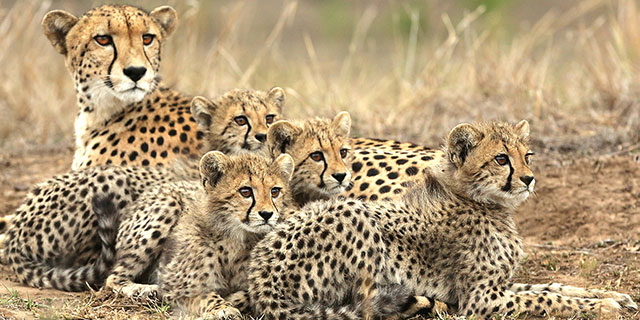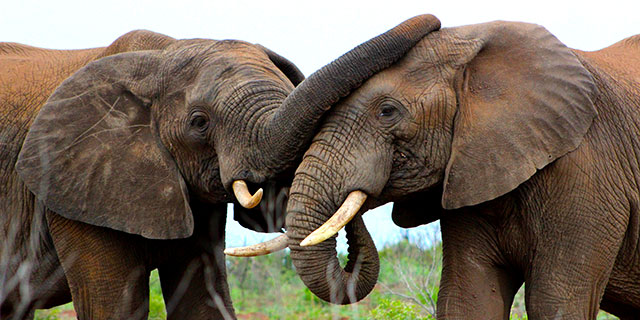 Cradled between the arms of the Lebombo Mountains to the west, and the azure sweep of the Indian Ocean to the east, the 60,000 acre Phinda Private Game Reserve is situated in Maputaland, one of Africa's most ecologically diverse regions, with an extraordinary range of ecosystems and wildlife.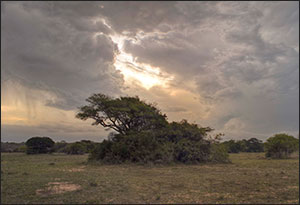 Phinda lies adjacent to the 'Greater St-Lucia Wetland Park' - a UNESCO World Heritage Site by virtue of its diversity and scenic wonder- and incorporates no fewer than seven distinct eco-systems (one of which, the unique Sand Forest, is endemic to Maputaland and southern Mozambique). The reserve is dominated by open broad-leaved woodlands, acacia-bushveld, and palmveld-grass savannah, with a very high carrying capacity for Africa's large mammals (making for excellent game-viewing). Mountains, wetlands, freshwater lakes, and the Indian Ocean coastline all bring their own distinct habitats and diverse species of animals, birds, and plant-life.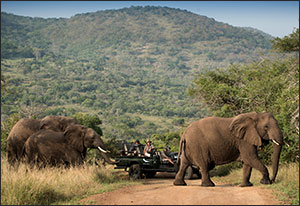 Game-drives at Phinda are conducted in specially adapted open Landrovers carrying a maximum of eight guests, with professional guides and trackers to help find animals, and then provide interesting background information and facts about Africa's spectacular wildlife. Phinda also offers night drives with spot lamps to view nocturnal species. Interpretive bush walks with your guide and tracker provide even deeper and more 'hands-on' insight into the many intricate eco-systems of reserve. All guides and trackers are carefully chosen for their knowledge and experience of the bush, and receive extensive training to ensure that your encounters with the African wilderness are exciting, informative, and safe.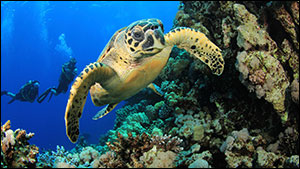 From Phinda, guests can undertake a number of other exciting activities, including wing safaris over the spectacular Greater St-Lucia Wetland Park; beach adventures along the pristine, isolated Zululand coastline; swimming, snorkeling, and scuba-diving around the world's southern most coral reef; black rhino tracking; river boat cruises and canoeing; and visits to local Zulu villages.
Spanning seven distinct ecosystems, Phinda has chosen to celebrate its diversity by building four lodges in very distinct and uniquely beautiful parts of the reserve.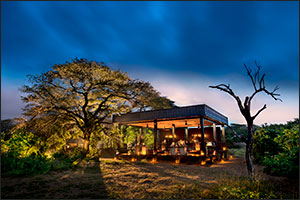 Vlei is a very elegant and exclusive lodge overlooking Phinda's unique wetland system at the edge of the Sand Forest. The entire lodge is constructed of polished teak and glass - a stunning combination - and is decorated in a subtle blend of North and West African style, with hints of Bali. Each of Vlei's six spacious chalets offers an individual spillover plunge pool on a private deck, where romantic private dinners can be enjoyed to the serenade of cicadas. Alternately, the main dining area provides all the conviviality of dinner in a private home.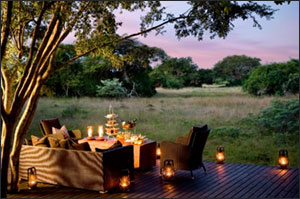 Forest Lodge looks as if it were designed by Frank Lloyd Wright. Hidden unobtrusively amongst the trees and stilted above the forest floor it represents a beautiful and serene harmony between man and nature. The exterior walls of the sixteen chalets are made of glass sheets which open to the forest outside. The materials used to build and decorate Forest Lodge are of the highest quality, incorporating beechwood and slate floors with natural Zulu-inspired fabrics and colors. No luxury has been overlooked, from air conditioning to hand towels tied with fresh leaf wreathes. Fine dining takes place on the deck of the main lodge overlooking the grassy plains, or in the candlelit boma (outdoor dining area).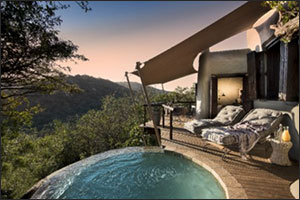 Rock Lodge is located to the south of the reserve, set into a cliff high on a hill overlooking Leopard Rock. Its roughly hewn stone and adobe walls, with heavy wooden shutters and ochre-packed wooden roofs are built into the rock face overlooking the African acacia bushveld. Each of the six suites, garlanded with twisted vegetation, is suspended off the edge of the rocky cliff. All have private cascading plunge pools and three boast outdoor showers with unforgettable eagles-eye views. Dinner at Rock Lodge is an affair to remember. Whether al fresco on the deck or in the castle-like interior, the dining table is always bathed in golden light from countless candles fitted into hand-wrought candelabra.
Mountain Lodge is also set high in the Umbombo mountains and enjoys dramatic wrap-around views over the bushveld. It has a large airy a-frame common area with an expansive wooden deck where morning coffee and afternoon tea are served. Its twenty-five split level air-conditioned chalets are decorated with a tasteful ethnic feel and incorporate all the comforts one would expect at an &Beyond property. Dinner is either served in the dramatic boma illuminated by countless candles and lanterns, or in an intimate bush clearing under a star-studded sky.
The Phinda Reserve is one of South Africa's top wildlife areas, combining exceptional ecological diversity with excellent game-viewing and outstanding accommodation. Every lodge at Phinda offers highly personalized service (the staff to guest ration is 3 to 1), great attention to detail, and fresh creatively prepared and presented cuisine. Travelers seeking a high quality lodge safari experience should place Phinda near the top of their list of options.
Conservation Dimension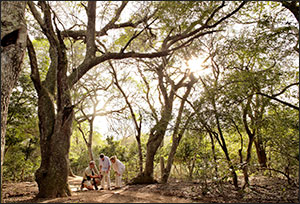 Phinda Private Game Reserve is one of Africa's leading conservation projects; it is the flagship project of the highly acclaimed Conservation Corporation Africa. The Reserve was established on some 37,000 acres of degraded agricultural land, with the aim of rehabilitating this land, restoring it to its former wilderness state, and reintroducing species of animals that had previously occurred there but subsequently become extinct. As the success of the project has become evident, and adjoining communities have seen direct benefits, more and more land has been added to the Phinda Reserve.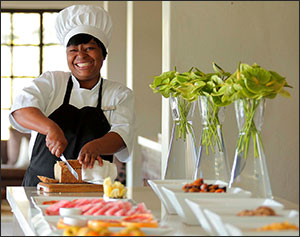 Phinda's philosophy is simple : "Our goal is to create a model in wise land management, integrating international travelers and rural people to their mutual benefit and demonstrating that wildlife can be used on a sustainable basis by all." &Beyond has used its presence across Africa to translocate game that is abundant in one area to other areas where these species have become rare or extinct. It is also highly respected across Africa for its efforts at community empowerment through its Rural Investment Fund (a project that was initiated at Phinda). The program's goals are to facilitate social and economic infrastructure, to promote sustainable usage of available natural resources, and to encourage the establishment of small enterprises linked to eco-tourism. Some 3,500 rural Africans living in the area surrounding Phinda have benefited from this project.
For more information about Phinda Private Game Reserve call toll-free: 888.227.8311
or

email us

for Information



|

|

Share