Grootbos Nature Reserve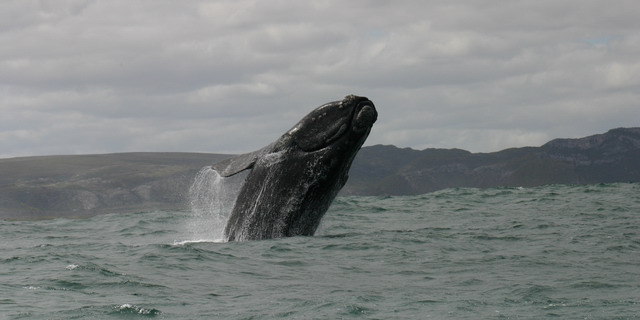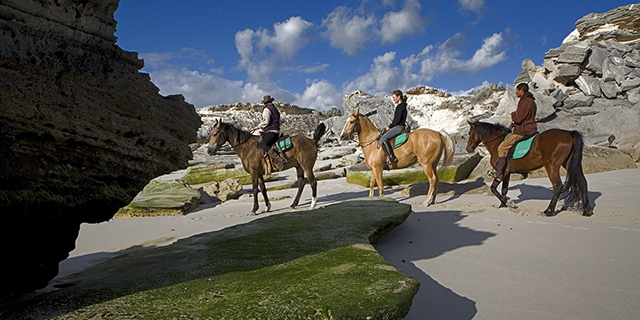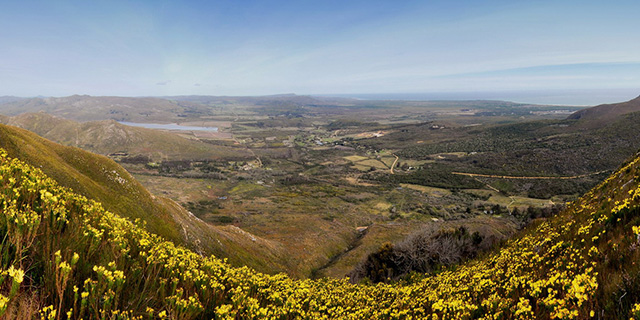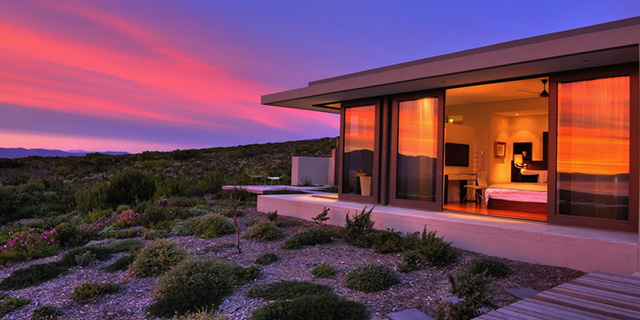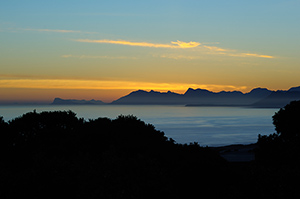 Comprising nearly 4,300 acres of pristine Fynbos wilderness, Grootbos Nature Reserve is less than two hours' drive from Cape Town, and just minutes from Walker Bay - arguably the world's premier location for land-based whale watching.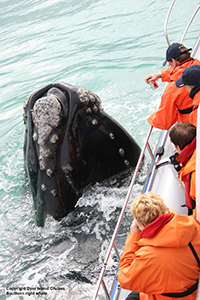 Every year, from June until December, Southern Right Whales return to the sheltered waters of Walker Bay, where they breed and give birth to their young. The whole of Walker Bay, its 20 miles of untouched beach, and the surrounding coastal forests are all protected by strict conservation laws, and provide a safe haven for these magnificent giants of the ocean. Visitors to Walker Bay are treated to the wonderful sight of whales languidly rolling around in the waves or spectacularly breaching out of the water, all within close proximity to the shore. Frequently, the whales come so close in to shore that if the wind is blowing in the right direction, spectators get drenched by spray from the whales' spouts! Orcas (Killer Whales), and Humpback whales are also occasional visitors to Walker Bay.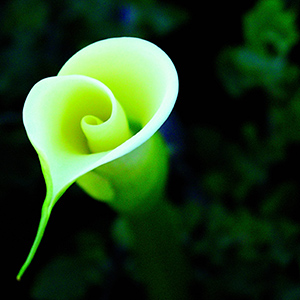 Grootbos Nature Reserve itself is home to an amazing diversity of plant life, and is one of the Cape's premier private nature reserves for exploring the unique Cape Fynbos floral kingdom. Cape Fynbos, with over 8,600 species of plant, is geographically the most restricted but by far the most diverse of the world's six floral kingdoms, and is almost entirely endemic to the very southern tip of Africa. Grootbos Nature Reserve alone harbors some 1,000 different species of plant! Apart from its wonderful Fynbos, the reserve also boasts South Africa's largest Milkwood forest (with some trees over 1,000 years old), various species of smaller mammals, and over 100 species of birds.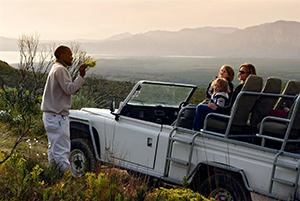 Grootbos offers its guests a wide variety of guided activities by which they can experience the region's wonderful natural beauty. One of the reserve's great strengths is the quality of its guides, many of whom hold university (often post-graduate) degrees in the natural sciences. These guides will take on wonderful excursions along the coast to view the whales; their extensive knowledge will leave you with an understanding and deep appreciation of these gentle behemoths. They will also guide you through Klipgat Cave, one of South Africa's most important archaeological sites, as well as walk with you along the rocky shoreline exploring the marine life in intertidal pools, and take you to remote beaches along the coast.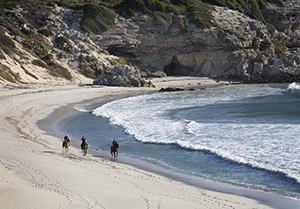 On Grootbos reserve itself, your guide will take you on walks, nature drives, and horse rides through the Milkwood Forest and indigenous Fynbos. Guests can also take walks through the reserve by themselves, or borrow mountain bikes and ride along the trails. Some of the optional extra activities that can be arranged from Grootbos include boat trips to nearby Dyer Island to view Cape Fur Seals, Jackass Penguins, and a host of seabirds, and cage-diving to watch Great White Sharks feed.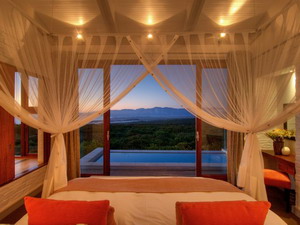 Guests at Grootbos are accommodated at Forest Lodge or Garden Lodge, both nestled in the centuries-old Milkwood forest. Forest Lodge is an architectural masterpiece of sophisticated contemporary design, with 16 luxury suites. Amenities include romantic canopy beds, spacious tiled sunny bathrooms, separate sitting areas with fireplaces, and private decks overlooking the Indian Ocean. The main area is set under a slate roof, framed by glass, steel and brick and consists of a restaurant, bar, spacious lounge, gallery, and infinity pool.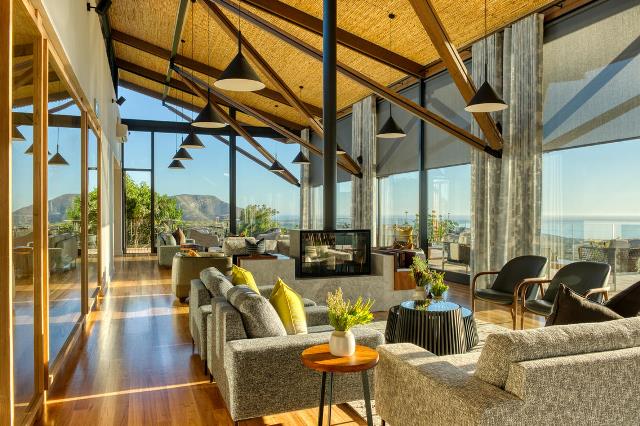 At Garden Lodge guests are accommodated in eleven cottages built from locally hewn stone and timber. While the exteriors are rough and earthy, the interiors are light, modern and spacious, decorated with richly colored and textured furnishings. Each cottage has a living area, bedroom and large en suite bathroom. Wood stoves in the living room invite cozy romantic evenings, while the spacious wooden sun decks are the perfect setting for a private breakfast Facilities at Garden Lodge consist of a restaurant with terrace, bar, lounge, swimming pool, stables, children's play area, library, and an ecological interpretation and research center.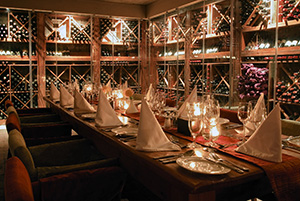 Dining is a highlight at Grootbos, with delicious meals crafted from the finest and freshest local ingredients. Drawing inspiration from the abundance of scents and colors in nature around them, Master Chefs conjure up a fusion of culinary delights. Breakfasts typically include a buffet of fresh fruit salad and juices, assorted cereals, yoghurt, home-made bread, fynbos honey (made on the farm), as well as a full English breakfast. A light lunch is offered each day. Later, hors d'oeuvres and a five course dinner featuring freshly caught seafood, homegrown vegetables and herbs, accompanied by a fine selection of South African wines are taken in the large circular main lodge with panoramic sea and mountain views.
Grootbos is a naturalist's delight, featuring spectacular scenery, the beauty of Walker Bay with its amazing marine life, and a botanical feast. It is, in our opinion, the best base along the whole of Walker Bay from which to view the magnificent Southern Right Whales from July to December, offering an unrivalled diversity of activities on its own private nature reserve, with top-class guides.
Conservation Dimension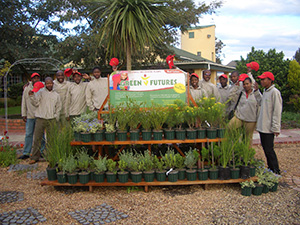 Grootbos Nature Reserve is a privately owned and managed nature reserve, receiving no funding from governmental conservation bodies. It's 4,300 acres of protected land represents a very important safe haven for a number of rare and endangered species of plants; its mystical Milkwood Forest is one of the last significant examples of this form of vegetation left in South Africa. Conservation is taken very seriously at Grootbos, and all the resident guides are simultaneously researchers and conservationists. As part of a scientific management plan, Grootbos established its own herbarium for indigenous plants, from where seedlings are re-introduced into parts of the reserve that were damaged by previous farming practices. The Lutzeyer family (who own and manage Grootbos) have also set up a programme for environmental education, and initiated a trust fund for the preservation of the archaeologically important Klipgat Cave, site of ancient stone-age ruins and artefacts. For its very real efforts and achievements in conservation and eco-tourism, Grootbos Nature Reserve has received the highest levels of praise from South Africa's leading conservation organizations. The director of The Botanical Society of South Africa, for example, describes Grootbos as a "proactive project that will serve as a benchmark for eco-tourism in the future", while the South Africa National Parks have applauded Grootbos as "a true model for eco-tourism with an impressive track record".
For more information about Grootbos Nature Reserve call toll-free: 888.227.8311
or

email us

for Information



|

|

Share