Telephoto Zoom Lenses for Safari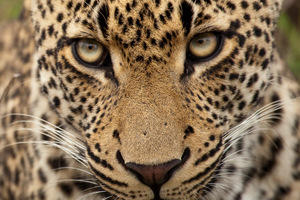 A common photography question that we're asked is, "what is the best lens for safari?" In our opinion, there is no single "best lens", the ideal is a combination of two zoom lenses: one wide angle to medium telephoto (up to 135mm), and one super telephoto (300mm and over) with Image Stabilizing (Vibration Reducing) technology. While there may be a few highly specialized applications for "prime" (fixed focal length) lenses, we believe that the vast majority of travelers are better served by the versatility and flexibility of "zoom" lenses. Looking at the two most common brands, some of the best options for your super telephoto lens include:
200-400mm f/4 lens (Nikon)
Nikon users with a generous camera budget and plenty of space in their luggage have access to what is widely regarded as the ultimate safari lens. Fast, bright, and "long" enough for just about any wildlife encounter on game-drive, most of the spectacular photos that you see in brochures and on commercial websites were taken with this lens. The only downsides are weight (7.4lbs - nearly 20% of your total luggage allowance) and cost (a shade under $7,000).
100mm-400mm f/4.5-5.6 (Canon) or 80-400mm f.4.5-5.6 (Nikon)
For most serious amateur photographers, this category represents a more attainable "ideal" lens. These lenses are not as good as the big Nikon in low light, nor as clear and bright, but their higher zoom factor makes them a little more versatile, and they are a lot more manageable (3lbs) and affordable ($1,600-$1,800). They represent a big step up in performance (and price) over the 300mm zoom lenses - if you are serious about photography, and plan to continue shooting wildlife after you return from safari, consider investing in one of these lenses for "professional grade" results.
70-300mm f/4-5.6 (Canon) or 70-300mm f/4.5-5.6 (Nikon)
This is a great, all-round option that is the lens of choice for the vast majority of safari travelers. At 300mm the lens provides sufficient magnification for most game-drive sightings, while the shorter focal lengths work very well for "people" shots and even some landscape photos. The lens is light (1.5lbs) and affordable ($500-$600), and yields images of sufficient quality to impress even your most discerning friends and family. It will be on your camera 90% of the time while you are on safari.
70-200mm f/4 or f/2.8 (Canon and Nikon)
Some of the most popular lenses on the market, the 70-200mm zooms can do well on safari, particularly when coupled with a good 1.4x or 2x teleconverter. From a narrow safari perspective, they are a little too "short" to be ideal, but they represent an investment in quality that will serve the serious nature photographer well for years to come. Consider one of these lenses (plus teleconverter) if you're looking for something that will work well on safari, and continue to be your "go to" lens for a multitude of applications when you return. Weight from 1.7lbs (f/4) to 3.3lbs (f/2.8). Cost from $1,300 (f/4) to around $2,500 (f/2.8).
Let us help you plan your dream safari. call toll-free: 888.227.8311

or

email us

today

|

|

Share