Astral Photography
Astral Photography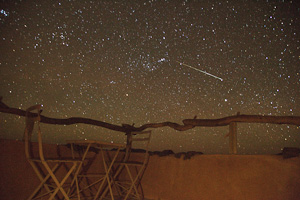 Most travelers to the remote safari areas of southern Africa are dazzled by the brilliance of the unpolluted night sky, especially during the very dry May through October timeframe. With a little bit of planning and practice, it's not at all difficult to create your own "Starry Night" masterpieces to complement your wildlife shots, and add an element of uniqueness to your safari portfolio.
Equipment
Complete camera stability is essential for the long exposure time required for astral photography, requiring two important pieces of equipment: a tripod and a remote shutter release. But neither needs to be big or expensive.
Joby makes a great line of small and inexpensive table-top tripods known as the Gorillapod, available in various sizes to accommodate any D-SLR or point-and-shoot camera. In addition to night photos, the Gorillapod can also facilitate self-portraits on safari ,and improve the sharpness of sunset photos. Price: $20 to $80 (depending on size of camera, and whether or not you want a Joby ballhead for the Gorillapod).
A wide variety of remote shutter releases are available, ranging in price from under $10 (manual release) to around $150 (self-timed and programmable). For the more serious photographer, this is a very handy piece of equipment with numerous applications, and we recommend investing in a device with programmable features. Although it's not very intuitive, we like the wireless flexibility of the Hahnel Giga-T Pro; Canon's TC-80N3 and Nikon's ML-3 are also highly regarded. These "advanced" devices can also be used as intervalometers for time-lapse video sequences.
Camera Settings
Attach your widest angle lens and set your camera to Bulb exposure (B). All other settings are essentially a question of trial and error, to determine what combination of aperture, shutter speed, and ISO setting give the best results based on circumstances and your preferences. Remember that, as the earth moves, the stars rotate through the sky - if you want stationary "star fields", keep the exposure relatively short; for "star trails", go with a longer exposure time.
"Star Field"
42 seconds at f/5.0; ISO 2,000; focal length 24mm

"Star Trails"
315 seconds at f/5.0; ISO 2,000; focal length 24mm

As rule, you will shoot with a large aperture to capture as much light as possible; however, this has to be balanced with enough depth of field to keep your subject in focus (astral photos are far more interesting with a foreground subject); a typical range would be somewhere between f/2.8 and f/5.6. Raising the ISO facilities a faster shutter speed (minutes instead of hours), but increases digital noise. While pros will shoot at low ISO equivalents of 100 or 200, your requirement for sleep will necessitate that you use ISO settings over 1,000, and tolerate some "noise" in your photos.
Paint Your Palette
In most instances, your foreground subject will require additional lighting. The secret here is to briefly wash (or "paint") the subject with a lightsource at some point during the exposure. If an electric light is available, that can work very well, otherwise use a flashlight. Again, experimentation is necessary to achieve the right exposure relative to the starry sky, but more than 3 or 4 seconds of subject lighting is likely to be detrimental.
68 seconds at f/5.0; ISO 2,000; focal length 24mm

A ground level electric light was used to bathe the bed, highlighting it as foreground subject. The light source was switched on for roughly one second towards the end of the 68 second exposure.
* If there are any subjects that you would like to see covered in future editions of photography forum, please feel free to email us with your request.
Let us help you plan your dream safari. call toll-free: 888.227.8311

or

email us

today

|

|

Share