Creating Black and White (B&W) Safari Images
One of the many advantages of digital photography is the ability to switch from color to black and white (B&W), with the click of a button. Don't be fooled, the criteria for outstanding B&W images are quite different from color, and professional photographers specialize in one format or the other, but including some easy-to-create B&W images in your safari portfolio can add emotion and drama.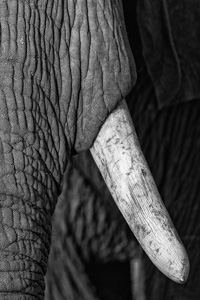 1) Shoot in Color. Post-processing software can easily convert color images to B&W, but not vice versa. Shooting in Raw (as opposed to JPeg) provides the greatest degree of flexibility and minimal quality loss in post processing.
2) Shoot for color. Unless you're a specialist B&W photographer, you should take safari photos on the assumption that you will display them in color. The selection of which photos to convert to B&W is done in post processing. The only reliable way to determine if a color photo will succeed in monochrome is by trial and error, but there are criteria by which to assess candidates for conversion to B&W: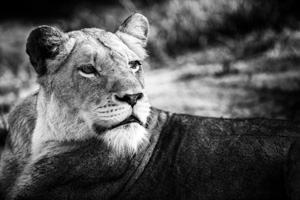 * "Washed out" colors. If color is not a strong feature of a photo, it's an obvious candidate for monochrome. Removing the "distraction" of color allows fundamental elements of an image to shine through: composition, tonal contrast, textures, lighting, and shapes.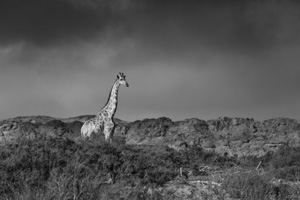 * Tone for drama. Highlights and shadows become significantly more pronounced in a B&W photo, creating emotion and guiding the eye into and through the image. Look for highlighted subjects against a brooding background, and/or dramatic cloud formations.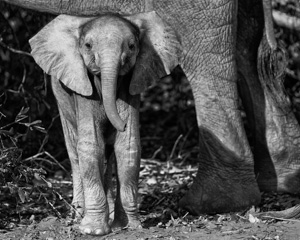 * Texture for feel. The African bush is not a delicate place, and course textures abound - from the rough hair of a lion's mane to the cracked and corrugated surface of an elephant's skin (or a mud hut), an otherwise drab color photo can spring to life in monochrome under the right lighting conditions.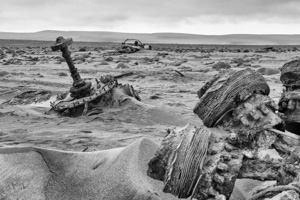 * Shapes, forms, and patterns for interest. These subtle elements of an image are often overwhelmed by color, but really spring to life in B&W. Look not just for strong shapes (2-D) and forms (shapes with the third dimension of depth), and patterns, but interesting arrangements that are pleasing to the eye and/or create intrigue.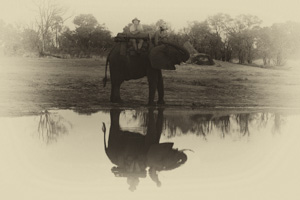 * Salvage. This photo was taken by a mahout and has several strengths, but camera shake resulted in a blurred image, and no amount of sharpening in post-processing can render an acceptably focused color photo. By applying some antique plate B&W effects, graininess and vignetting mask the soft focus (fine art effects can also be used in this way). Not ideal, but better than discarding.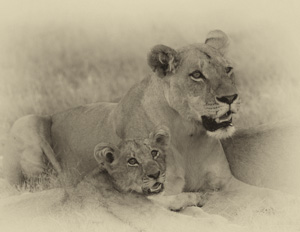 3) Sepia - use it, don't abuse it. Sepia gives a brownish tone to B&W images, adding warmth. It was a popular technique during the early 20th century, prior to color photography, and many classic sepia images exist from the "golden era" of safari. Recreating this, and other antique photo effects (e.g. deliberate vignetting and adding grain) can produce a nostalgic atmosphere. Beware of overdoing these antique effects and creating a cliched safari album.
4) Software. A wide range of post processing applications is available for converting digital images to monochrome, from simple, free products like Picasa to complex techniques involving channel mixing in Photoshop (favored by pros). The most intuitive and enjoyable process that we've used involves initial editing in Lightroom and then B&W conversion in the Silver Efex Pro 2 plugin by Nik.
Let us help you plan your dream safari. call toll-free: 888.227.8311

or

email us

today

|

|

Share