My Four Favorite Photos
Desert Elephant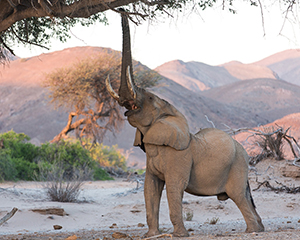 Savanna elephants are highly destructive creatures, and it's remarkable how their desert cousins have adapted to survive in a hostile setting, where their existence is dependent on a few deep-rooted trees that can access subterannean water in dry riverbeds. As sun set over the mountains of Damaraland, this big bull delicately reached up over 20' and picked individual pods from an Ana Tree. The elephant is well lit and isolated, and the photo captures environment and behavior.

Ventura Bomber
Of the many amazing stories of heroism and folly told by wrecks along Namibia's fabled Skeleton Coast, few are as dramatic as the 1942 sinking of the Dunedin Star, and the efforts to rescue those aboard. This 72 year old debris from a Ventura Bomber sent to help sent shivers down my spine. The sand's mineral-rich deposits add color and texture, while the random dispersion of aircraft parts and rocks reinforces the coast's absolute indifference to human tragedy.
Western Lowland Gorilla
It's only after a first encounter that one realizes how charismatic gorillas are; and, as dark objects obscured by foliage and silhouetted against a blown-out gray sky, how challenging to photograph. This big female happened to be mostly exposed and facing towards the sun; her expression captures a gentle and contemplative demeanor. A subtle catch-light in both eyes is the cherry on top.

Congo Homestead
There is a certain universal tranquility and nostalgia about this (unstaged) scene: who doesn't long for a quiet place to sit and relax at the end of a long day and (sometimes anyway) for the simplicity of a pastoral life. I was drawn to this composition by the complete lack of clutter, the richly textured walls, the soft light and earthy tones, and the minimalist aesthetic of order and purpose.

Click here to see larger versions of these images, and others from Pierre's November safari.

Let us help you plan your dream safari. call toll-free: 888.227.8311

or

email us

today

|

|

Share