Sample 8: Highlights of East Africa

Day 1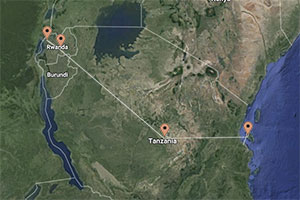 Arrive at Kigali International Airport under your own arrangements (details to be advised).
You will be met by a representative of our local partners who will assist with immigration and customs formalities (including securing your Rwanda visa) while you enjoy coffee in the VIP lounge. You will then be assisted to your driver who will transfer you by private vehicle to the Kigali Serena Hotel.
Spend one night at the Kigali Serena Hotel in a Prime Room, with breakfast included.
The five-star Kigali Serena Hotel is located in central Kigali's business district, close to Kigali International Airport. The hotel is built around a polished granite atrium, which showcases Rwandese arts and culture.
Guests are accommodated in 148 comfortable en suite rooms, decorated in pan-African style, each with air conditioning, television, and wi-fi, mini-bar, coffee and tea-making facilities.
The hotel features an Executive Lounge and Bar, which opens onto a wide sundeck overlooking an elegant swimming pool. Also overlooking the pool, the popular Milima Restaurant offers a wide range of all-day buffet choices, while the relaxed Sokoni Café offers inside and outdoor poolside seating. There is also a full service health club and gym on the property.
Day 2
This morning, after breakfast, your private guide will collect you and will stay with you for the duration of your time in Rwanda. Your exploration of this beautiful and fascinating country begins with a tour of Kigali city, including the Genocide Memorial Centre and craft market.
The history of Rwanda dates back centuries, and Kigali has been a key part of it for a hundred years. Founded in 1907 as a German settlement, Kigali did not become the capital until Rwanda's independence in 1962 when it replaced the colonial seat of power in Butare. Since then, the city has seen major economic development resulting in what it is today: a vibrant (and remarkably orderly!) African city of 1 million with wide boulevards, an international airport, world-class hotels and restaurants, and a lively, cosmopolitan population.
The highlight of the morning is a visit to the moving Genocide Memorial, where you learn about Rwanda's history from pre-colonial times to the unimaginable 1994 genocide, as well as the country's impressive subsequent efforts to reconcile and rebuild; the recovery has been incredible, a true testament to humankind's resilience.
After stopping for lunch at a local restaurant, you will drive (roughly 2 hours 30 minutes) north to Ruhengeri at the foothills of the Virunga Mountains, arriving at Bisate Lodge in time for cocktails followed by dinner.
Days 2-5
Spend three nights at Bisate Lodge in two Thatched Rooms, on a fully inclusive basis (including Accommodation, All meals, All local alcoholic and non-alcoholic beverages (excludes premium imported brands and champagne), Lodge activities on property, Laundry, Complimentary in-room welcome massage, "Gym in a bag" concept, Wireless internet connection in room only, and Local Government taxes).
Day 3
After an early breakfast (approximately 6:30am) drive to Volcanoes National Park Headquarters to be allocated a gorilla tracking group. At 7:00am you will be briefed by your trackers and then drive to the trail head for the start of an amazing adventure.
Our exhilarating trek, in the footsteps of the rare and critically endangered Mountain Gorillas, the largest living primate on earth, starts in the cultivated foothills of the Virungas with stirring views in all directions. Upon entering the National Park, her paths littered with fresh spoor of the mountains' elusive buffalo and elephant, trekkers will be immersed in the mysterious intimacy of the rainforest, alive with colorful bird calls, butterflies, etc. Through gaps in the canopy, the magnificent Virunga peaks, among the highest in Africa yet easily accessible, are glimpsed, beckoning an ascent.
Weaving through overhanging vines, moss-covered hagenia and giant lobelias that thrive in the tropical climate, our experienced trackers who have spent their entire lives in or close to this forest, soon bring us up close with the family.
Upon sighting the gorillas, you will stay with them for a magical hour as they go about their daily life, feeding, playing, resting; raising their young. Coming face to face with a giant silverback must truly be one of the greatest wildlife experiences on earth!
Afterwards, you trek back to base where your guide will be waiting to take you back to the lodge for lunch.
This afternoon you might choose to relax at the lodge, or enjoy one of the guided on-property activities (village visit, nature walk, etc.). Or, perhaps, venture further afield with your private guide to Ruhengeri, the twin lakes, or any of the other local attractions.
Day 4
Rise early and return to the Park Headquarters at approximately 6:30am for your second gorilla tracking experience. You will have the opportunity to visit a different gorilla family today.
Afterwards, trek back to base where you guide is waiting to return you to the lodge to collect your luggage.
Your guide will then drive you back to the Kigali Serena Hotel (approximately 2.5 hours) where you will bid him farewell.
Spend one night at Kigali Serena Hotel in aPrime Room, with breakfast included.
Day 5
Early this morning you will be collected and transferred by private vehicle to Kigali Airport.
You will be met and transferred by shared charter aircraft to Kogatende Airstrip in the northern Serengeti for Sayari Camp, departing at 6:00am and arriving at 9:25am.
Days 5-8
Spend three nights at Sayari Camp in two Tented Rooms, on a fully inclusive basis (including accommodation, all drinks (except champagne, cellar wines, premium brand spirits), park fees, laundry service, scheduled open vehicle game drives, and short walking safaris).
Day 8
Today you will be transferred to Kogatende Airstrip for your shared charter flight to Zanzibar, departing at 10:30am and arriving at 12:50pm.
You will be met at the airport and taken on a tour of Historic Stone Town.
Located on a promontory jutting out from the western side of Unguja island into the Indian Ocean, the Stone Town of Zanzibar is a UNESCO World Heritage site and an outstanding example of an 18th-19th Century Swahili trading town. This type of town developed on the coast of East Africa, syncretizing Arab, Indian, and European influences with indigenous elements, to form an urban cultural unit unique to this region.
The Stone Town of Zanzibar retains its urban fabric and townscape virtually intact. The major buildings, built of sandstone and heavily carved wood, together with the narrow, winding street pattern, large mansions facing the seafront and open spaces form an exceptional urban settlement reflecting the longstanding trading activity between the African and Asian seaboards. Stone Town is particularly significant as the site where slave-trading was finally terminated.
The tour begins at the main City market which was opened in 1904, where tropical fruits, vegetables, spices and fresh fish from the island are sold. The next stop is the Anglican Church of Christ which was built by Bishop Steers in 1873 on the site where slaves were once auctioned. Other highlights include visits to the Sultan's Palace Museum, built in the late 1890's for members of the Sultan's family; the House of Wonders, built in 1883 as a Royal Ceremonial Function Palace; The Africa House, formerly the English Club, Forodhani Park, and The Old Fort - built by Arabs for defense against the Portuguese.
After the tour you will be transferred by private vehicle to Matemwe Retreat (roughly 1.5 hours).
Days 8-11
Spend three nights at Matemwe Retreat in two Retreats, on a full board basis (including Breakfast, lunch & dinner. All drinks (except premium brands), services of butler, snorkelling with boat (one trip per person), guided reef walks, guided cultural village walks, and kayaking).
Day 11
Today you will be collected and transferred by vehicle to Zanzibar Airport. You will be met and transferred by shared charter aircraft to Dar es Salaam Airport, departing at 1:00pm and arriving at 1:20pm.
You will be met on arrival and transferred by private vehicle to the Dar es Salaam Serena Hotel.
Spend the afternoon and evening at the Dar es Salaam Serena Hotel in two Superior Rooms. You will enjoy access to all the hotel facilities and will be able to relax and enjoy dinner (for your own account) before transferring to the airport later in the evening.
The Dar Es Salaam Serena Hotel, encircled by tropical gardens and just minutes from Indian Ocean beaches, offers an oasis of calm in the midst of a busy city.
Guests are accommodated in 230 comfortable rooms with 5 star facilities. Dining venues include an international restaurant, coffee shop, poolside brasserie and bar. There is a large swimming pool and fitness center.
The hotel is just 30 minutes' drive from Dar es Salaam airport and within walking distance of the city center, with its nightlife, dining, business, shopping and cultural diversions.
Later this evening you will be collected and transferred by private vehicle to Julius Nyerere International Airport.
From this point you will depart under your own arrangements (details to be advised).
Rough Cost - 2021
From around $18,650 to around $21,100 per person sharing.
Rate Includes
Accommodation as specified, Meals and drinks as specified, Ground transportation and excursions as noted, Park and entrance fees for lodges/camps inside national parks, Conservation levies and camping fees, Laundry as specified, Intra-Africa flights as specified, All government and airline taxes.
Rate Excludes
International flights to and from Africa; Drinks (unless otherwise specified), Items of a personal nature, Gratuities, Laundry (unless otherwise specified), Meals other than specified, Excursions other than specified, Flights other than specified, Medical, cancellation and baggage insurance, Visa fees.
** PLEASE NOTE: These rates are given as guidelines, and will differ depending on factors such as the time of the year that guests travel, the number of guests travelling, and the class of airline seats available. All rates are subject to change at the discretion of the properties/operators, and due to currency fluctuations, unforeseen increases in fuel prices, increased airline prices, or any future government imposed taxes.
Let us help you plan your dream safari. call toll-free: 888.227.8311

or

email us

today

|

|

Share