Wildlife Update
2/6/2014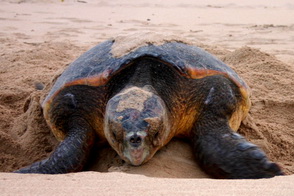 Turtle Season is in full swing in KwaZulu Natal! Every year from October to March, female loggerhead and leatherback turtles return to their place of birth on South Africa's east coast to nest and complete the cycle of life. Guests at Rocktail Beach Camp are treated to rare and awe-inspiring sightings of the enormous turtles as they venture ashore to lay their eggs on Rocktail's pristine beachfront.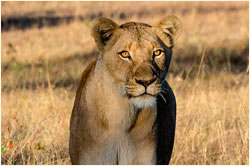 The interactions of Sabi Sabi's 'Southern Pride' of lions over the past few months have been captivating, with 16 different males vying for the same territory in the Sabi Sand Reserve, South Africa. Ultimately, the pride's 7 lionesses are still loyal to the Kruger Male, with one of the females already having his cubs and at least one other with more little ones on the way, but the dynamic could change at any moment.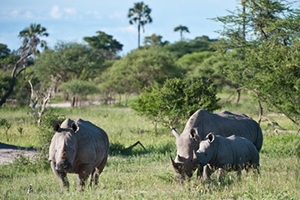 Kwando staff and guests were shocked and delighted to see male and female square-lipped (white) rhino in the Tsum Tsum area of the Kwando Reserve (Linyanti, Botswana). These rhinos, re-introduced several years ago on Chiefs Island by Wilderness Safaris in conjunction with several governmental and environmental groups, have clearly adapted well to life in the Delta - crossing deep water to reach fertile grazing in the Kwando concession.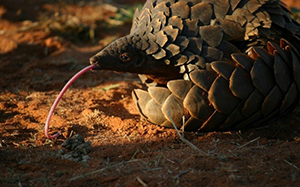 Pangolin are arguably the "Holy Grail" of safaris in Africa. These animals are extremely rare and their cryptic markings make them especially difficult to find. Tswalu Reserve (South Africa) is recognized as one of the best places to spot these elusive animals. Staff are collecting data on the Tswalu pangolin population and making it available for a national conservation drive to better understand the elusive mammal.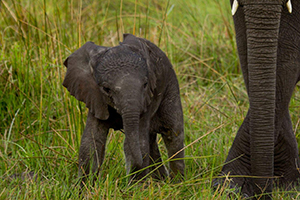 Abu Camp (Okavango Delta, Botswana) is delighted to announce that Kitimetse, a famed member of the Abu elephant herd gave birth to her second calf on November 27th. Her new calf, a female, was born on an especially starry night - dictating her name Naledi, which means 'star' in Setswana.
The catch and release fishing season was a success at Chiawa Camp in the Lower Zambezi, Zambia, with the largest tiger fish caught weighing in at 16lbs! Other notable catches included Bream, Cornish jack and Bottle nose.
---
2/6/2014
Sustainable Architecture - How Wilderness Safaris builds their camps
«
previous
Let us help you plan your dream safari. call toll-free: 888.227.8311

or

email us

today

|

|

Share