Popularizing Conservation
2/14/2013
Whether celebrity turned conservationist, or conservationist turned celebrity, there is no doubt that both have played significant roles in furthering good causes throughout the world. This quarter we highlight four stories of conservationists who have achieved fame as a result of their valuable work and media exposure - popularizing conservation and encouraging others through example.
UK conservationist David Attenborough recently introduced "Africa," a new BBC natural history series. The first episode entitled "Kalahari" featured several Namibian natural attractions, including Etosha National Park, the Namib Desert, Spitzkoppe, and the Hoanib River. Click here to view, or cut and paste this URL to your browser: http://www.bbc.co.uk/programmes/p010jc6r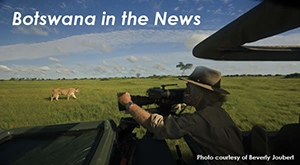 Dereck and Beverly Joubert, Great Plains Conservation's founders, Emmy award-winning wildlife filmmakers, and National Geographic explorers, were profiled on the CBS News 60 Minutes program. The filming took place at Duba Plains Camp in Botswana, where the couples' important Big Cats initiative is based. Click here to view, or cut and paste this URL to your browser: http://www.cbsnews.com/video/watch/?id=50135640n
Prominent South American conservation figures Kris and Doug Tompkins recently visited the NamibRand Nature Reserve in Namibia, staying at Wolwedans Dunes Lodge. The couple, responsible for protecting over 2.2 million acres in South American countries, was inspired by the NamibRand's model of holistic biodiversity conservation balanced with financial sustainability through high-end, low-impact tourism and will promote the concept in South America.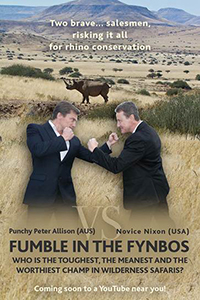 In an ego-sacrificing effort to raise funds for rhino conservation, two ardent conservationists and managers at Wilderness Safaris, Kim Nixon and Peter Allison (author of "Whatever you do, don't run"), challenged each other to a boxing match held on 15 December 2012. A great crowd of industry professionals, Wilderness staff, and fellow pugilists gathered at The Armoury, an exclusive boxing gym in the Cape Town suburb of Woodstock to cheer on the contestants and enjoy DJ'd music and catering from the Kitchen Cowboys. In addition to nearly $20,000 donated by supporters worldwide, the Cape Grace and Mala Mala Private Game Reserve generously contributed to the cause demonstrating a company ethos founded in conservation and respect for the environment.
---
Let us help you plan your dream safari. call toll-free: 888.227.8311

or

email us

today

|

|

Share