Duba Plains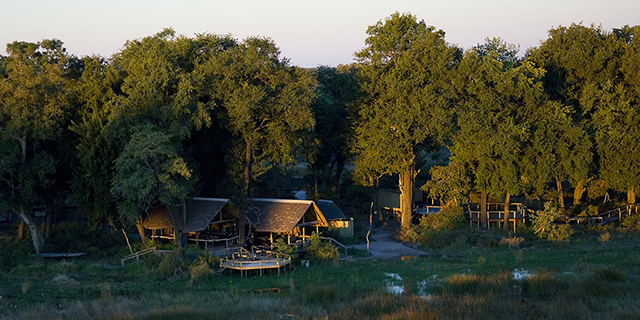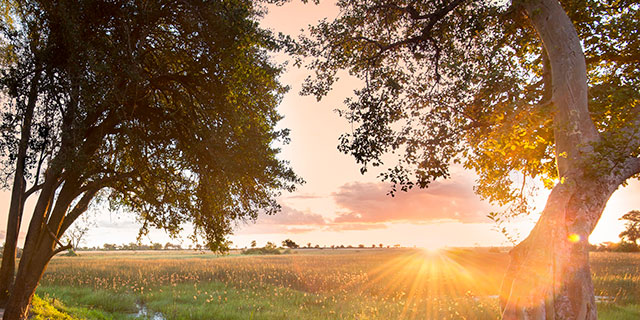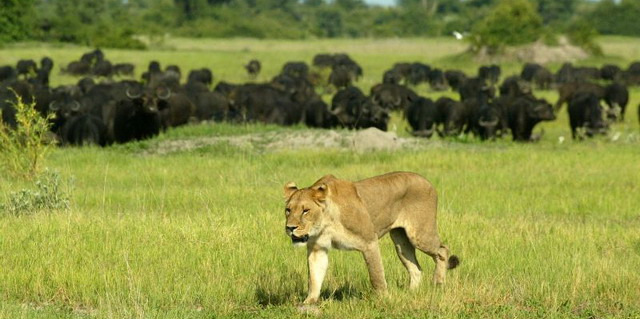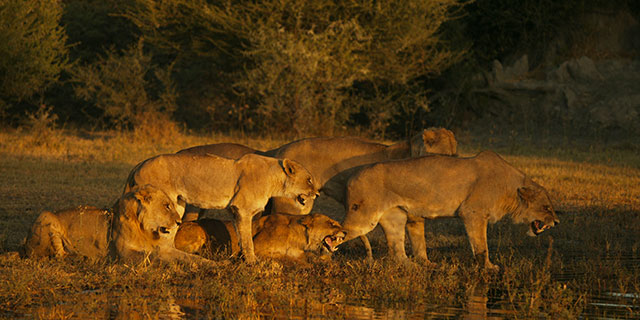 Located on a 75,000 acre private reserve in the outermost reaches of the Okavango Delta, Duba Plains is one of the Delta's most remote camps. The terrain is characterized by enormous floodplains dotted with tree-clad islands of various sizes. These enormous grass floodplains attract huge herds of buffalo and other plains game, and the lions and other predators are never far behind.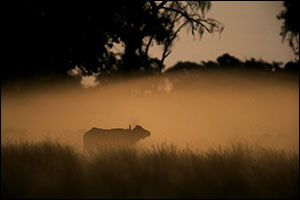 The productivity of this rich Okavango system is the result of year-round water availability, diversity of habitat, and nutritious grasses that are stimulated by the dual effect of the summer rains and winter flooding. Duba is situated on the edge of the permanent Delta, and the reserve is comprised primarily of large islands seperated by deep waterways. Most wildlife species of the Delta are found on the Duba concession, but the area is perhaps most famous for the titanic struggle for survival between large lion prides and the huge buffalo herds of the area (immortalized in the National Geographic film "Relentless Enemies").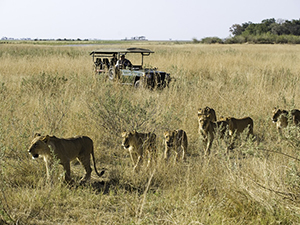 It is this wealth of wildlife, in combination with the camp's wonderfully wild and remote setting, that is Duba's great strength. Game drives are undertaken in specially adapted, open 4x4 safari vehicles, which offer unrivalled proximity to the African bush and its wild inhabitants. All activities are led by professional guides who are carefully chosen for their knowledge and experience of the bush, and receive extensive training to ensure that your encounters with the African wilderness are exciting, informative, and safe.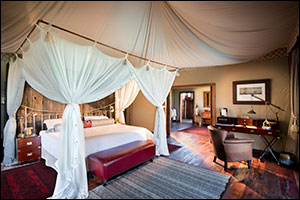 Duba's five tented rooms are raised on recycled railway sleeper decking and offer exceptional views of the surrounding floodplain and its resident wildlife. Each tent has its own living area, private veranda and beautifully appointed en-suite facilities, including double vanities, indoor and outdoor showers and luxurious bathtubs. A private plunge pool and outdoor sheltered sala provide a welcome respite at siesta time.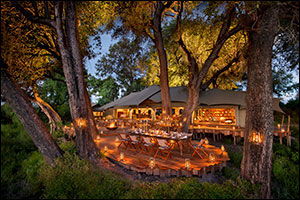 The main area consists of a large raised dining room, comfortable sitting area, wine cellar and library – all opening onto expansive decking set under giant ebony trees, A media room is available for guests' photographic work. There are myriad private spaces throughout the lodge where guests can absorb the safari ambiance. Guests staying in the two-bedroom Duba Plains Suite enjoy the services of a private game drive vehicle with their own guide, as well as a private butler and chef.
Duba Plains is a wonderfully intimate camp, and the perfect base from which to explore one of Africa's great natural dramas. It offers great game-viewing in combination with a real sense of wilderness, and a very authentic yet comfortable camp experience.
Duba Explorers Camp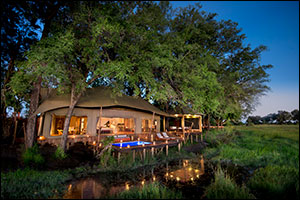 For the more adventurous, Duba Explorers Camp is built on a wooded island in the northern portion of the concession, with its own private wildlife area separate from Duba Plains. It is intimate, with only five expedition-style tents of light airy canvas on slightly raised decking, each with views of the surrounding floodplain. The tents are stylishly furnished and designed in the spirit of a Victorian-era "expedition," offering campaign writing desks and private verandahs, plus en-suite facilities consisting of flush loo, double vanities and an indoor shower. The main area is set under sweeping marquee canvas, on raised decking, and consists of a spacious dining and sitting area that opens to the outdoors on all sides, to facilitate al fresco dining and immersion into the surrounding wilderness.
Conservation Dimension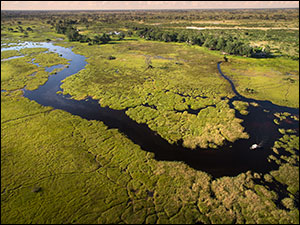 Duba Plains is a great example of the successes that can be achieved through community involvement in ecotourism. The land is owned by the Okavango Community Trust, a trust which represents and administers the interests of all the rural villagers who live to the north of the Okavango Delta. They lease the land to Great Plains Conservation, and derive direct benefit from the tourism that this arrangement has generated: money, jobs, training, and various secondary businesses. To a large extent, the future of Africa's wildlife and wilderness areas is dependent on the communities that live directly adjacent to these sanctuaries - by ensuring that these communities derive direct benefits from ecotourism, the Duba Plains 'model' turns potential poachers into avid game-keepers.
For more information about Duba Plains call toll-free: 888.227.8311
or

email us

for Information



|

|

Share