Camp News
11/25/2011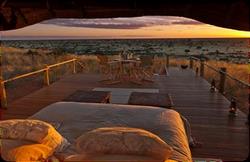 Tswalu Kalahari, South Africa, has launched a luxurious sleep out deck overlooking its vast 250,000 acre private game reserve. This exclusive perch boasts a raised platform with a thatched overhang and weather-proof blinds. Tswalu has been featured in the June 2011 issue of Britain's Tatler magazine, where a family safari is deemed "perfect." Read here.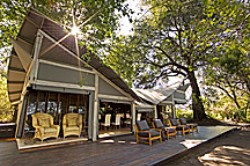 Abu Camp in the Okavango Delta, Botswana, has been entirely re-built to offer the epitome of seclusion and indulgence in the wilderness. Accommodation is comprised of six Bedouin-style structures, each fitted with distinctive furnishings, which exude an air of elegant refinement. Outdoor living space has also been extended with spacious private decking overlooking the lagoon in front of camp. During the day guests can enjoy an insightful elephant experience with the Abu elephant herd, many of whom have been rescued from captivity, abandonment or injury, with the definitive aim to rehabilitate and, where possible, release into the wild. An extensive new camp library is the perfect place to relax while learning about the elephants. Guests may also choose to sleep in a one-of-a-kind 'star bed' above the elephants' boma, lulled by the rumblings of the herd below.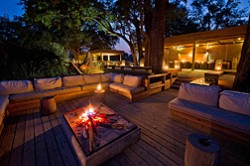 After its destruction during a fire last year, Vumbura Plains Camp, also in the Okavango Delta, has been completely rebuilt to include a large sunken sitting area, a fire deck, glass doors for protection against the elements, and creatively designed furnishings.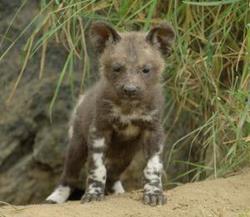 &Beyond's Exeter lodges in the Sabi Sands Private Game Reserve, South Africa, are privileged to have two wild dog den sites on their reserve, including puppies! The Alpha female and mother is often observed standing at the entrance of the den suckling all 8 puppies at the same time. The pack has also been seen regurgitating food for the puppies and the Alpha female after successful hunting excursions.
MalaMala, adjacent to Kruger Park in South Africa, has partnered with Aquavision to produce short compelling video clips of the wildlife experience on the reserve. Aptly titled "It's all about the wildlife", these gripping pieces offer a condensed version of what many of visitors experience while on safari at MalaMala.
---
11/24/2011
Client in the News
«
previous
11/26/2011
The Hoaruseb Lion Pride, Skeleton Coast, Namibia
next
»
Let us help you plan your dream safari. call toll-free: 888.227.8311

or

email us

today

|

|

Share