Late Dry Season (Sep-Nov)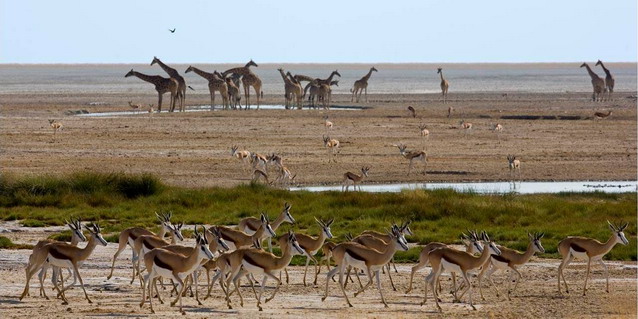 Dry season effects are at their peak, making this probably the best timeframe of the year for seeing the maximum amount of wildlife. Foliage and water are both in very limited supply, resulting in concentrated wildlife and excellent visibility. Large herds of elephants and grazers are the norm along major rivers (e.g. Zambezi, Chobe/Linyanti, and Luangwa), on floodplains (e.g. the Okavango Delta, and Busanga Plains in Kafue), and at watering holes in Kruger, Hwange, and Etosha Parks.
Elephants are particularly dependent on water, requiring on average over 30 gallons a day just for drinking (bulls in musth require more than four times this amount!). In addition to this metabolic requirement for water, they also use water as a cooling mechanism, spraying themselves with many more gallons of precious water. Research shows that, in some parts of the region, elephants consume as much as 80% of all surface water during the dry winter months, and it is not uncommon to see elephants aggressively chasing other animals away from watering holes during these difficult times.
Daytime temperatures are getting hot at this time, with averages crossing into the 90s from mid-September. This is a dry heat, with very little humidity, and temperatures drop into the 60s at night. The bush is also quite stark, with neutral browns and tans dominating the color spectrum.
Demand has fallen off a bit as the traditional vacation season in the northern hemisphere comes to a close. Peak season rates still apply in September and October, but the pressure on availability eases off just a little.
This is the best timeframe for combining favorable weather conditions in Cape Town (and other coastal areas) as well as safari destinations. The Victoria Falls are at their lowest, as is the flood in the Okavango Delta (certain camps still offer the water activities and experience).
Provided that you are not overly sensitive to heat, or put off by the relative absence of greens from the color spectrum, this is the time of the year that you will probably see the greatest diversity and volume of game in southern Africa. The somewhat easier availability at camps is also a positive factor. November is generally priced as a shoulder season month, making it a strong value proposition.
Let us help you plan your dream safari. call toll-free: 888.227.8311

or

email us

today

|

|

Share