Sighting of the Quarter-Martial eagle kills bat-eared fox
1/31/2019
While on game drive in the Maasai Mara in November, Pierre witnessed a very unusual interaction between an eagle and a fox. As he relates: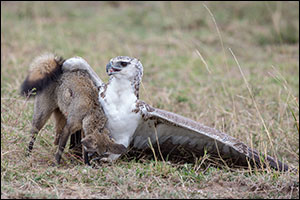 "We were en-route back to camp when my guide Nick became excited – a normally nocturnal bat-eared fox was tearing across the plains to our right; suddenly, like a bolt from the blue, a large raptor literally crashed down onto the fox and the pair tumbled in a cloud of dust. After a brief tussle, the raptor stood over the fox and we could see it was a Martial eagle, Africa's largest bird of prey.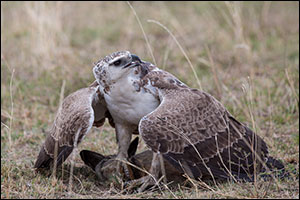 It took a while for the eagle to adjust its grip, avoiding the fox's snapping teeth, but eventually the talons of one claw secured an iron-clad grip on the fox's neck. Despite desperate attempts to break free, the fox was doomed from this point forward, and it was a slow, agonizing 10 minutes that passed before its bushy tail went limp signaling that the struggle was over. All the while, the Martial eagle kept looking skyward for competitors, and used its outspread wings to try to hide the fox.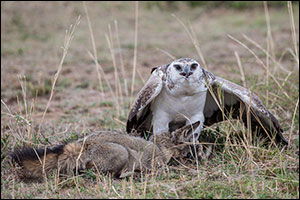 The eagle then proceeded to drag its meal to a nearby clump of bushes, where it could enjoy the fruits of its labor at a leisurely pace. We had to head back to camp, so couldn't wait to see what transpired next; as with all kills that I've witnessed, I left the scene with a sense of intense sadness for the victim, but a grudging appreciation for nature's ruthless efficiency."
Click Here
for more photos from Pierre's recent safari.
---
1/31/2019
Recipe of the Quarter
«
previous
1/31/2019
Conservation News
next
»
Let us help you plan your dream safari. call toll-free: 888.227.8311

or

email us

today

|

|

Share