Property Updates
10/31/2018
Balloon Safaris over the Mara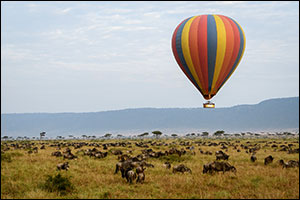 This September Governor's Balloon Safaris celebrated 40 years floating over the Maasai Mara. The outfit has lifted over 100,000 happy passengers and the company's pioneering designs and technical innovations have inspired the ballooning industry worldwide. Guests staying at Angama Mara, Mara Plains, and Cottar's 1920's Camp can book an unforgettable balloon safari followed by a champagne breakfast.
Tea at The Cape Grace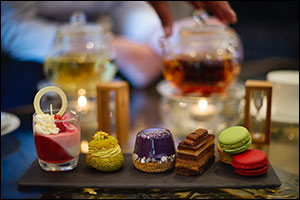 "If you are cold, tea will warm you. If you are heated, it will cool you. If you are depressed, it will cheer you. If you are excited, it will calm you." William Ewart Gladstone. As such, afternoon tea is being served at the Cape Grace Hotel, accommodated by tiny sophisticated sandwiches and miniature desserts. While no one knows quite when the tradition was invented, Anna, the 7th Duchess of Bedford, is credited with its widespread popularity. Complaining about the long wait between lunch and dinner, she remedied the 'sinking feeling' she felt with a pot of tea, bread, butter, and cakes. The ritual proved so popular that soon, all of London's most fashionable society was sipping tea and nibbling sandwiches in the middle of the afternoon. The ritual of Tea at the Cape Grace is a welcome respite from a full day of touring.
Return to Chikwenya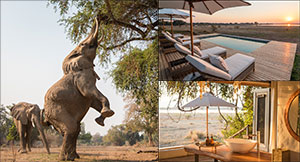 Chikwenya Camp, located on one of the most beautiful sites in Africa, will be re-opening in April 2019. Set in Zimbabwe's Mana Pools National Park, the camp overlooks a game-rich floodplain leading to the broad Zambezi River, with a backdrop provided by the mountains of the Rift Valley escarpment. Many past clients of Classic Africa will have fond memories of Chickwenya and we are thrilled that this special property will be back in our portfolio.
The Kosher River Club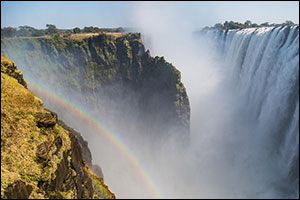 River Club founder, Peter Jones, has a deep passion for history and for the stories of Zambia, including the country's rich Jewish history. Peter has introduced the opportunity for observant guests to visit the Zambezi River and magnificent Victoria Falls by providing two kosher stay options– designed for the "very observant" and "lightly observant" Kosher guest. Both options must be arranged in advance of travel.


Three Tree's Burchells Cottage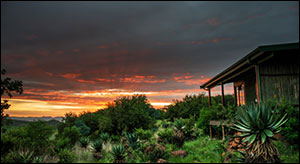 Burchells, a new family cottage, will open at Three Tree Hill Lodge, KwaZulu Natal, South Africa, in response to an increased demand for adventurous, active family holidays. In 1811 William John Burchell set off from Cape Town on a 4-year, 4,400 mile journey of scientific exploration in Africa. When he returned to Cape Town in April 1815, he had amassed 63,000 plant & animal specimens and 500 drawings. His epic journey inspired the new addition to Three Tree Hill. The two-bedroomed family cottage has been designed to capture the spectacular view of Spioenkop Game Reserve and Mountain, embracing nature and transporting guests through time with a naturalist-explorer theme.

Nelson Mandela Platinum Suite at the Saxon Hotel



The Saxon Hotel, Johannesburg, South Africa, has introduced the Nelson Mandela Platinum Suite. The suite's design took inspiration from Mandela's Xhosa heritage, using rich textiles and animal skins, as well as vintage photographs depicting aspects of Xhosa life and a contemporary painting of Nelson Mandela that morphs from a portrait into a series of names, as the observer moves closer.
Sanctuary's Geoffrey Kent Suite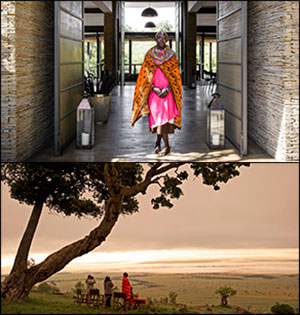 Sanctuary Olonana Camp in Kenya's Maasai Mara has introduced its exclusive Geoffrey Kent Suite, opening in March 2019, which will combine an impressive showcase of modern design blended with distinct African finishes. The spacious suite features two private en-suite bedrooms, a dining area, sitting room and private deck, all serviced by dedicated staff.


Serra Cafema Re-opens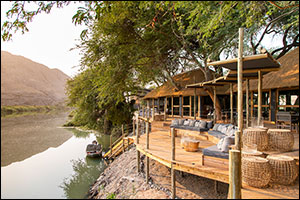 After an environmentally-sensitive and inspiring rebuild, Wilderness Safaris' Serra Cafema Camp in Namibia's extreme north-west, reopened in September. Located in one of the most remote regions in southern Africa, on the banks of the Kunene River in the Hartmann's Valley, Serra Cafema offers the opportunity to explore this extraordinary desert location, while ensuring its ongoing biodiversity protection and positively impacting the local community members of the Marienfluss Conservancy. Natural materials that reflect the surrounding landscape have been sourced locally and used throughout the camp. Each of the eight luxurious and spacious guest rooms overlooks the Kunene River and mountains of Angola beyond.
---
10/31/2018
An Unprecedented Green Turtle Season
next
»
Let us help you plan your dream safari. call toll-free: 888.227.8311

or

email us

today

|

|

Share