Conservation and Community News
7/31/2018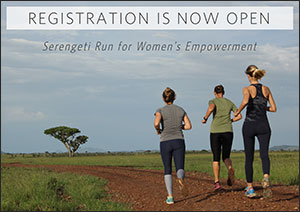 Join the first-ever all-female run across Tanzania's vast Serengeti plains to raise funds for girl's & women's empowerment. This three-day journey for a common cause will take the intrepid runners through the Serengeti's vast plains, followed by a shadow vehicle and support team. End each day with sunset game drives and evenings around the campfire at Singita Explore, a private use tented camp in the heart of this 350,000 acre piece of African wilderness. A portion of the nightly rate will be subsidized by Singita as support for this initiative.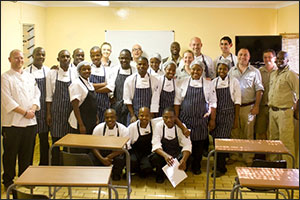 A state-of-the-art cooking facility has been constructed between Kruger Park's
Singita Lebombo Lodge​
kitchen and dining room, in the style of a demonstration studio. The gleaming kitchen is home to the students of a rigorous professional culinary course, which produces 10 internationally qualified chefs every year. The Singita Community Culinary School offers a unique program that serves the local community, as well as the South African hospitality industry as a whole, while entertaining lodge guests with a reality cooking show.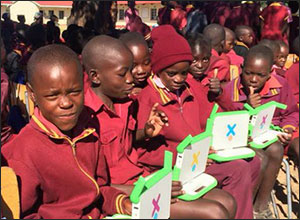 Ngamo Primary School in Hwange, Zimbabwe, received ten "One Laptop per Child" (OLPC) computers, which were donated by a
Children in the Wilderness (CITW)
supporter and Henny's Kids, an organization that sponsored teacher-training on the laptops. With access to digital technology, rural children are engaged in their own education - learning, sharing, and creating together. They become connected to each other, to the world beyond, and to a brighter future.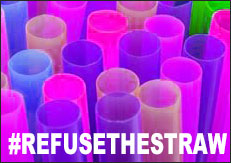 Billions of plastic straws are created every day, only to be used for mere minutes before being discarded, potentially polluting our ocean waters forever. In the Seychelles North Island's commitment to conservation and the environment is not only represented in the rehabilitation of forests and protection of endangered species, but also includes reducing the lodge's footprint on nature. Thus, North Island has banned plastic straws from the island and now uses only 100% biodegradable straws and food containers – an important step in its march toward becoming a plastic-free island. The lodge was recently recognized at the African Responsible Tourism Awards with a gold award in the category "Best for Aquatic Species & Habitat Conservation".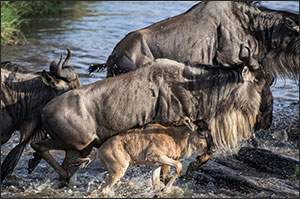 This year the unusually heavy rains in the Makgadikgadi National Park have contributed to greater growth in the migrating population of zebra and wildebeest through Botswana. As a result,
Jack's Camp
,
San Camp
, and
Camp Kalahari
are contributing to 3 new waterholes within the park to support the growing herds, as well as resident game such as kudu, wildebeest, giraffe and elephant. In addition, Natural Selection's conservation project team is busy collecting biophysical data and indigenous knowledge on wildlife and cattle movements in Botswana in order to identify the potential for an unrestricted migration route. The company donates 1.5% of its turnover to wildlife conservation, which amounted to 43% of its profits in 2017.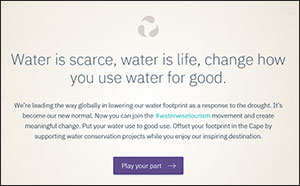 The world's first water-offset tool, My Water Footprint, has been launched by the Western Cape Minister of Economic Opportunities, Alan Winde, as part of a bid to boost water-wise travel in Cape Town and the Western Cape. The
My Water Footprint Tool
, allows visitors to the Cape to calculate their daily water usage, and then to offset this usage by donating "flowcoins" to local water conservation projects.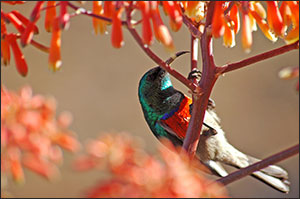 In 2006 a devastating fire destroyed large areas of ancient Milkwood forest found on the Grootbos reserve in Hermanus, South Africa. The Future Trees Project was created with the aim of rehabilitating the afflicted areas and has planted 3,310 indigenous trees to date. The trees are grown in the Grootbos Lodge's nursery to ensure local genetic sources are maintained.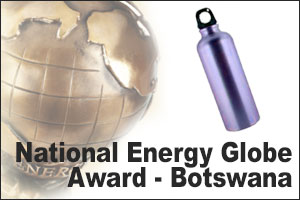 Wilderness Safaris has won the prestigious "National Energy Globe Award Botswana" for its pioneering waste-water management and conservation efforts, resulting in a reduction of plastic water bottle use by 76% across the Group since 2012.
---
7/31/2018
Property Updates
next
»
Let us help you plan your dream safari. call toll-free: 888.227.8311

or

email us

today

|

|

Share