Sighting of the Quarter
4/30/2018
from Derek and Beverly Joubert, award-winning film-makers
Tsaro male: Duba Plains lion climbing a tree. (Photography Credit: Beverly Joubert)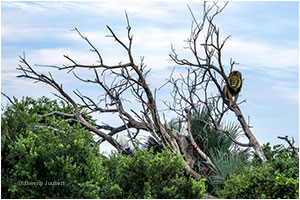 Last week as we sat with a couple of young lions at Duba Plains, we looked up and saw a strange shape across in the next island. I've filmed this dead tree a dozen times. I can virtually trace its outline in my sleep. Today it had a different shape. A huge male lion had managed to climb up, all the way to the top. The tree had blown down in the storms of 2006, so the wood is thin, brittle and is not something even I would attempt.
Once up, even turning around was an issue. Weighing at least 200kg he shivered and shook as he balanced unimpressively on a limb thinner than even one of his feet. "This is going to end in tears." I said to Beverly. The pride moved off. The sky started turning pink, and an hour later and he was still boldly scanning around, but showing definite signs of discomfort. His first attempt at a descent went wrong, and he slipped, but found his footing and reversed, ass in the air.
He found something else unbelievably engaging with which to distract himself; a warthog half way across the Okavango, or perhaps in his imagination. Finally, he had no choice. I saw him puff himself up and start to come down, head first just like a leopard does. But leopards have the ability to tense up the tendons in their ankles and lock them, effectively doubling the size of these vulnerable bones. And they only weigh a third of this male. I filmed and Beverly's camera fired off dozens of images as he came down gingerly...
You know how sometimes you start something, like jumping off a vehicle roof or when you miss a step and your mind registers: "this is going to hurt" or frankly when a boxer goes through the ropes and looks up into the face of his opponent? I saw that look on the male's face. And of course half way down it happened. His ankles bent, his weight shifted off center and his massive head and shoulders swiveled around until he was hanging upside down over the spiky palms below.
He didn't even growl. Who was to growl at? He'd done this all himself.
Then he let go, and crashed down breaking stuff, palms, skin, dignity.
After filming, I drove up quickly because I thought that he may have broken his back, then quickly backed away. He was sitting up looking around. I sympathized again. Those cartoons where small yellow canaries tweet around your head when you've taken a hit are real. I've seen them. So did this male lion at Duba Plains.
---
4/30/2018
Conservation and Community News
«
previous
4/30/2018
News and Notes
next
»
Let us help you plan your dream safari. call toll-free: 888.227.8311

or

email us

today

|

|

Share