Featuring Qorokwe
11/1/2017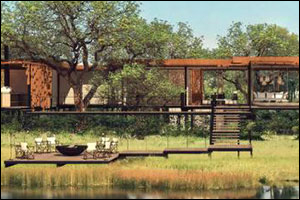 Qorokwe, meaning "The Place Where Buffalo Broke Through the Bush into the Water" is an exclusive 64,692-acre concession in a highly productive game area in the south-eastern Okavango Delta, bordering Botswana's renowned Moremi Game Reserve. Exploring Qorokwe reveals a world of diverse Delta habitats supporting a wealth of wildlife, earning the area's well-deserved reputation as a top Botswana safari destination.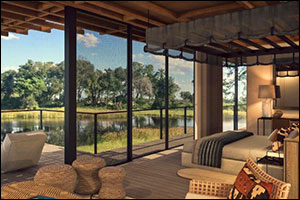 The camp's nine elegant tented suites, one of which is a spacious family suite with its own splash pool, and the main area, which comprises a dining area, lounge, library, bar and infinity swimming pool, are built on raised decked platforms. The design blurs boundaries between interior and exterior space, with retractable glass walls and detailed timber ceilings perforated with light to mimic the experience of being beneath the trees at the side of the lagoon. The palette of colors and materials used was inspired by the Botswana landscape, resulting in a rich mix of bleached timbers, darker stains and accents of rust and burnt orange.
Pierre is currently visiting Qorokwe and will have a full report in our next newsletter.
---
11/1/2017
Naming the Gorilla Babies
next
»
Let us help you plan your dream safari. call toll-free: 888.227.8311

or

email us

today

|

|

Share