Camp Updates
11/26/2011

Tongabezi a Children's Paradise
Tongabezi, located near Victoria Falls in Zambia, has created the Garden House - an exclusive retreat that is perfect for parents and children travelling together. Features include a private walled garden, plunge pool, a private dining room, and two en suite bedrooms. Specially designed activities and bespoke menus for youngsters, combined with romantic touches for parents creates a luxurious idyll to suit every family member.
A Refreshed Xigera Camp
Xigera Camp in the Okavango Delta, Botswana, has been recently refreshed to include the addition of a cozy library and "star deck." On clear evenings guests will enjoy spectacular star-studded dining followed by engaging astronomy talks led by knowledgeable guides.
Don't miss Ballooning in the Kafue
The maiden balloon excursion of the 2011 season took place in September over the Busanga Plains in the Kafue National Park, Zambia. Guests thoroughly enjoyed the experience and, after a champagne breakfast, commented that it was their "greatest day in Africa and should be on everyone's bucket list!" This excursion can be arranged through Busanga Bush Camp, Kapinga Camp or Shumba Camp.
San Camp Refurbished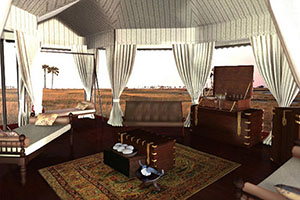 The romantic San Camp, set on the Makgadikgadi Salt Pans of Botswana, has re-opened its many curtains after a complete refurbishment. San Camp's classic white tents stand majestically on the shore of a vast sparkling salt pan sea, each sheltered by a cluster of stately desert palms. All of the wood used in the re-building of San Camp is sustainably harvested teak and the camp's energy requirement is supplied almost entirely by solar power, thus preserving the quiet reflective ambience inherent in "the greatest expanse of nothingness on earth."
MalaMala voted South Africa's Leading Safari Lodge
MalaMala, adjacent to the Kruger National Park, has been awarded the accolade of South Africa's Leading Safari Lodge by the World Travel Awards - dubbed the "Oscars" of travel and tourism by the Wall Street Journal.
---
11/25/2011
A Legacy Continues at Fugitives' Drift Lodge
«
previous
11/27/2011
Mammals, Turtles and Flowers Spring to Life in South Africa
next
»
Let us help you plan your dream safari. call toll-free: 888.227.8311

or

email us

today

|

|

Share