The Story of Camp Jabulani
2/24/2011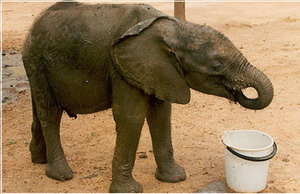 In June 1997 a tiny four month old elephant arrived at the Hoedspruit Endangered Species Centre (HESC) in Mpumalanga, South Africa, close to Kruger National Park. He had been found stuck in the mud of a silt dam, injured and severely dehydrated. He was monitored around the clock by a dedicated team (including a hand-reared sheep called "Skaap" which acted as a surrogate mother) and was slowly brought back to a state of health. He was named Jabulani - meaning "to rejoice".
In March 2002 word reached the HESC of 12 Zimbabwean elephants slated for culling. Their owner's farm was in the process of being expropriated by war veterans, and the elephants were tagged for their meat. A rescue mission was put into place, and within a matter of weeks a truck left Johannesburg for Zimbabwe empty - and returned with a dozen pachyderms.
It was with amazement that the HESC team witnessed the meeting of Jabulani and the herd. He was immediately adopted by Tokwe (the matriarch) and was accepted as kin.
Faced with the overwhelming custodianship of these beautiful but mammoth animals, the next logical step was to create a camp to support them. This camp would afford travelers the extraordinary experience of intimately interacting with the elephants. Thus, Camp Jabulani was born.
Guests travelling to Jabulani will enjoy a truly integral safari experience - combining an educational component, with the exhilaration of riding atop the behemoths led by Jabulani himself, with classically elegant and luxurious accommodation, with gourmet cuisine served in breathtaking settings around the reserve. In addition, Camp Jabulani offers the only night safari on elephant back in the world!

---
2/25/2011
New Look Client Photo Gallery
next
»
Let us help you plan your dream safari. call toll-free: 888.227.8311

or

email us

today

|

|

Share