Classic Africa in the News
1/1/2008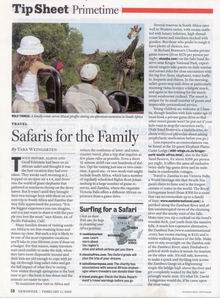 Classic Africa was mentioned in the February 11, 2008 issue of Newsweek in an article entitled "Safaris for the Family." We have also been working with the New York Times, Fortune Magazine and CNN and will keep you updated.
Click here for the full Newsweek article.
---
1/1/2008
Thinking about 2009?
«
previous
1/1/2008
Reminders
next
»
Let us help you plan your dream safari. call toll-free: 888.227.8311

or

email us

today

|

|

Share