Camp Updates
7/1/2008
A Desert Mirage? Jack's Camp, Makgadikgadi,
Botswana The surreal sighting of a swimming pool being carried over the Makgadikgadi salt pans by the Jack's Camp staff was captured on film. Work is now underway to erect the pavilion tent that will house the welcome oasis. Soon guests will be able to luxuriate in cool comfort while gazing over the seemingly endless golden grasslands. The tent's style and interior will continue the Jack's Camp tradition of classical elegance celebrating the safaris of yesteryear.
---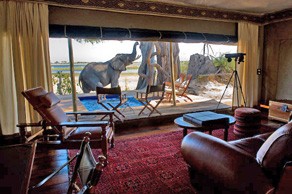 Zibadianja Camp, Selinda Reserve, Botswana is settling down nicely after its recent reconstruction. Improvements include private plunge pools for each room; the use of campaign-style furniture for a traditional ambience; a solid feel through the reuse of railway sleepers as decking; and hollow-fiber tent canvas aiding greater temperature control. One thing that has not changed is the superb wildlife viewing from the main area and tents as one gazes out on the Zibadianja Lagoon. For photography aficionados, a Canon 40D and 100-400mm lens is provided in each tent at both Zibadianja and neighboring Selinda Camp, and a specially adapted photography vehicle can be booked for guests who wish to photograph unhindered.
Wild indulgence....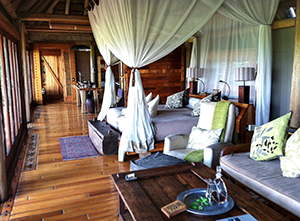 Wellness treatments on safari are becoming more and more popular. What better place for a massage than in the remote wilderness, surrounded by intoxicating and exotic sights, sounds and smells!
Jao Camp in the Okavango Delta, Botswana, has expanded its salon which offers a range of massage and facial treatments. Treatments can also be scheduled in guest's tents upon request. A separate gym with yoga mats, free weights, exercise balls, a rowing machine and exercise bicycle has also been built.
Both Kapinga Bush Camp and Shumba Camp, in the Kafue National Park, Zambia, have built on-site spas which offer a wide range of massage and beauty treatments.
At Victoria Falls, Zambia, The River Club has a new wellness center featuring a range of massage, manicure and pedicure treatments. There is also a sauna, jacuzzi, mini gym with exercise equipment, and an outdoor running trail. Toka Leya Camp's spa offers a variety of massage and beauty treatments using the 100% natural Africology range of products. There is the option of couples' massages, mobile treatments in the guest's room or a manicure/ pedicure while relaxing poolside.
---
7/1/2008
Classic Africa in the News
«
previous
7/1/2008
Classic Africa Portfolio Properties Featured in the 2008 Conde Nast Traveler Reader's Choice Awards:
next
»
Let us help you plan your dream safari. call toll-free: 888.227.8311

or

email us

today

|

|

Share