Unusual Sightings
7/1/2008
Apropos: A leopard in the Leopard Hills Gym, Sabi Sand, South Africa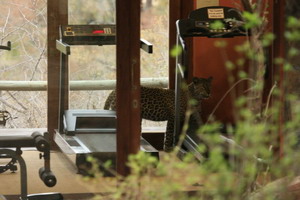 A furry interloper was observed at Leopard Hills Lodge on the 29th of September. The Hlaba Nkunzi female Leopard first visited Room 5 to have a drink out of the plunge pool, whereafter she wandered down the path past Room 3, all the way to the gym. Finally she entered the gym and jumped on the treadmill for a quick workout before leaving behind her human trappings.
Guests witness birth of two lion cubs at MalaMala, Sabi Sand, South Africa
While observing a pride of well-fed lions dozing in the sand of a dry river bed, one of the females began showing signs of agitation; sitting up, walking around, lying down again, trying to make herself comfortable. A disbelieving audience watched spellbound as moments later she went into labor and delivered two cubs in quick succession, with barely a ten minute interval between births! The Lioness, having early memories of game drive vehicles, was accustomed to, and therefore comfortable with, the Landrovers in the vicinity. She completely ignored her human audience. Once it was apparent that the birthing process was over the rangers and guests quietly withdrew, and in accordance with MalaMala's policy of not viewing young cubs, will not approach the den site for at least a month. Click here to view the event as captured on video by ranger Graham Dyer.
Wild Dogs swim the Savute Channel, Linyanti, Botswana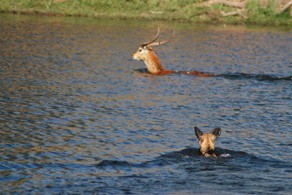 For the first time since the early 1980's the Savute Channel is presently flowing past Savuti Camp in Botswana's Linyanti concession. The recent influx of water has attracted myriad animal and bird species into the area, delighting guests and game alike! Recently a pack of wild dogs was observed chasing a red lechwe into the Savute channel. This was very unusual behavior given the aversion of the species to water and their extreme caution with respect to crocodiles. After a lengthy pursuit the lechwe finally lurched forward through the deepest water, the dogs lost their nerve and stuck mostly to the edges, but as they relentlessly swam back and forth the lechwe appearing to tire. Eventually the dogs conceded defeat, settled on the bank and then began to wander off, leaving the lechwe to emerge safely on an island in the Channel.
---
7/1/2008
Classic Africa in the News
next
»
Let us help you plan your dream safari. call toll-free: 888.227.8311

or

email us

today

|

|

Share