Featuring Liberty
1/31/2019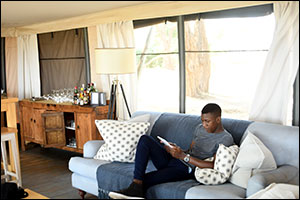 Ruckomechi Camp
in Zimbabwe's Mana Pools National Park recently hosted local artist, Liberty Shuro, after his botanical drawings were admired at the Everard Read Gallery in Johannesburg by the camp's marketing team. Inspired by his detailed sketches, and in need of a striking work of art for the camp's dining area, Liberty was commissioned to explore and capture the essence of Ruckomechi's wilderness.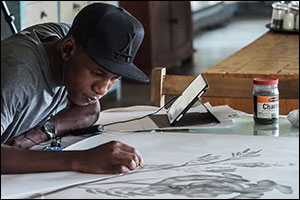 Liberty was born in Bulawayo, Zimbabwe, and was introduced to art at school, when he was eight years old. From that point, the young artist was captivated by "the beautiful things that pencils could do, such as creating texture, depth and illusions." Liberty's artistic style is influenced by Realism, an artistic movement that began in France in the 1850's, where the artist represents his subject matter as truthfully as possible by working in a precise, detailed and accurate manner. Over time, Liberty honed his skills to become a master at botanical and wildlife drawings.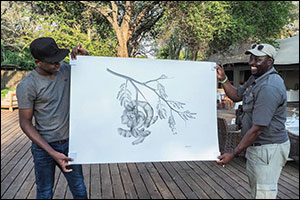 Liberty's commission at Ruckomechi was an exciting opportunity for the young artist. "My stay at Ruckomechi has been one of the greatest experiences in my life. The place is like heaven on earth, it is beautiful and rich in biodiversity. It was incredible to see animals moving freely around the camp in such a peaceful environment." For his piece, Liberty endeavored to create a link between the camp's natural setting and the wildlife that depends on it. Elephants visit daily to eat the fruit and pods from the trees in and around the camp, and it was relationship between the animals and the seed pods of the trees they depend on for sustenance that motivated Liberty's subject.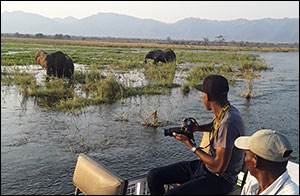 The large piece, measuring 4 x 3 feet took roughly fifty-six hours over the course of eight days to create. Nevertheless, Liberty did take time join a few game drives and boat cruises on the mighty Zambezi. He also managed to capture some exceptional photographs that will serve as inspiration for future wildlife drawings.
---
1/31/2019
Migratory Surprises
next
»
Let us help you plan your dream safari. call toll-free: 888.227.8311

or

email us

today

|

|

Share