Featured Activities
8/3/2017
Combine adventure and culture in Cape Town with a Full Day Peninsula and Shark Safari (May to September):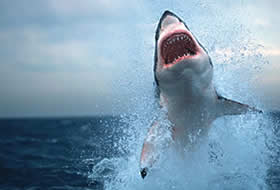 Depart your Cape Town Hotel (such as the Cape Grace) before daybreak for Simonstown Harbour. Accompanied by international shark experts and experienced marine biologists, you will board a boat in search of the ocean's elusive super-predator, the Great White Shark. False Bay is one of the few places in the world to witness the incredibly rare behavior of sharks breaching (launching themselves out of the water) in pursuit of prey – most commonly Cape fur seals. Focusing mainly on interaction with the sharks from the boat – with a view to observing natural predatory behavior using a seal decoy – it is also possible to descend in a cage to view these super-predators underwater. Next, head to the Peninsula, visiting Boulders Beach for another "creature close-up" with a colony of African penguins. After lunch, spot wildlife in the Table Mountain National Park, and explore the rocky coastline, the Cape fynbos vegetation and the south-westernmost point of Africa.
Half Day Fishing Trip - Fish the mighty Zambezi River:
For guests staying in Victoria Falls there is an option to fish for tiger, bream, nembwe and catfish – and any of the other 75 known species found in the Zambezi River. Enjoy fly-fishing, spinning, trolling and drift bait fishing from a pontoon vessel that carries a maximum of eight passengers. Joe's Original Fishing Safaris is an "owner-run" operation and includes all fishing equipment bait, food and beverages.
Riding on the Mara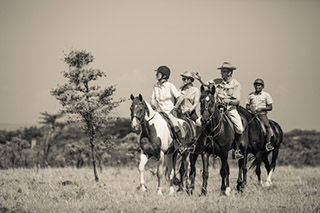 Great Plains Conservation has announced the opening of the first permanent riding stables in Kenya's Maasai Mara. "Ride Kenya - Mara" boasts 16 fine horses, and offers rides in the wildlife-rich Maasai Mara and exclusive Mara Conservancies. The activity is available to any competent horse rider (14 years and older, maximum weight 209lbs) and provides an exciting way to explore the heart of these protected areas from Mara Plains Camp and Naboisho.

Rhino Ride
A former MalaMala ranger is about to cycle 2000 miles along the West Coast of America - towing a life-sized rhino! The journey, dubbed "The Long Ride to Free Them," is aimed at raising funds and awareness for the plight of the rhinoceros. Every day 3 rhinos are slaughtered for their horn. At the current rate they'll be extinct from the wild within a decade. You can follow Matt @rhinoride2017 or here.
---
8/3/2017
Conservation and Wildlife News
«
previous
8/3/2017
Maasai Olympics - the Hunt for Medals, not Lions
next
»
Let us help you plan your dream safari. call toll-free: 888.227.8311

or

email us

today

|

|

Share