RCB Rhino Conservation in Action
2/2/2017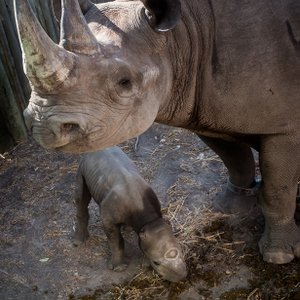 On January 11th a minute rhino calf, roughly one to two weeks old, was discovered by one of Botswana's rhino monitors. It was in terrible condition, near exhaustion and severely dehydrated. His ears had been torn off (most likely by a spotted hyena clan) and he had a severe wound on his front right leg. It was clear that the calf's mother, called Tshono, had intervened to save it from the attack.
Tshono had been introduced to the Okavango Delta last year as part of the largest trans-border black rhino relocation in history and gave birth to this calf within two months of settling into the Okavango Delta.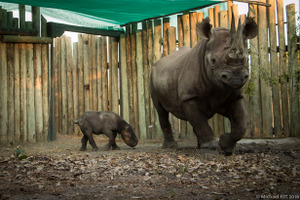 She was still in the area, and would be very protective over her small offspring, so the team had to be extremely cautious. It was decided to try and keep the two together as much as possible in order to encourage a continuation of their natural existence should the calf be saved.
To this end, the mother was darted from a helicopter; while one ground team followed the mother and helicopter, a second ground team kept eyes on the calf at all times. Both mother and calf were transported to a boma (enclosure) near Mombo Camp where they would be protected and receive full-time care.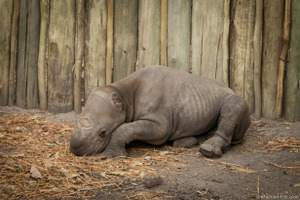 Upon capture the calf required significant rehydration and was in poor condition. Since then it has improved significantly, putting on body weight and suckling well. The remaining parts of the calf's ears are healing, despite an initial setback when oxpeckers (birds that feed on ticks and other parasites on large mammals) opened up the stitches. The calf's limp is still quite pronounced, but he is able to put more weight upon the injured leg – walking and even running. For most of the day he sleeps or rests.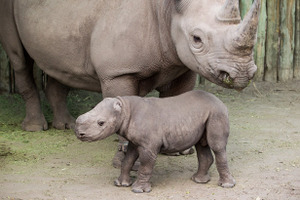 There is concern that Tshono may become despondent with prolonged time in the boma. Her response to stimulus will be closely monitored and if she fails to stand with 'encouragement' it may indicate depression. In that case she would need to be released as soon as possible, which would force RCB to make hard choices about the calf. That being said, the early prognosis for both animals is positive.
Stayed tuned for the next instalment, complete with video footage of both mother and calf!
---
2/2/2017
Summer in the Maasai Mara
next
»
Let us help you plan your dream safari. call toll-free: 888.227.8311

or

email us

today

|

|

Share