The Discovery of Homo Neledi
11/17/2015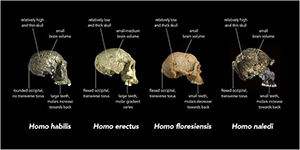 A new addition to our family tree, Homo Neledi, has been discovered within the isolated Dinaledi Chamber of the Rising Star cave system, at the Cradle of Humankind World Heritage Site, South Africa. The new hominin species was introduced this September by an international team of more than 60 scientists led by Lee R. Berger, an American paleoanthropologist who is a professor of human evolution studies at the University of the Witwatersrand in Johannesburg.
This species is characterized by body mass and stature similar to small-bodied human populations, but with a small endo-cranial volume similar to australopiths. It appears to have buried its dead -- a behavior scientists previously thought was limited to humans.
Representing at least 15 individuals with most skeletal elements repeated multiple times, including infants, children, adults and elderly specimens, this is the largest assemblage of a single species of hominins yet discovered in Africa. See more here.
1. Stringer, Chris (10 September 2015). "The many mysteries of Homo naledi". eLife 4: e10627. doi:10.7554/eLife.10627. ISSN 2050-084X. PMC 4559885. PMID 26354290. Retrieved 15 September 2015.


---
11/16/2015
Rorkes Drift to Brecon - Two Bikes, One Landcruiser and an Artifact
«
previous
11/18/2015
Mastering the Great Migration
next
»
Let us help you plan your dream safari. call toll-free: 888.227.8311

or

email us

today

|

|

Share