World Rhino Day
11/19/2015
World Rhino Day took place on September 22nd to raise awareness about the increasing threat of rhino poaching, and provide an opportunity to unite and take action to protect these iconic animals.
Lending herself to the cause, actress Uma Thurman joined Wilderness Safaris in their groundbreaking work , moving black and white rhino out of heavily poached areas in South Africa and Zimbabwe onto the safety of Chiefs Island in the Okavango Delta, Botswana, near Mombo Camp. This was one of five translocations that took place in 2015 as part of Wilderness's 15-year long Botswana Rhino Conservation Project.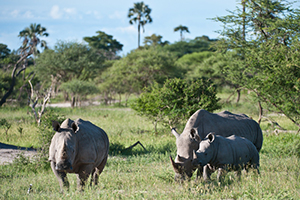 The "rhinocide," as Thurman calls it, has surged since 2008, when the allure of rhino horn began climbing rapidly among the rising rich in several Asian countries, where it is thought to not only cure cancer but enhance virility, and where it also serves, ground to a powder, as a cocaine-like party drug.
Today a horn sells for as much as $35,000 a pound, making it one of the most valuable natural commodities on earth, worth more than gold. An intact, well-shaped horn will fetch between $750,000 and $1 million. At the present rate of poaching, both white rhinos, of which some 20,000 remain (officially "near threatened"), and black rhinos, which number only 4,500 in all of Africa (officially "critically endangered"), will be extinct by 2024.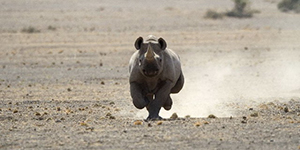 The sad reality is that the horns are comprised of ordinary keratin, the same protein that's in our hair and nails, and the substance is essentially inert. According to Keith Vincent, CEO of Wilderness Safaris, "There is no chemical compound in rhino horn that does anything! Let them eat their own fingernails!"
Click here to see the video that Town and Country magazine put together of the work Wilderness Safaris has accomplished this year, with Uma Thurman joining the journey along the way. Thurman's participation was also covered in a fascinating article, "Africa's Ark", by Town & Country.
---
11/18/2015
Mastering the Great Migration
«
previous
Let us help you plan your dream safari. call toll-free: 888.227.8311

or

email us

today

|

|

Share