Tracking Experiences on Safari
2/12/2015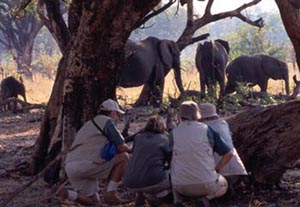 Tracking animals on foot is an immersive wildlife experience that leaves safari-goers with a deeper understanding of both the environment, and themselves. The activity also fosters awareness and raises funds for conservation initiatives to protect some of Africa's most threatened animal species and cultural groups. Some of the unique tracking experiences on offer at our portfolio properties include:
LEATHERBACK AND LOGGERHEAD TURTLES
– Rocktail Beach Camp (Maputaland, South Africa)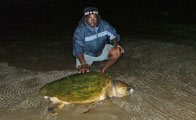 Every summer, hundreds of leatherback and loggerhead turtles complete their breeding cycle and emerge from the Indian Ocean to lay their eggs – returning to the exact beach on which they themselves hatched. From mid-October until mid-March, guests can join the turtle monitors on one of their nightly patrols and witness this amazing spectacle. During the excursions, the turtle monitors look for nesting females or hatchlings, record GPS details, take measurements and tag those they locate.
BUSHMAN HUNTING EXPERIENCE
– Jack's Camp (Maghadihadi Salt Pans, Botswana)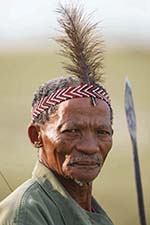 Uncharted Africa offers a dignified non-patronizing cultural opportunity to walk with Bushmen trackers to observe their hunting skills, as well as learn how food is gathered in the dry and seemingly unproductive desert. "The Bushmen's ability to track is legendary, and is indeed one of the most miraculous things you'll ever see. They read the desert as if it were the high street with traffic lights and road signs," says Uncharted Africa. Guests may also have the opportunity to observe the ritual of the Initiation Hunt; accompany the women as they gather food, herbs and medicinal plants; and witness the magic of the healing trance dance. This experience offers fascinating insight into the Kalahari Bushman's unique way of life, which is approaching extinction.
WESTERN LOWLAND GORILLA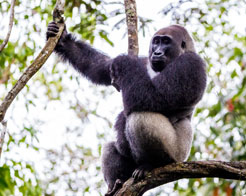 – Ngaga Camp (Odzala-Kokoua, Congo – Brazzaville)
Deep in the Congo rainforest, guests can sensitively track and observe habituated lowland gorilla groups. Tracking excursions range in length and duration, but the maximum viewing duration of any gorilla group is one hour per day – a protocol designed to limit stress and behavioral impact to the animals, as well as potential disease transmission from humans to gorillas. The raison d'etre of the camp is to use the mechanism of ecotourism to help conserve this critically endangered species and their habitat.
BIG GAME TRACKING
– Tafika (South Luangwa, Zambia)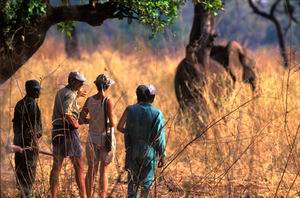 Some of the most experienced and well-trained walking guides hail from Remote Africa Safaris, Zambia. As such, the Chikoko Trails Walking safari offers adventurous guests the opportunity to track big game as they walk through a wilderness zone in the South Luangwa National Park, following well-worn elephant and hippo trails and the original footsteps of explorer David Livingstone. Discover the inner workings of the African bush as an expert safari guide shares their experience and wilderness knowledge. This authentic safari is also accompanied by an armed National Park scout and a tea bearer – to ensure a safe, comfortable, liberating and unforgettable experience.
BLACK RHINO
– Desert Rhino Camp (Palmwag Concession, Namibia)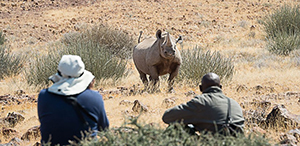 Tracking desert-adapted black rhino on foot, together with highly skilled Save The Rhino Trust (SRT) trackers, allows guests unparalleled insight into the desert ecology of these incredibly adapted and highly threatened animals. The seemingly inhospitable lunar-like landscape reveals its nuances and secrets as one explores the rocky desert in search of this unique population. Wilderness Safaris' partnership with SRT has been instrumental in helping the seminal organization achieve myriad conservation successes in a remarkably remote and harsh environment.
Interactive bush walks are also offered during "siesta time" at most safari camps and lodges throughout southern Africa. These walks are not intended to track a specific species, but to focus on the smaller elements of the bushveld and its macro and micro ecosystems, which offers guests terrific insight into the fragile environment they are privileged to explore.

---
Let us help you plan your dream safari. call toll-free: 888.227.8311

or

email us

today

|

|

Share