Animal Conservation
2/12/2015
Black Rhino Introduction to Botswana

2014 has been a milestone year for the relocation of Black Rhino. After years of discussion, fundraising and logistics planning, a significant number of Critically Endangered black rhino were trans-located from various parks in South Africa to northern Botswana.

Performed in a high-security environment, using the best veterinarians, immobilization techniques, transport equipment and conservation experts, the move was not only without stress to the animals, but the release into the wild took place under a carefully-planned protocol designed to encourage the animals to settle into their new home. It is now several months since the final release took place, and managers report that every rhino has settled in, home ranges and territories are being established and even signs of early mating have taken place. One rhino has even produced a newborn calf, which marks the first birth after this very successful operation.
Coco, Her Brother Spud & Their Leader Bones - A Rehabilitation Success Story!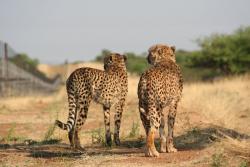 Three cheetahs, Coco, Bones and Spud, were released into the 125 square mile Okonjima Nature Reserve, Namibia, this past year. Since then they have been seen on kills every 3–4 days which, as a coalition include adult zebra, kudu, gnu and oryx. Following this trio on foot gives the Okonjima guests, scholars and Team AfriCat researchers valuable insight into a cheetah's world. They were tracked and closely observed 334 times between January and November 2014 – a practice that will be continued in 2015.
A Bumper Year for Wild Dog Dens in Botswana
A record of seven different packs of wild dog have been logged on Wilderness Safaris' Botswana camp concessions – one at Abu, one at Chitabe, one at Vumbura and no fewer than four packs in the Linyanti Concession (King's Pool, Duma Tau and Savuti).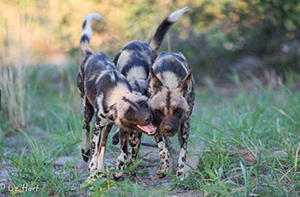 Classified as an endangered species, African wild dog populations have been dwindling. Currently estimated at only 1,400 mature individuals, populations continue to decline as a result of ongoing habitat fragmentation, conflict with human activities, and infectious disease. Northern Botswana and its surrounding areas (including Hwange in Zimbabwe and Kafue in Zambia) are home to some of the largest and most important populations of wild dogs in Africa and this year's denning season only serves to confirm this statistic, as well as the vital role that ecotourism plays in protecting endangered species.
Turtle Tales of Rocktail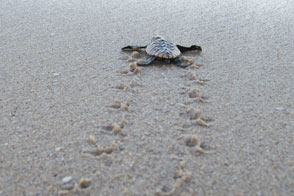 Turtle season is upon us once again and the excitement is palpable at Rocktail Beach Camp. From mid-October to mid-March every year, the enormous, endangered leatherback and loggerhead turtles lay their eggs on KwaZulu Natal's secluded beaches, and a few months later tiny hatchlings run the gauntlet for the ocean. Since 1995, Wilderness Safaris has been involved in the Maputaland Sea Turtle Project run by Ezemvelo KZN Wildlife, which includes patrolling the beaches and monitoring the turtles that nest and hatch. Over this period the population of both species has grown significantly and guests are able to experience the rare and special sighting of nesting females and hatchlings scrambling for the ocean.

---
Let us help you plan your dream safari. call toll-free: 888.227.8311

or

email us

today

|

|

Share