Wildlife News
8/13/2014
Advertising Helps Wildlife
Andrea, a passionate safari traveler and repeat Classic Africa client, brought an interesting article to our attention that addresses the abuse of domestic and circus animals, and the extinction, poaching and over-harvesting of wild populations, illustrating how advertising is being used creatively and effectively to highlight and mitigate these concerns.
Vumbura's "chocolate zebra" Phenomenon
Zebra stripes are variable and are used by scientists as a fingerprint to identify individuals from year to year. However, this distinction sometimes presents an anomaly, such as the melanistic foal photographed in April 2014 at Vumbura Plains (Okavango Delta, Botswana) by Michael Fitt of Wilderness Safaris' Environmental Department.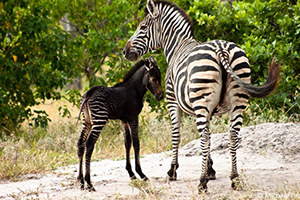 Just a few days old at the time of the photographs, it is believed that the foal is the second "chocolate" zebra to be born to the same mother within the course of a year. Even more remarkable is that this may be the fourth such foal to be sighted in the Vumbura area since late 2005. All of those foals are rumored to be born of the same mare, who may carry a recessive gene. Unfortunately, zebras that stand out from the herd become a target. Scientists will be monitoring the progress of this foal and his mother. If he makes it to adulthood it will be interesting to observe any unusual behavioral interactions that may present themselves as a result of his condition.
Professional wildlife photographer gets "up close and personal with meerkats
Professional wildlife photographer Will Burrard-Lucas recently shared some behind the scenes footage of his meerkat photography project in Botswana. Click here to see how remarkably close Will was able to get to the meerkats and their young.
Baby rhino arrives at HESC after mother poached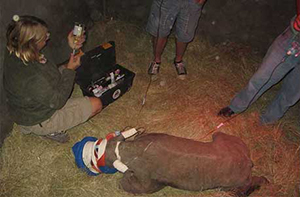 In May the Hoedspruit Endangered Species Centre, South Africa, took custody of a three month old baby rhino, found next to its dead mother recently poached for her horn. "It was a devastating sight, as the tiny animal would not leave her side, and was crying inconsolably for her." After being darted and transported to the center the rhino had a good night spent in close contact with surrogate mother "Skaap", the sheep.
The HESC, an easy excursion from Camp Jabulani, has seen a number of injured and orphaned animals successfully rehabilitated over the years, and they are hopeful that this will be another happy ending. We will keep you updated as to the baby's progress.
---
8/13/2014
Camp News
next
»
Let us help you plan your dream safari. call toll-free: 888.227.8311

or

email us

today

|

|

Share