Fumble in the Fynbos Footage
5/15/2013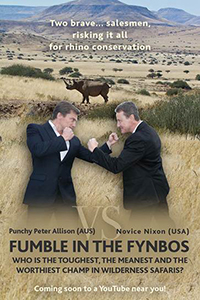 Last quarter we featured "Fumble in the Fynbos," a boxing match arranged between two ardent environmentalists and managers at Wilderness Safaris, Kim Nixon and Peter Allison (author of Whatever You Do, Don't Run) to support conservation efforts in southern Africa.
Footage of the epic encounter is now available on YouTube, featuring the pugilists' wild antics in the ring!
---
5/15/2013
Awards and Accolades
«
previous
5/15/2013
Did you Know....
next
»
Let us help you plan your dream safari. call toll-free: 888.227.8311

or

email us

today

|

|

Share