Pierre's 2011 Safari
1/29/2012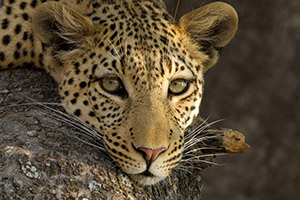 Pierre's November 2011 trip took him to Cape Town, Botswana, and Victoria Falls, providing first-hand insight into new and refurbished properties, as well a chance to catch up with old favorites. During his two week trip, Pierre visited 37 hotels, safari camps, and lodges, and had the opportunity to participate in a range of exciting experiences: from elephant safaris to diving with great white sharks and cycling through the beautiful Cape Winelands. According to Pierre, the trip was a resounding success:
"In addition to the invaluable knowledge that I gain with respect to properties, activities, game-viewing conditions, guides, etc., my visits to southern Africa are also incredibly enjoyable, and remind me what an amazingly diverse and exhilarating destination it is. And the quality of service delivery just keeps getting better - even after 13 years of doing these trips, I still find myself returning excited and revitalized."
Ever wonder what a lion looks like in full roar, or wanted to hear the famous Mombo Choir singing? Click here for photos and a five minute video recounting some of the highlights of Pierre's incredible adventure.
---
1/28/2012
Singita Lebombo - Touching the Earth Lightly
«
previous
1/30/2012
Exploring Arts and Culture in South Africa
next
»
Let us help you plan your dream safari. call toll-free: 888.227.8311

or

email us

today

|

|

Share