Exploring Arts and Culture in South Africa
1/30/2012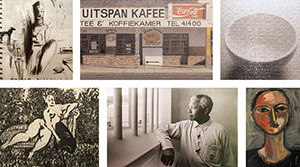 South Africa's material culture reflects the nation's spectacular diversity and complexity. By exploring, appreciating and purchasing South African works of art one supports the precocious talent of a growing pool of emerging artists.
For guests who are interested in visiting South Africa's premier art galleries and perhaps purchasing art, we can arrange "Art Tours" in Johannesburg and Cape Town, tailor-made to specific interests. In Johannesburg, guests visit the Goodman Gallery (contemporary), the Kim Sacks Gallery (fine craft, folk/tribal art), and the Everard Read Gallery (investment-focused wildlife and traditional painting and sculpture).
Cape Town's "Art Tour" includes a visit to Imiso Ceramics, Kalk Bay's galleries, Red Rock Tribal Art (an elite collection of sub-equatorial Africa tribal artifacts), and a special viewing of the private collection of Cape art dealer Rose Korber in Camp's Bay.
Some of South Africa's hotels and lodges house exceptional art collections, which guests can admire at their leisure.
Ellerman House in Bantry Bay, Cape Town, is distinguished by its extensive collection of paintings spanning two buildings and featuring significant examples from the 18th century to the present. The Ellerman Contemporary gallery has recently opened, providing guests with a glimpse of the outstanding talents of contemporary South African artists, complimenting those of the "Masters" exhibited in the main house.
The Delaire Graff Estate in the Cape Winelands is owned by Laurence Graaf, a renowned contemporary art aficionado and collector. He sits on the International Director Council of both the Guggenheim in New York and the Tate Modern in London. Walking through the aesthetically charged spaces and grounds on the estate, one is privileged to spend time among an acclaimed collection of South African paintings and sculptures.
Mateya Lodge, nestled in the rocky outcrop of the Gabbro hills, houses the personal art holdings of the lodge's owner Susan White Mathis - purported to be one the world's finest collections of African art. It includes original paintings by Paul Augustinus, Robert Glen's "Near Miss", and several important and impressive bronzes by Dylan Lewis and Donald Greig.
---
1/29/2012
Pierre's 2011 Safari
«
previous
1/31/2012
"The Last Lions" Wins Big at Jackson Hole Wildlife Film Festival
next
»
Let us help you plan your dream safari. call toll-free: 888.227.8311

or

email us

today

|

|

Share